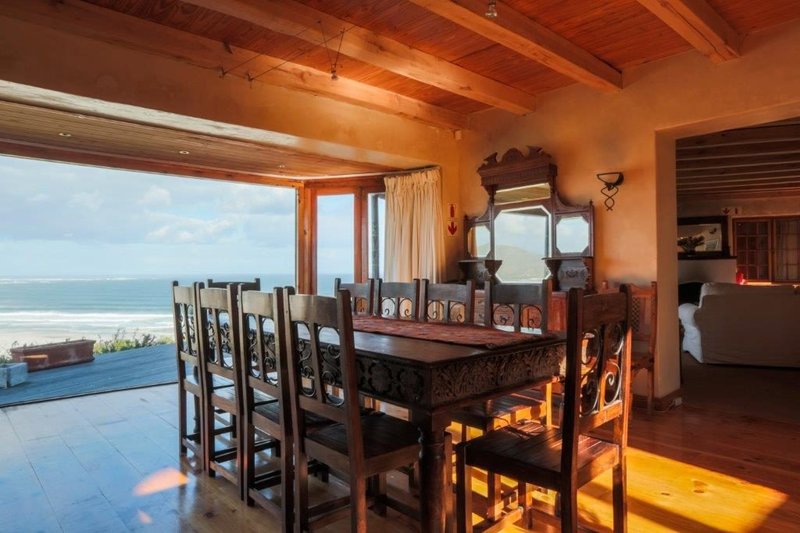 Nestled amongst ancient Milkwood trees and overlooking 8 kilometres of Noordhoek beach is
Monkey Valley Resort
. World's apart from city living yet only 25 minutes to the centre of Cape Town – Monkey Valley Resort is an atypical splendor tucked onto the southern slopes of Chapman's Peak Drive.
The resort offers a blend of self-catering old world log and brick thatched luxury cottages and bedrooms. Each is hidden in private alcoves within the rare milkwood forest, ensuring complete seclusion.
The range of units have a peaceful ambiance with uninterrupted vistas across the Atlantic ocean or the mountainous magic of Chapman's Peak. Accommodation can cater for families, groups, couples or individuals.
At the heart of the resort is the treetop pub and open deck- forever popular for evening sunsets and chilled sundowners of choice and a meeting point for guests and locals. The ambient sun warms the wooden panels of Thorfynns Restaurant, a natural preference for divine dinners and wonderful wines and a short stroll from your bed.
A healthy farmhouse breakfast will prepare anyone for the myriad of activities available from Monkey Valley Resort. From beach walks to horse riding, lazy days around the swimming pool to hiking the mountains, the welcoming and efficient staff can point you in the right direction or arrange your daily activity.
A log thatch treetop hall with open deck is available for year end functions (and is an ideal winter conference location too). Choose your theme or ask us to arrange your entire function and do enquire about package options.
Monkey Valley Resort – the ultimate beach, forest and mountain resort.
Restaurant
- Delicious country cuisine
- Free range and organic
- Open every day 7 am to 11 pm
- Breakfast served all day
- Log fireplaces
- Famous for our seafood and steaks
- Excellent Wood fired pizzas & Sushi
- Deck overlooking the sea
- Sheltered from the wind
- Excellent wine list
Accommodation at Monkey Valley Resort:
Crowned Eagle (Premier Suites)
Carved African poles, 6 log fireplaces, private decks for each room with wide comfortable couches, bathrooms with awesome views. The decor is a wonderful eclectic mix of antique oak and Oregon, old carved Bali dark wood pieces and Victorian oak antiques.
Sunlight pours through the old Cape Dutch windows with shutters to the North, with windows to the South looking over the sea with its continuous breakers. This is the most romantic spot in Africa.
Monkey Valley Cottages
Luxury, thatched, private cottages set in the Milkwood forest. All self catering with spacious lounge/dining rooms with DSTV and well equipped farmhouse kitchens. All cottages have a deck or lawn terrace with stunning sea views, with outside hot showers.
Monkey Valley Executive En-suite bedrooms
Thatched wooden double bedrooms, each with en-suite Victorian bathroom and Victorian fireplace, all with stunning views.
At the core of our being, nature is what makes us happy. The views from the room were breathtaking. You wake up in the morning with the endless blue sky and sea which unravels in front you! The resort was compensated with the very friendly, very accommodating and courteous staff.
Very happy and pleased with the excellent service.
Great location, great views, great sunsets. Suite special but appeared to be a bit tired when looking at the holes in carpet. Food at restaurant good but has lost a bit over the years. We found it surprising that a noodle dish was not available as a starter portion according to the waiter. Some waitress are very attentive and professional, others seem to still have the right attitude but lack the training or the eye for simple things. Example for the latter: When ask about some wines the answer "I don't drink wine" is an honest one but not very helpful eventually. As a guest I don't want to ask for someone who can help, that is job of the establishment.
The bathroom floor in the flamingo suite is very very slippery, if an old couple stay there could be a tragic accident.