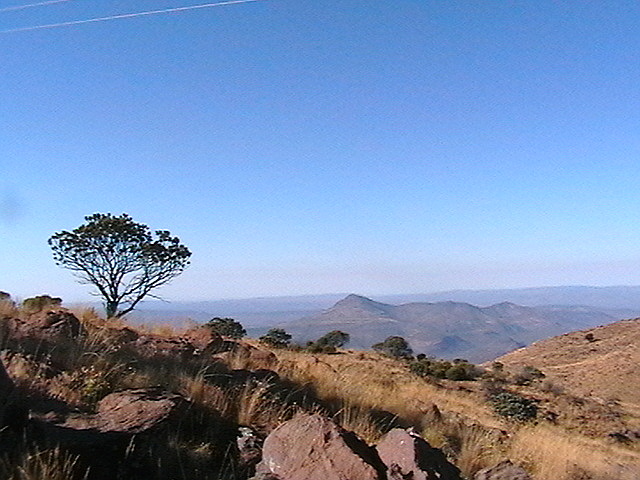 Please note the following, Rehabilitation of roads in Marakele National Park:
Please note that roads in Marakele National Park are being rehabilitated. We apologise for any inconvenience caused as a result, but assure you of our excellent service at all times.
Marakele National Park
in the heart of the Waterberg Mountains, as its Tswana name suggests, has become a 'place of sanctuary' for an impressive variety of wildlife due to its location in the transitional zone between the dry western and moister eastern regions of South Africa.
Contrasting majestic mountain landscapes, grass-clad hills and deep valleys characterize the park. Rare finds of yellowwood and cedar trees, five metre high cycads and tree ferns, are some of the plant species found here.
All the large game species from elephant and rhino to the big cats as well as an amazing variety of birds including what's probably the largest colony of endangered Cape vultures (more than 800 breeding pairs) in the world, have settled here at Marakele National Park.
5 Things to Seek at Marakele National Park
* Cape Vulture
* African Elephant
* Rhino
* Kudu
* The not-so-often-seen-elsewhere antelope species such as reedbuck, mountain reedbuck, eland and tsessebe can be found here.
View Room Types and Rates
Special Notes
- You will be warned at reception about roads that are inaccessible in the Park. Should you drive on these roads and get stuck we will contact a towing company for you and you will be charged for recovery expenses.
- No driving at night is allowed in the Park.
- No collection of firewood.
- Remember charcoal or wood, as this is not available in the park.
- A general speed limit of 30 km/h must be maintained within the Park's boundaries.
- You have to vacate the tent at 10:00 on the day of departure.
- The key for the gates must be returned to reception on the day of departure. Alternatively you can leave the key at the points indicated to you by the receptionist.
Important Notice
1. Accommodation rates do not include
Conservation Fees
which are payable at the entrance gates.
2. Please ensure that you are familiar with the
Rules & Regulations
of National Parks before making a booking.
Other Facilities:
Shop: In Thabazimbi.
Restaurant: In Thabazimbi.
80km of our roads are accessible to normal sedan vehicles.
No ATM facility available in the park.
Only Credit Cards are accepted at reception.
Electricity: Only the tented camp and camping site is supplied with electricity.
Fuel: Petrol and diesel available in Thabazimbi.
Garage: In Thabazimbi.
Medical services: Doctor and hospital in Thabazimbi.
Telephone: There are no public telephones in the park, but these are available in Thabazimbi.
Post Office: In Thabazimbi.
Police: The nearest police stations are located 12km from the office and camping site in Thabazimbi and approximately 18km north of the Kareehoek turnoff at Hoopdal.
Camps at Marakele National ParkTlopi Tented Camp
Each tent has two beds (two stretchers are available which are more suitable for children), private bathroom (shower, wash basin and toilet), and a fully equipped kitchen with a refrigerator/freezer, two-plate stove and electricity.
Each tent has a veranda with table and deck chairs and barbecue facilities. One tent has wheelchair access. The camp is unfenced and is approximately 17km from the Reception Office.
Bontle Camping Site
There are 38 campsites with power arranged into 3 clusters with one communal ablution block per cluster.
Gate Times at Marakele National Park:
Gate opens at 06:00 and closes at 18:00 - 1st Sept to 30th April
Gate opens at 06:00 and closes at 17:30 - 1st May to 31st August
Marakele National Park Activities:
Bird watching and game viewing.
Mountain pass up to an incredible view and proximity to the Cape vulture colony.
Morning and Sunset drives available.
Morning and Sunset Bush walks available.
Two nights 4x4 eco trail available.
Two nights Hiking Trail opening soon.

Click to display the map
Health & Climate:
Summers are hot but the area does not suffer from the stifling humidity so typical of the eastern Lowveld. The park is situated in the summer rainfall region and rainfall occurs in the form of heavy thunderstorms or soft rain. Winter is moderate with frost occurring in the low-lying regions only. Mornings and nights can be cold, but day temperatures are pleasant. Rainfall between 500 – 700mm per annum.
Marakele is a beautiful park - like something out of The Lion King movie. The mountains and lush, diverse vegetation as well as the fact that it's a malaria free zone, makes this establishment a jewel for nature lovers. Don't expect to see as many animals as in the Kruger Park, though, especially not in the wet season, but Tlopi camp is a bird lover's paradise and the dam lures in a few mammals as well. The setup at Tlopi camp is like a postcard - ideal, picturesque and fully equipped. Just beware of the vervet Monkeys - they are very scaly and quick! Also be warned that the wind can blow so hard in/against/through the luxury tent at night, that we struggled to sleep without earplugs. Overall it was a wonderful, beautiful and tranquil experience! Thanks Marakele staff!
Lovely accommodation by Bontle. Tents are set up amazingly. Would suggest a spotlight over the braai area. As it's difficult to see. Staff are friendly. Loved the visit.
Thlopi Tented Camp is beautifully situated and any tourist's dream but, both the landing and tent needs urgent maintenance. The valgro on the tent is worn out and the landing needs varnish or oil. The daily service of each tent is good and the staff was friendly.
The experience was more than we expected. The animals were all over the park and not shy to the vehicles. This made for excellent wildlife experience and fantastic photographic oppertunities. The facilities were always clean and fits into the environment. The camping areas are big and you have a choice to camp in the sun or shade. We will see you again!!