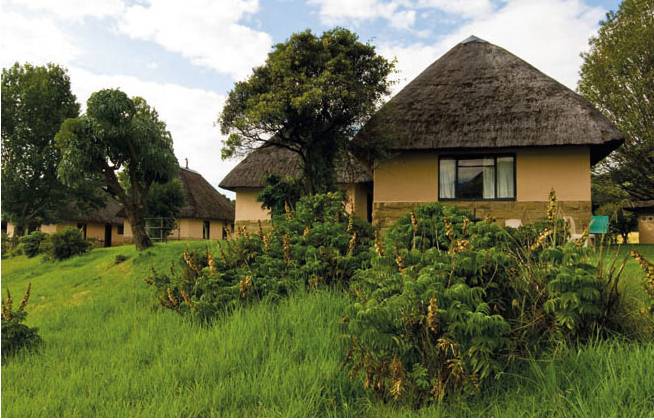 Lotheni - Drakensberg Park
is situated in the southern section of the uKhahlamba-Drakensberg Park and is noted for its magnificent scenery and hiking.
Accommodation at Lotheni - Drakensberg Park
Lotheni Hutted Camp
- The comfortable hutted camp, electrically lit by generator form 17:00- 22:00, consists of 12 self-contained chalets, each with its own refrigerator, two- plate gas stove (with a small oven), bathroom and toilet.
- In addition to the chalets there are 2 six-bed fully self-contained cottages.
- Visitors must bring all their won food supplies and do their won cooking.
- The nearest source of provision is at the Lotheni store, which is 14 km form the camp.
- The curio shop at Lotheni supplies some basic groceries.
- A deep freeze is situated in the camp kitchen and is available for use by camp visitors, as is a single large gas stove.
Accommodation - Skimes Cottage
- Simes cottage is a converted old farm house and can accommodate 10 people in four rooms.
- It is equipped with gas and visitors do their own cooking and need to bring their won towels, sheets and pillow-slips.
- The cottage is situated next to a small dam, which is regularly stocked with trout.
- The dam is reserved exclusively for visitors staying at Simes cottage.
Accommodation - Campsites
- There is a campground containing 14 campsites and served by an ablution block with hot and cold water, situated 2 km from the camp, further up the Lotheni Valley into the mountains.
High Season:
High Season dates applicable for 2018:
12 December 2018 to 8 January 2019
20 March 2019 to 8 April 2019
19 April 2019 to 22 April 2019
14 June 2019 to 15 July 2019
8 August 2019 to 11 August 2019
20 September 2019 to 6 October 2019
Activities at Lotheni - Drakensberg Park:
- Wildlife includes species such as common and mountain reedbuck, grey reedbuck, eland, grey duiker, oribi, Cape clawless otter, mongoose and baboon. There is a diversity of birds, including black stork, verreaux's eagle, bearded vulture, lanner falcon, Cape vulture and giant kingfisher.
- Many delightful walks and climbs may be undertaken and there are excursions of this nature to suit all ages. It is advisable to carry warm clothing at all times as the weather is often unpredictable.
- Mountain biking is allowed in designated areas. Picnicking is popular and visitors are encouraged to take packed lunches with them.
- Although chilly, swimming in the Lotheni River is safe unless it is in flood. There is a very good swimming spot approximately 1 km below the camp at Cool Pools. The park is popular rendezvous for trout fishermen. Approximately 16 km of the Lotheni River is stocked with brown trout. Should you wish to fish, the payment of a daily rod fee is required to be made at the Camp Office. Only fly tackle is permissible.
Settler`s Museum
Visitors should make a point of visiting the Lotheni Settler's Homestead Museum. An interesting collection of early settler farming implements and home utensils is on display at the old Root homestead, which as been restored and refurnished in the style of the period.
General
- No pets are permitted in the park
- Camping anywhere other than in designated areas is forbidden
Gate entry time
Summer (1 October- 31 March) 05: 00- 19:00
Winter (1 April- 30 September) 6:00- 18:00
- The making of fire is strictly prohibited, except n designated areas in the camp and campsite, because of the hazard of veld fires.
- Hikers are reminded that all refuse must be brought back to the camp for disposal
- Hikers must complete the mountain rescue register at the camp office before and after their hike
Shop:
Limited curios and supplies.
Special Precautions:
The weather is subject to change at short notice and can become very cold. Hikers need to be well equipped.
The nearest town which has a full range of services is Underberg which is 50 kms away.
We had nothing but great friendly service from the staff at the reception and in our rooms. The grounds are in immaculate condition and facilities are in good working order. I will recommend this place to all
We All Loved Lotheni. We loved that is remote and there were very few people. Cottage 1 is lovely. Loved the layout and the way it was situated. Looking out onto the mountains. Also that the neighbors were not close. The Staff were most helpful. And sorted the water heater immediately. We have every intention of going back. Would love to stay in Simes Cottage. The children felt safe and were able to explore. Without being nervous. KZN Wildlife's best kept secret. Don't tell too many people. Definitely will be going back to paint the flora. And bird-watch too.
We had a lovely stay, and found staff to be very friendly and helpful, accommodation was very clean and well maintained. Guided trails could perhaps have been a little better marked. We did the eagle train and a few times were unsure which path to follow and where to go, although as my family have been going to Lotheni for over 50 years in the old days there were no marked and laid out trails, you just found you own way across rivers and to locations of interest. So not a major issue about marked trails but somebody who is following the markers may not be as pleased. Everybody in our party of 6 had a really good long weekend and stay, and all the first time visitors in our party all said they would definitely be back again.
One of the best holidays. Friendly service at reception, amazing views from the room and awesome nature trails. Will be back again for sure!