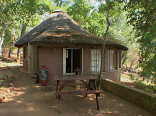 Set on the banks of the Albasini Dam, overlooking the majestic Luonde mountains, one will find Shiluvari Lakeside Lodge. Accommodation is in thatched chalets nestling amongst centuries old fig trees, all overlooking the water.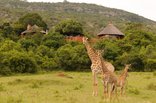 This private reserve is something special, family-run, offering a uniquely African experience with luxury touches, warm hospitality and rich memories. Leshiba offers a unique, authentic and holistic African experience.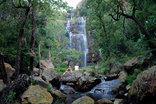 Enjoy the unique atmosphere of Mashovhela Bush Lodge in Morning Sun Nature Reserve, sited between cliffs where Black Eagle`s nest. Be revitalized by the natural beauty and the Venda culture of dance, drums and sacret forests.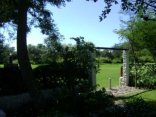 The tranquil and cosy Lalapanzi Hotel is an hour and a half from Kruger Nat. Park. The thatched cottages are en suite and individually decorated. English pub, restaurant,horse riding, trampoline, curio shop and museum.Self catering rooms. Restaurant.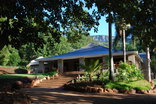 Madi a Thavha a luxury 4-star, Fair Trade certified lodge situated 10 km west of Louis Trichardt/Makhado, only 5 hours' drive away from Johannesburg.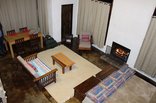 Lokovhela Mountain Cottage is situated on top of the Soutpansberg Mountains on the Morning Sun Nature Reserve which is a Natural Heritage Site. There are crystal clear mountain streams, waterfalls, indigenous forests and spectacular scenery. Warm days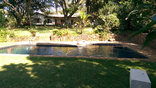 Softwaters Farm is situated along the Soutpansberg Mountain range, at the foot of the Luonde Mountain. The Guesthouse is situated on the farm and is the ideal place to get some well needed R&R. Softwaters is a working farm.

This charming old country Inn is situated on top of the majestic Soutpansberg Mountain pass, just 8 km north of the historic town of Louis Trichardt. First established in 1937, The Inn has an old world charm.
Mount Azimbo Lodge offers you to stay in a guest house room or self catering cottage. Experience the unspoiled nature of this beautiful farm and enjoy the magnificent view of the mountains.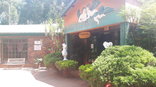 The Ultimate Guesthouse or Boutique Hotel offers warm and comfortable accommodation with friendly service. We are committed to creating memories for our guests that will bring them back to this splendid setting.