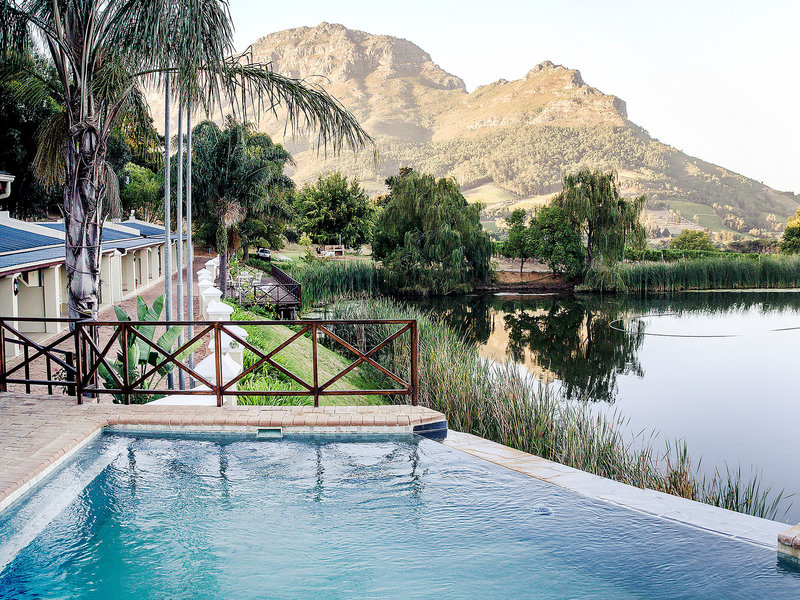 Le Pommier
is an intimate country lodge situated in the Cape Winelands. There are 12 suites, and 2 self-catering units in typical luxury country house style and comfort.
The ideal setting for relaxation, the lodge is situated in a tranquil environment amongst the vineyards of the Cape.
Le Pommier Restaurant offers the best in country cuisine filled with flavour. Think traditional South African dishes like Bobotie, Chicken Pie as well as the Golden Delicious Gourmet Burger which is Le Pommier's speciality.
Completely child friendly, the restaurant is perfect for leisurely family lunches and also ideal for intimate dinners.
Accommodation at Le Pommier:
Le Pommier is a small, intimate Cape lodge where each of the nine suites has been individually appointed to the highest standards of charm, elegance, and sophisticated comfort - in an exclusive and tranquil setting, far from the madding crowd.
Facilities include secure shaded parking, daily laundry service, twelve hour room service, twenty-four hour, eight channel satellite television, conference and secretarial services.
Ons het die heerlike rustige kamer met luukse badkamer baie geniet. Vroeg oggend gaan stap in die vars lug van die Boland - tussen die pragtige wingerde. Heerlike ontbyt geniet. Kamer was baie goed toegerus met alles wat mens kan verlang. Al wat kort om die rate "excellent" te maak is lugreeling.