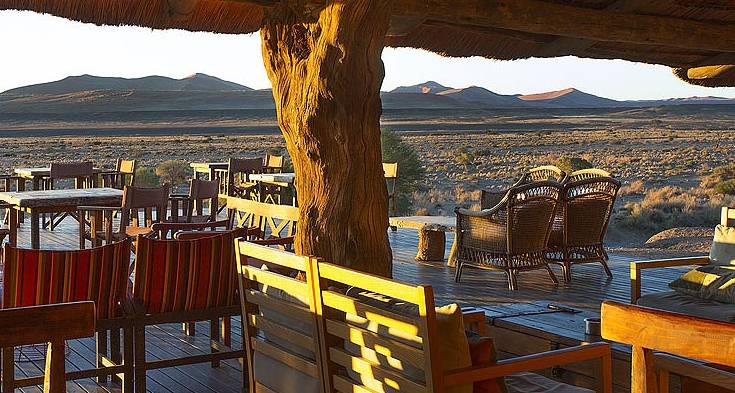 Family-friendly
Kulala Desert Lodge
is located within the arid Namib Desert on the 27 000-hectare (67 000-acre) private Kulala Wilderness Reserve.
Highlights of Kulala Desert Lodge:
- This is the closest point of access to the iconic dunes of Sossusvlei
- Explore the dramatic Kulala Wilderness Reserve, hot air balloon, nature drive or on foot
- The perfect location to view and photograph Namib Desert scenery
Accommodation at Kulala Desert Lodge - Adventure Camp:
Adventures camps are comprised mainly of thatch and canvas, with generally smaller, more rustic rooms than those of the Premier or Classic camps. Accommodation is extremely comfortable nonetheless, with the larger camps lending themselves to a convivial atmosphere. Camps range in size from 4 to 23 rooms.
Comprising 23 thatched and canvas "kulalas" with en-suite bathrooms and verandas, each unit is built on a wooden platform to catch the cooling breezes and has a deck on the flat rooftop for sleep-outs under the stars. There are also three tents which can accommodate a family of four each.
The convivial main area includes a lounge, bar, dining area, plunge pool, and wrap-around veranda overlooking the riverbed – a perfect location to view and photograph the desert vista and to contemplate the day's exciting activities.
Wildlife at Kulala Desert Lodge:
Desert-adapted wildlife to be seen on the Kulala Wilderness Reserve includes ostrich, springbok, gemsbok, spotted hyaena and the occasional brown hyaena. Smaller creatures such as bat-eared fox, black-backed jackal, porcupine, Cape fox and aardwolf can also be seen. One bird, the aptly named dune lark, has its entire global distribution limited to the area.
A surprisingly diverse array of insects, reptiles and rodents make their home around Kulala Desert Lodge. At dusk the call of barking geckoes can be heard, and walks reveal the smaller creatures - the buck-spoor spider with its multi-entrance burrow or the ambush specialist antlion, to name but a few.
Things to do at Kulala Desert Lodge:
Activities revolve around early morning guided drives to the dunes of Sossusvlei through the private gate (for Wilderness Safaris vehicles exclusively) on the Tsauchab River, as well as nature drives and walks on the private Kulala Wilderness Reserve.
- Visit Sossusvlei and Dead Vlei
- Visit Sesriem Canyon
- Nature drives
- Walking trails
- The sundowner tour
- Star bed
- Hot air balloon safari
- Horse riding safari
Read more about
Namibia Visitors Information
.