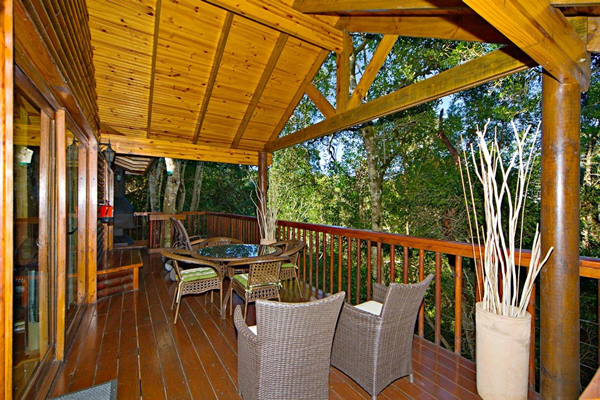 The Knysna Lake Area lies along the Southern Cape Coast of South Africa, one of the most beautiful stretches of coastline in the world, and part of the
Garden Route National Park
.
A mosaic of ecosystems, it encompasses the world renowned Tsitsikamma and Wilderness sections, the Knysna Lake section, a variety of mountain catchment, Southern Cape indigenous forest and associated Fynbos areas.
These areas resemble a montage of landscapes and seascapes, from ocean to mountain areas, and are renowned for its diverse natural and cultural heritage resources.
Managed by South African National Parks, it hosts a variety of accommodation options, activities and places of interest. A jewel in South Africa's crown, the Park is a prime example of the country's unique fauna and flora and will offer unforgettable views and life-long memories.
Rooms:
Our hideaway in the treetops deep in the unspoilt forest between Knysna and Plettenberg Bay. Situated in the Harkenville forest, between Knysna and Plettenberg Bay, the chalet is tucked away at the head of a wide valley.
From this hideaway you can absorb the tranquility of an Eden that has remained unchanged for thousands of years.
Bird-watch, botanise or simply observe the changing light in the forest-canopy as the hours pass by. If you can tear yourself away from the large viewing deck, the comfort of this well appointed self contained chalet is yours to enjoy, you will lack nothing.
Bring your mountain bikes and ride some of the finest tracks in the country. You may, on the other hand, wish to take a more leisurely stroll along a nearby forest trail.
- The chalet has two double rooms, each with its own bathroom and sleeps four in comfort.
Tree Top Chalet (GC4)
**CHECK IN AT GARDEN OF EDEN NO LATER THAN 18h00**
1 bedroom with double bed,own bathroom
1 bedroom, 2 single beds, own bathroom
Open plan kitchen, fire place braai, DSTV
Telephone and security system
Check-in and Check-out information
Due to the geographical location of the chalet, clients will have to check- in with a valid proof of payment or confirmation letter at the Garden of Eden by NO LATER than 18h00 or 6 p.m to collect their keys. (The Garden of Eden is situated on N2 between Knysna and Plettenberg Bay.)
Guests arriving very late pose logistical challenges as the gates and office closes at 18:00.
The chalet may be occupied at 14:00 on the day of arrival and must be vacated by 10:00 on the day of departure.

Click to display the map