Kedar Country Lodge, Conference Centre & Spa
is a charming stone built complex, on the historical farm of President Paul Kruger, "Boekenhoutfontein", and gently blends rustic comfort with the natural beauty of the bushveld surroundings.
Kedar Country Lodge, Conference Centre and Spa offers 65 rooms, including one Presidential Suite and one Royal Suite.
This produces, for the discerning customer, an aura of tranquility and peace that just has to be experienced.
Kedar Country Lodge, Conference Centre & Spa is a peaceful retreat for your business or personal getaway.
Situated in the foothills of the Pilansberg, just 15 minutes from Sun City, Kedar is a private nature reserve inhabited by many species of flora and fauna.
The prolific bird life, attracted by our stream, is breathtaking, and our herds of impala and blesbok, (as well as the odd duiker and kudu) will delight you as you take a stroll on the bushveld paths.
An attractive pool terrace with bar, dining room and braai area provide the perfect setting for the odd sundowner.
The recreational centre offers satellite TV.
In front of this area is our boma bonfire where our guests always congregate after dinner.
A Victorian style house of the 1800`s houses the 1872 Restaurant, offering Afrikaans and Cape Malay cuisine.
The Conference Centre offers seven function facilities to suit your personal requirements.
Accommodation at Kedar Country Lodge, Conference Centre and Spa:
The Lodge consists of 12 Standard Twin rooms, 33 Deluxe rooms, 15 Super Deluxe Rooms with outdoor shower in an enclosed garden, 3 Lakeside Suites, 1 Royal Suite with outdoor shower, plunge pool and fireplace and 1 Presidential Suite with plunge pool, fireplace and gazebo.
All the rooms are decorated with vibrant, hand painted ethnic print fabrics and African artwork - a true reflection of the treasures of Africa.
All rooms have radio, TV and tea & coffee making facilities.
Facilities at Kedar Country Lodge, Conference Centre and Spa:
- Paul Kruger House Museum from R25.00 per person (operating hours – 10h00 to 16h00)
- Game Walks
- Swimming pool and Sunbathing
- Children's Playground
- Fishing
- Bird watching
- Health Spa
The service at Kedar Country Lodge is 5 star. The staff are friendly and assisted us with everything. The gardens are well maintained and beautiful. The only issue we had was that we didn't get an air conditioned room as we requested. We were will to pay more if we were advised it would cost more. This is however a minor issue compared to the excellent service we received. We will definitely be visiting again with extended family.
Fabulous place. Enjoyed our stay. The staff at the lodge are excellent. Would definitely recommend to others. Thanks for the great service. Well done and keep up the good work.
Staff efficient & friendly. Room clean & comfortable. Food excellent. Was our 2nd visit & will definitly be going back and would recommend to all interested in a relaxing & comfortable environment.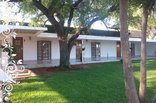 Just 34 km from Rustenburg and 17 km from Sun City, we offer affordable and comfortable rooms for both business and holiday travelers. Black Swan Guest House is a place where you can enjoy good food and old fashioned hospitality.
From:
R505.00
per person sharing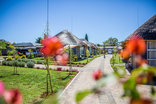 The 5 Star TshiBerry B&B presents you with a wonderful location for a holiday or business stay, in the scenic foothills of the Tshufi Mountains, just off Mphateng Street in Phokeng Village, in the North West Province.
From:
R690.00
per person sharing