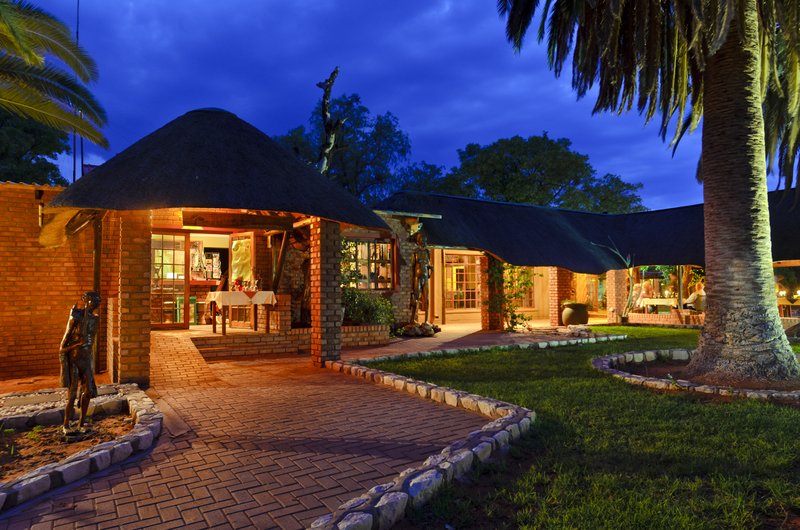 On the Eastern fringes of Namibia, the red sands of the Kalahari beckon. Let us introduce you to the place of burnished sands at
Kalahari Anib Lodge
. Easily accessible by sedan car and 30km from Mariental, this Kalahari lodge is a good overnight stop if travelling between Windhoek and the south or continuing to the Kgalagadi. There`s nothing like feeling the good earth underfoot, so stretch legs on the trails around the lodge, keeping eyes open for springbok, zebra and wildebeest and take the chance to breathe in the character and energy of this distinctive area, feeling closer to the land.
Explore the Gondwana Kalahari Park on the sunset drive and celebrate life atop a red Kalahari dune. Drink in the beauty of the Kalahari where gemsbok flourish and sociable weavers build gargantuan nests atop camelthorn trees. The optimum time to experience the Kalahari colours is when the sun dips in the late afternoon and lights up the sand as if glowing from an inner fire. Don`t miss this time of day when the Earth seems to pause for Kalahari magic. Providing an oasis in the desert for groups, individual travellers and campers, Kalahari Anib Lodge is a relaxed and down-to-earth stopover for a taste of Kalahari.
Property facilities
- Restaurant
- Bar
- Swimming pool
- Wifi
- 24-hour security
- Mobile connectivity
- Secure parking
Kalahari Anib Lodge accommodation:
Room facilities
- Air-conditioning / Heating
- En-suite bathroom, shower
- Disabled rooms
- Safe
- Veranda
- Mosquito nets
Children are most welcome at all our venues. Children up to 5 years old are free of charge; for children between the age of 6 and 13 years we charge 50 per cent of the B&B rate.
Standard Twin Room
These rooms are situated in a courtyard overlooking the main swimming pool area. Each room offers twin beds with en-suite bathroom facilities (shower only) and air-conditioning.
Comfort 4 Bed Family Room
This 4 bed family room has two seperate bedrooms with en-suite bathroom (shower only) and air conditioning. One room has 2 twin beds and the other 2 bunks beds. The rooms are not suitable for 4 adults sharing.
Comfort Twin Rooms
These two bed open plan room has a view overlooking the open Kalahari savannah. The room has an en suite bathroom (shower only) and is equipped with air-conditioning.
Standard Family Room
This room is one open plan room, with 2 single beds and 2 bunk beds. Not suitable for 4 adults sharing. It has an en suite bathroom, air-conditioning and tea/coffee facilities.
Standard Triple Rooms
This 3 bed family room has a view onto the open Kalahari savannah. This is an open plan room. Facilities include en-suite bathroom (shower only) and air-conditioning.
Activities:
- Morning or Sunset Game Drive
- Hiking Trails
- Kalahari E-Bike Tours