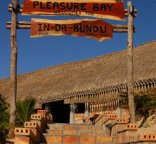 Our charming chalets are all built on the highest dunes and all have beautiful sea views overlooking the bay 'Baia Das Correntes', which is protected by the 'Lighthouse' Reef.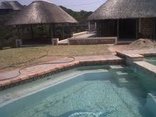 At Oyster Bay Estate we offer you a restaurant, bar, swimming pool , DSTV and the most comfortable self catering in Mozambique as well as many other facilities for our guests and investors to enjoy whilst absorbing the spectacular views and gardens.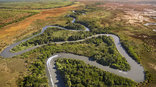 Escape to paradise and experience the blue waters and pristine shores of Mozambique, a new eco-lodge overlooking a blue tidal lagoon that is home to a distinctive ecosystem with access to the warm Indian Ocean.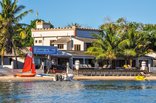 Castelo do Mar is situated on the water's edge of Linga-Linga, the tiny peninsula that juts into Inhambane Bay in Mozambique. Guests enjoy relaxed accommodation in 23 elegant air conditioned rooms.We offer deep sea fishing and scuba diving.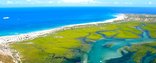 Grading:
Barra Beach Club combines the privacy of an exclusive Boutique Hotel, with all of the authentic charm and unspoilt beauty of Mozambique situated on its own private beach just outside Inhambane, Mozambique's paradise tourist destination.
15.3 km FROM Inhambane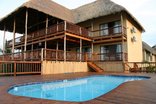 Vista do Mar, derived from the Portuguese meaning "view of the sea", is a brand new, upmarket lodge located on a pristine stretch of unsurpassed Barra Beach beachfront only minutes from Inhambane, Mozambique.
16.2 km FROM Inhambane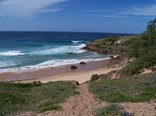 Tofo Beach Cottages offers a selection of 4 self-catering cottages, spread in Tofo and Tofinho. The cottages offer rustic-styled basic accommodation. The cottages are equipped and serviced with a view to cater for typical South African families.
16.5 km FROM Inhambane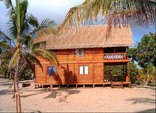 Positioned amongst a palm tree plantation atop the tall dunes which line the popular lighthouse beach, Montanha Lodge offers comfortable and spacious accommodation in 2-4 or 6-8 sleeper chalets. The lodge is fully furnished and equipped.
17.0 km FROM Inhambane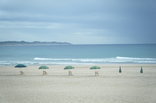 Tofo Beach consist of 3 fully equipped, self-catering cottages. Casa Derika is on the beach in Tofo, the other 2 in Tofinho, the famous SURFING spot. All 3 are less than 100 m away from the sea, have stunning sea views and are daily serviced.
16.5 km FROM Inhambane