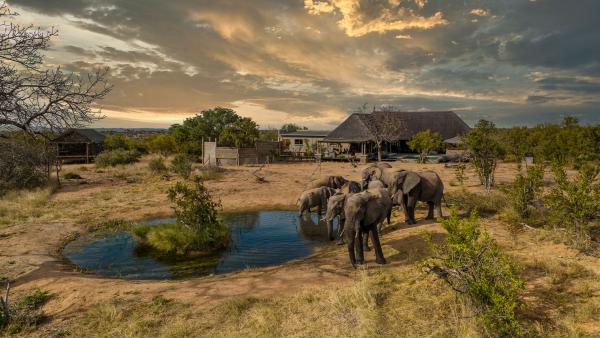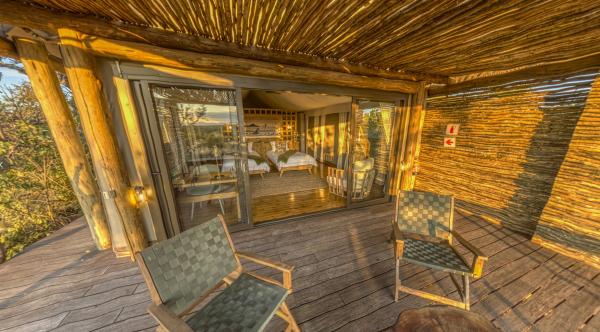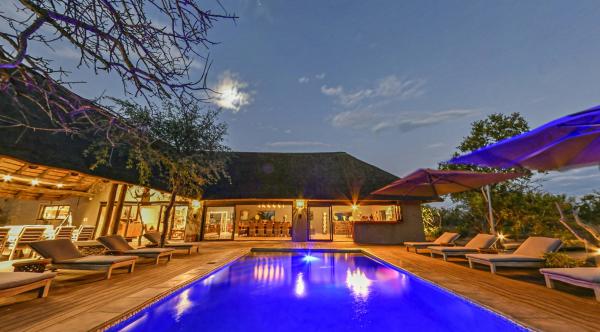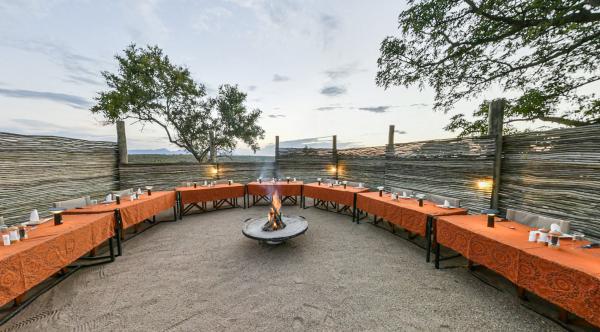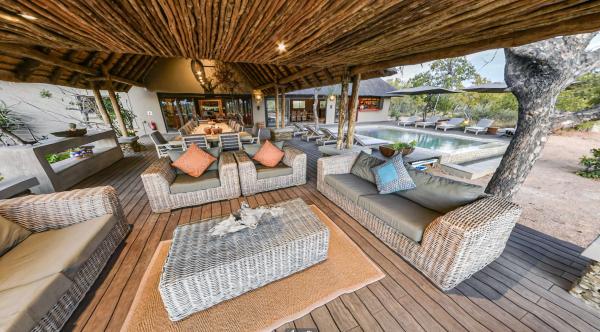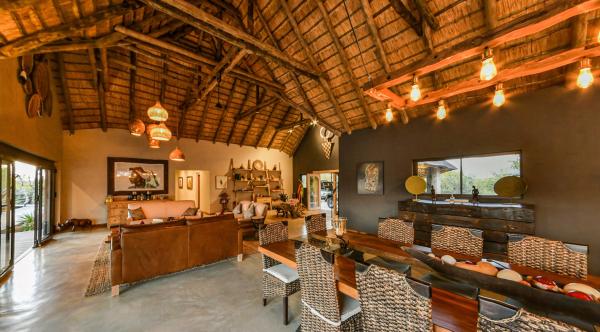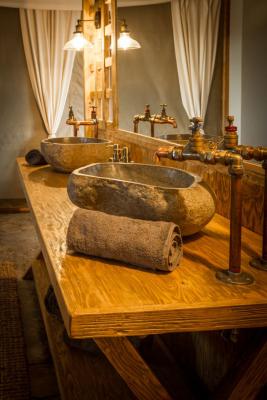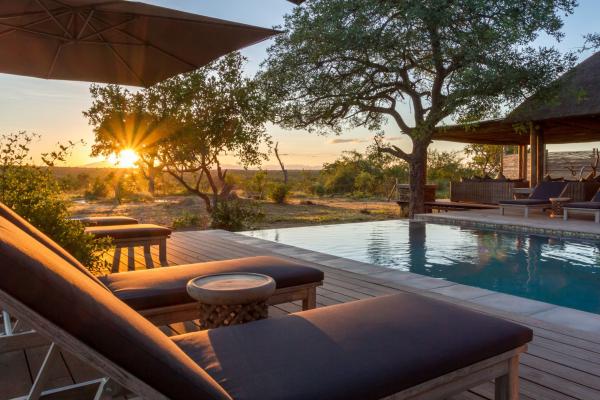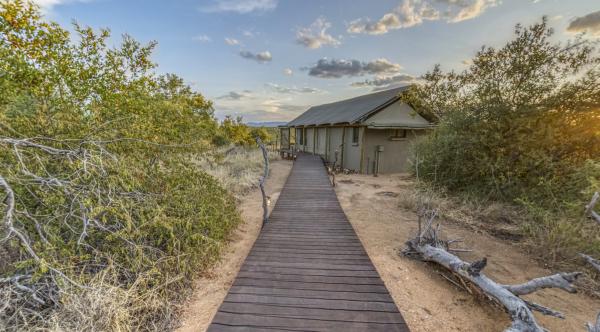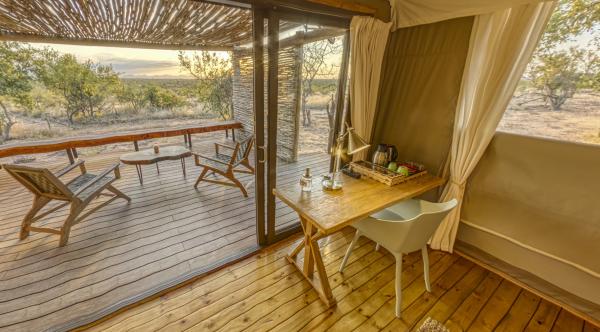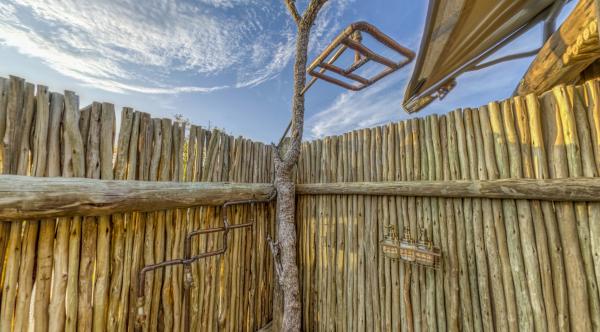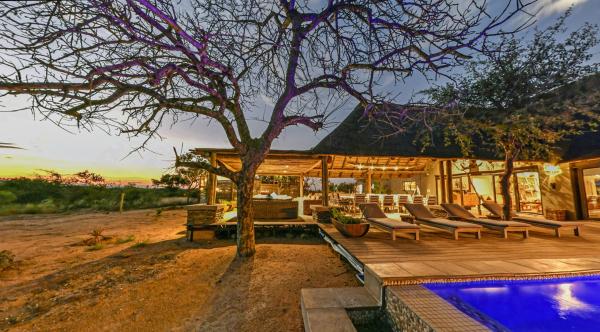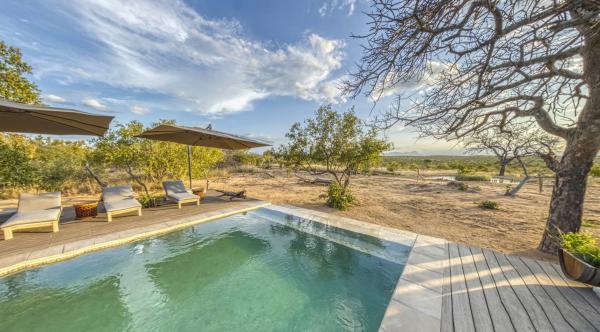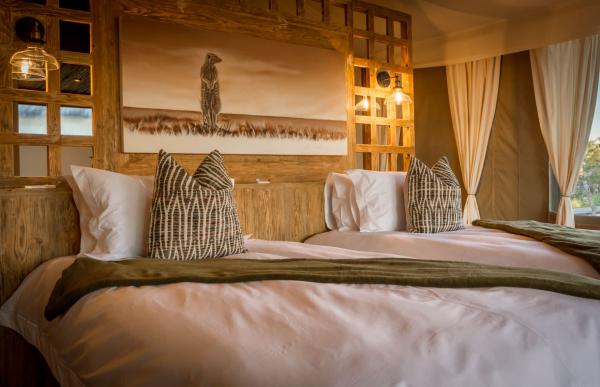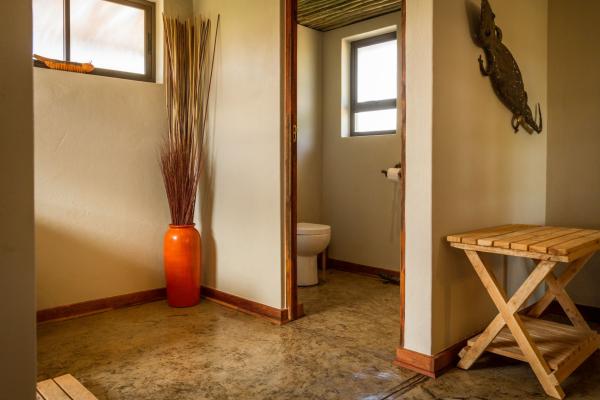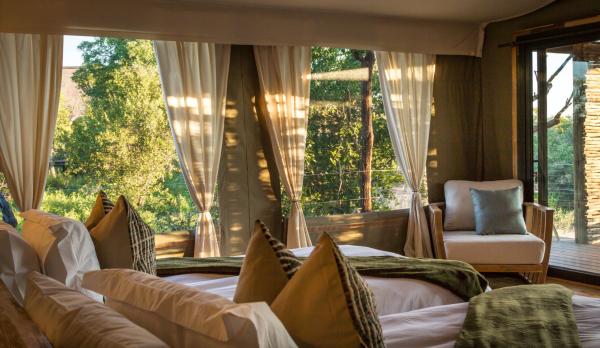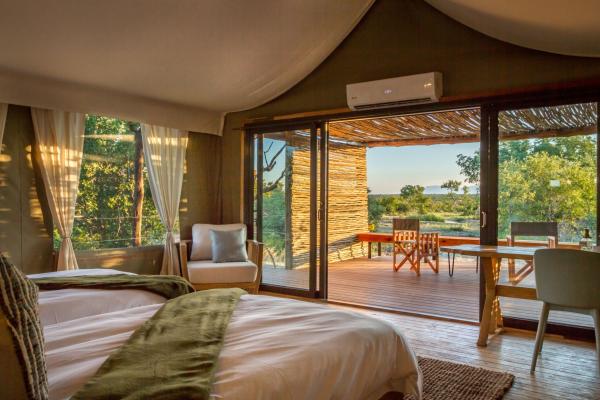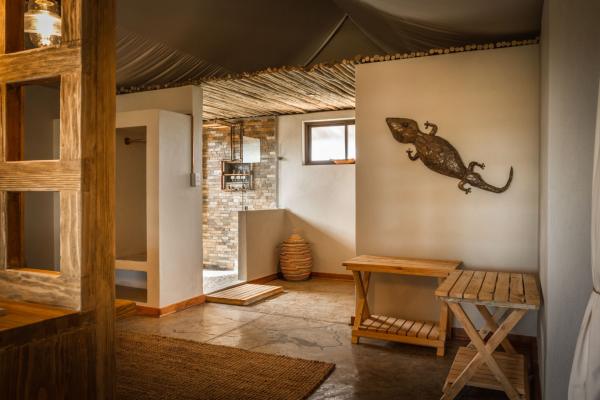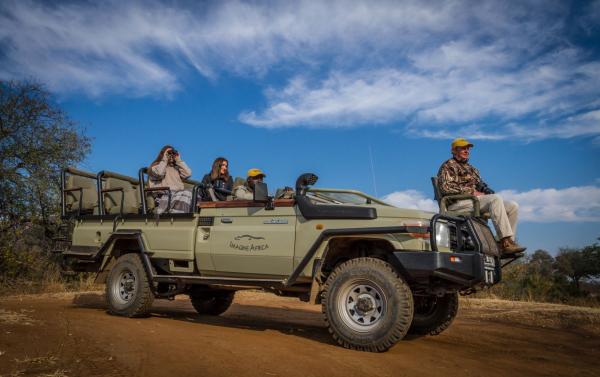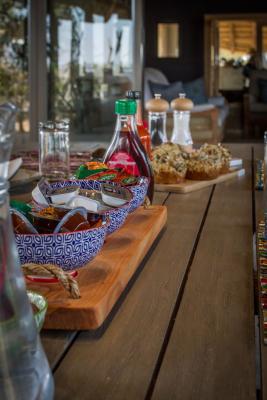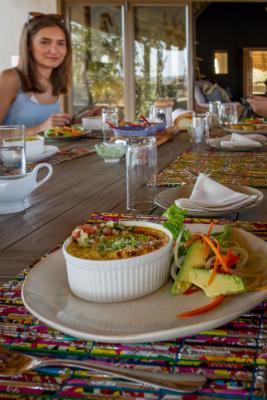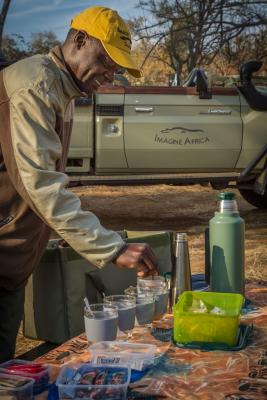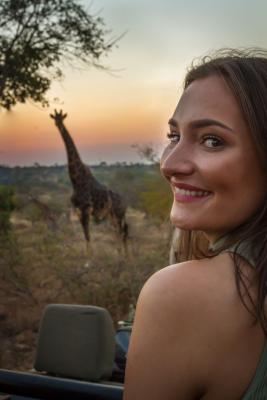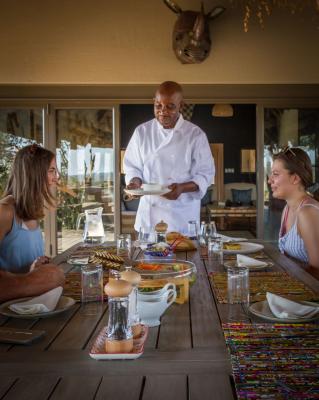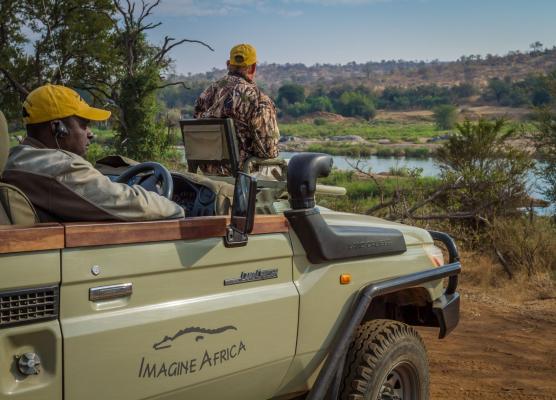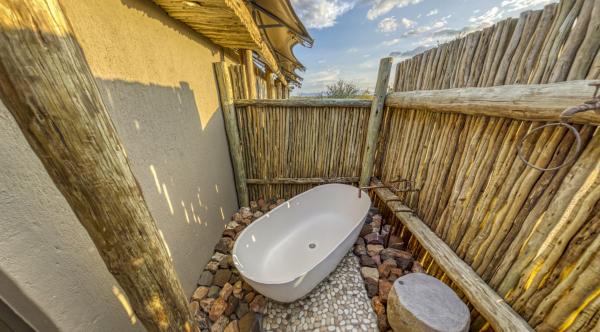 Previous
Next


























Book Now
Imagine Africa Luxury Tented Camp  -  Imagine… A herd of elephants quench their thirst at a nearby watering hole as you lounge next to an infinity pool overlooking the African wilderness.  As you stretch out you hear a distant lion send out a guttural roar to let all know it is there.  An excitement grows as you realize the time to go out approaches.  The nearby idling of an approaching Land Cruiser signals the beginning of another adventure that defies imagination.

This intimate, family-owned lodge, Imagine Africa Luxury Tented Camp was opened in 2021.  Driven by passion and guided by experience, a tented camp was envisaged that would create the perfect safari experience, with every thought catering to nothing but the most authentic and enjoyable of stays.
Facilities:
Nestled next to the welcoming reception area, a generous infinity pool offers a picturesque view of a nearby watering hole, a haven for many an elephant on a scorching day.  An iconic Marula and surrounding flora are always host to a wide variety of delightful birding specimens, and one cannot but become engrossed in the cacophony of music the African bush has to offer.  In the distance one can easily discern the vistas of the northern Drakensburg Mountains, offering remarkable opportunities for prospective photographers particularly at sunset.
Opening up to the deck, a rustic, yet seemingly familiar bar welcomes you and give much comfort to the imagination.  A traditional wood finish amidst an ancient Leadwood offer much for the thirsty, and many a hearty conversation if so desired.

Sprawling under a professionally-crafted African thatch roof, a contemporary finish is complemented by hand-crafted African decor.  An ambience of home is achieved by numerous comfortable seating areas for prospective book-lovers, where views of the surrounding serenity and artisanship leave little to one's imagination.  A central coffee station and freshly baked traditional rusks provide the perfect companion to an exciting early start if one so desires, with the surrounding wildlife and landscape delivering serenity as day breaks.
A traditional "boma", or dining area, adjoins the reception area and welcomes one to a hearty central fire, where one can relax with a drink under the African sky very amiably after an afternoon safari.  In the evening the light allows for breathtaking views of the stars, and acoustics of surrounding African wilderness create a perfect ambience which leaves much to the imagination as to what could be but a short safari away.  This all seamlessly blends in with the main lodge through a rustic yet elegant wooden finish, and one immediately feels familiar and at home.
Area Info:
Imagine… A veteran male leopard catching a late afternoon snooze on a nearby termite mound. Complimented by skirting hyena and an eerie ambience, one cannot but feel slightly small. A few vocalizations reverberate throughout our souls, sending chills down our spines. The leopard feels an instinctual urge to let all know that it is here. Imagine Africa.
Undulating rivers and scenic watering holes host an eclectic array of Big 5 and other keystone species, such as pods of hippo and crocodile. Frequenting elephants often provide an intimate viewing experience.
Along with over 30 mammal species, from towers of giraffe to dazzles of zebra, iconic predators such as cheetah and wild dog also occur and are often a treat for the prospective safari-goer.
The safari falls within a sub-tropical Lowveld eco-zone, which boasts an impressive biodiversity in both fauna and flora. With over 336 documented tree species in the region, ranging from ancient Baobabs to the iconic Marula, the dominant woody savannah is accentuated with plenty to see and accommodates an impressive diversity of bird life.
For the avid birder there are over 220 documented species to be found. Various raptors, such as the endangered Lappet-Faced Vulture, Pel's Fishing Owl, and Martial Eagle, can be observed. This extends to larger birds, such as the Southern Ground Hornbill, Kori Bustard, and Saddle-Billed Stork, amongst a plethora of other species.
A large BIG 5 traverse allows for scenic game drive / safaris and ample opportunity for excitement around every corner.
Attractions:
Undulating rivers and scenic watering holes host an eclectic array of Big 5 and other keystone species, such as pods of hippo and crocodile. Frequenting elephants often provide an intimate viewing experience. Many various additional day tours are available.
Activities:
There are few things as memorable as a scenic pit stop in the African wilderness. At Imagine Africa Luxury Tented Camp, every variable ensuring the perfect experience is accounted for. From ice-cold local and craft beers, to a pleasant gin and tonic with reinvigorating lemon slices, no effort is too small to ensure the perfect sunset. This extends also to the daily morning safari, where few things equate to a freshly brewed pot of coffee whilst watching the African sunrise.

An intimate experience awaits, with the most professional and thoughtful of Safari guides and trackers. At Imagine Africa Luxury Tented Camp, we know that nothing but the best will do, and we strive to provide an experience unimaginable.
Game drives occur twice daily, and times are subject to seasonal change.
Rooms and Units Available:
Luxury Safari Tent
Accommodates two people on two 3/4 extra length beds ((can be converted into a super king on request) with en-suite bathroom (outdoor bath, indoor and outdoor shower) and private toilet. Rate Includes: breakfast, lunch, dinner, tea, coffee, 2 game drives on big 5 conservancy per day and 15% VAT.
Amount of similar units: 5
Sleeps 2 Adults
---
Facilities & Services available:
Honeymoon Couples
Laundry Service
Wedding facilities
Self-Braai / Barbecue
Bar on the Premises
Dining room
Curio Shop
Fireplace on the Premises
Internet Access
Wi-Fi
Afrikaans
English
Cancellation Policy:
Cancellation of booking must be in writing.  Cancellations are only effective on receipt of written notification and confirmation thereof.
Cancellation of booking after confirmation with 120 days or more notice – 0% of total booking amount is forfeited.
Cancellation of booking after confirmation with less than 120 days notice – 25% of total booking amount is forfeited.
Cancellation of booking after confirmation with less than 60 days notice – 50% of total booking amount is forfeited.
Cancellation of booking after confirmation with less than 30 days notice – 100% of total booking amount is forfeited.
Booking Date Change Policy – Once a booking has been confirmed, a booking may be changed to alternative dates up and until 120 days before booking arrival date at no cost. Cancellation fees will apply as per above should a booking date need to be changed within 120 days of booking arrival date.
Terms and Conditions
DEPOSIT POLICY:
In order to secure a booking a deposit of 50% of the total booking value is required within 7 days of making the booking and balance thereof is kindly payable 30 days before arrival. Any additional costs are payable upon departure in cash, alternatively we do have credit card facilities at the lodge. No transfer or bank handling levies are included in our accommodation, day tour or road transfer rates and are therefore for clients own account e.g. credit card merchant fee. Payments methods offered are EFT, Cash or Credit Card. Kindly note that any outstanding amounts still due, whether it be for accommodation, day tours or road transfers, will be added onto extras bill to be settled at lodge.
Imagine Africa Luxury Tented Camp and Imagine Africa Safaris, its owners and employees can not be held liable for any injury or loss to person or property encountered during your stay or in your travels to or from the Lodge. We also can not be held responsible for any loss or injury whilst engaging in any independent third party road transfers, day tours, activities or similar organized on the client's behalf either on or off our property.

REFUND POLICY FOR NEW BOOKINGS IF CANCELLATION OCCURS DUE TO COVID-19 RELATED REASONS:
Between confirmation and more than 60 days prior to arrival: 100 % credit to the value of money received for postponed / future travel, or 80 % refund of monies received.
From 60 days prior to arrival: 80 % credit to the value of money received. This may be used towards a future travel date. Clients can postpone to any time for up to 12 months from original travel date.

COVID-19 TERMS AND CONDITIONS:
Due to the status of the global health pandemic, we at IMAGINE AFRICA TENTED CAMP are committed to providing guests with both flexibility and security during these uncertain times. The below COVID-19 terms and conditions are set out until The World Health Organisation has declared the pandemic over, or restrictions have been lifted in the guests country of residence or destination they are travelling to, allowing guests to travel.
Once these conditions are lifted, IMAGINE AFRICA TENTED CAMPS' standard terms and conditions to all future bookings will be applicable.
These revised cancellation terms only apply to COVID-19 related reasons for cancellation, these include:
The World Health Organisation has not revised the Pandemic Status.
There are travel restrictions in the guest's country of residence and prohibits guest from travelling.
There are travel restrictions in the destination that the guest is travelling to, prohibiting the guest from travelling.
The destination the guest is travelling to has closed their borders to travellers from the guest's country of residence.
Guests are unable to reach their destination due to International flights being cancelled, and no alternative routing is available.
If quarantine for longer than 24 hours required in destination that cannot be avoided with negative covid test or vaccination and itinerary cannot be successfully rerouted.
Home country of traveler requires quarantine for longer than 24-hours that cannot be avoided through testing or vaccination, nor can be avoided through re-routing of itinerary.
We recommend that guests take out comprehensive travel insurance; should a guest contract COVID-19 and is under treatment or in quarantine and is unable to travel, they will need to claim from travel insurance.
Contracting corona within 60 days of travel.
Should a guest be travelling with someone that has contracted COVID-19 or is in self quarantine, we will allow the guest to postpone their travel up to 12 months after their original date and carry over 80 % to 100 % of their booking value to the new future booking.
Any reason for cancellation not listed above, IMAGINE AFRICA TENTED CAMP Standard Terms & Conditions apply
The responsibility is on the traveler to ensure that they are aware and compliant of the COVID rules and regulations set out by the country that they are travelling to.
The above Terms & Conditions solely apply to IMAGINE AFRICA TENTED CAMPS' services and products booked. Any third party suppliers, transfers, flights do not fall under these amended terms & conditions.

CONDITIONS:
All rates or quotes supplied do not include any medical, travel or personal insurances and we highly recommend these insurances are in place before and during travel. All additional activities are subject to availability and can be booked either before or during a stay at Imagine Africa Luxury Tented Camp. We do advise if possible planning your itinerary in advance where possible and would be happy to assist in your travel planning as well. No additional activities (unless stipulated) are mandatory or included in the rate. Due to the fact that there are potentially dangerous mammals in the reserve e.g. lion, leopard, elephant, rhino, buffalo, hippo and hyena, we are not allowed to offer walks with any person under the age of 16 years. All rates or quotes are subject to change due to any unforeseen circumstances. On arrival guests will kindly be asked to read and sign Imagine Africa's indemnity agreement. Management do retain the right to refuse admission and shall not be liable for any claim or refund should the indemnity form not be signed.
Directions:
From Johannesburg:

Take the N12 and follow it to Witbank. The N12 connects to the N4 which follows onto Belfast. Once in Belfast take the R540 and continue to Dullstroom and Lydenburg (Mashishing). Pass through Lydenburg and get onto the R36 which heads towards Ohrigstad. Follow the R527 through Ohrigstad over the Abel Erasmus pass and then through the JG Strydom tunnel towards Hoedspruit. Pass through Hoedspruit and turn left onto the R40 (R530). Travel approx. 17km finding the Olifants West Nature Reserve Gate on your right leading into Balule Nature Reserve. Once in the gate kindly follow these directions provided in the map to the right. Follow the Olifants road from the gate for approx. 4km until you reach our Imagine Africa – Luxury Tented Camp sign heading to your right. Follow the signs to the lodge from here. We look forward to welcoming you!

PLEASE NOTE: A conservation levy will be charged in cash or by credit card on entering the reserve by the Balule Conservancy of R 85-00 per vehicle and R 200-00 per person. The vehicle levy is already covered should you be utilizing our road transfer services, however, this unfortunately does not apply to the public road shuttle services.
---

Click to display the map
Children Policy
---
We regret no children under the age of 8 unless the entire camp has been booked by the same group / family, in this case children under 6 are not allowed on game drives.  At all times parents are responsible for their children of 8 years or older and so have adult supervision day and night therefore not disturbing the calm or rest of other guests at the lodge and while on safari.  Unfortunately, if these rules are not adhered to for general peace and safety of all, we reserve the right to terminate the stay of the infringing party with immediate effect, who will be refunded the balance of their booking "pro rata".  Children (Ages 8 up to 12 years) sharing with Adult(s) is 75% of Adult Sharing Rate.