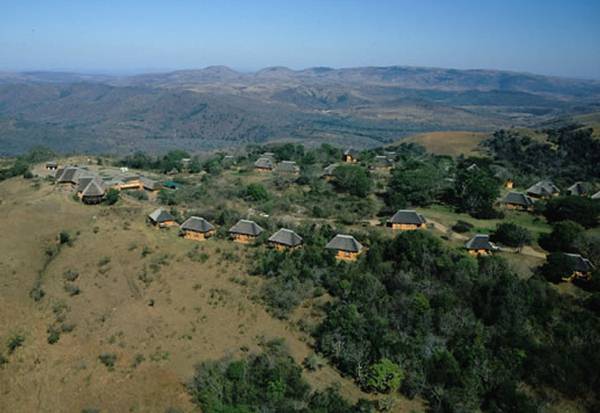 Established in 1895,
Hluhluwe-Imfolozi Game Reserve
is the oldest game park in Africa and is the only under formal conservation in KwaZulu Natal where the Big 5 occur.
Set in the heart of Zululand, the game reserve offers visitors activities - from self guided walks, auto-trails, game drives as well as picnic sites. Viewing hides overlook pans and waterholes enabling visitors to see animals at close range.
Accommodation at Hluhluwe-Imfolozi Game Reserve
Accommodation, managed by KwaZulu Natal Wildlife, within the Game Reserve is in the form of the
Hilltop Camp
, the
Mpila Camp
as well as the 2
Hluhluwe-Imfolozi Game Reserve Lodges
 - Muntulu & Munyaweni.
A variety of accommodation options exist in close vicinity to the game reserve with the town of
Hluhluwe
only 25km away:
Hotels
Game Lodges
Guest Houses
Bed and Breakfast's
Selfcatering Accommodation
View all
Hluhluwe accommodation options
.
Please Note
Visitors pay a conservation fee per person per day (children 50%) replacing entry fees. South Africans get a 50% discount.
High Season:
High season dates and rates are applicable from:
12 December 2018 to 8 January 2019
20 March 2019 to 8 April 2019
19 April 2019 to 22 April 2019
14 June 2019 to 15 July 2019
8 August 2019 to 11 August 2019
20 September 2019 to 6 October 2019
High season rates are also applicable over any events.
Wildlife
The
Wildlife in Hluhluwe-Imfolozi Game Reserve
is confined to some 96 000 ha and the game reserve contains an immense diversity of fauna and flora. It became world renowned for its white rhino conservation.
Hluhluwe is characterised by hilly topography, and this northen section of the park is noted for its wide variety of both bird and animal life. Imfolozi, the southern component of the park is generally hot in summer, and mild to cool in winter, although cold spells do occur.
Activities
Hluhluwe-Imfolozi Game Reserve Self Drives
:
Auto trails in the Hluhluwe-Imfolozi Park are designed for the convenience of visitors who wish to discover the secrets of the bushveld from seclusion of their own vehicle.
Hluhluwe-Imfolozi Game Reserve Walking Safari
The Hluhluwe-Imfolozi Game Reserve Walking Safari or wilderness trails (2-4 nights) are undertaken in the 25000ha wilderness zone of the Hluhluwe-Imfolozi Game Reserve.
Self-guided foot trails:
The Imfolozi section of the park has three self-guided foot trails. Guide books are available to help visitors interpret the many points of interest along these trails.
Day walks:
Short day walks of approximately two hours are conducted from Mpila and Hilltop Camps under the supervision of an experienced field ranger. These walks may be booked at reception in both camps.
Picnic sites:
Several sites with ablution and barbecue facilities are situated throughout the park.
Game drivers:
Open vehicle night and day drives provide unique opportunities of viewing game. A knowledgeable guide is at hand to answer questions . Booking is at reception on a first come first serve basis.
Boat Tours
There is a 40 seater boat on Hluhluwe dam which takes visitors on guided trips twice a day. (Please note the water level of the river is sometimes too low for boat trips)
Very comfortable and well serviced. Would return again.
We enjoyed our stay, however the chalet could do with some modernisation especially in the bathrooms. We also encountered a scorpion In our bathroom which was extremely frightening. Overall a great stay though.
We had a wonderful stay. Our chalet was better than expected. It was actually as good as a house built for two people. The Hilltop camp parking area though need a little more urgent maintenance. Only a few of the garden lamps are actually providing light for when people are on their way to the lounge and restaurant.
We wanted to thank your staff at Impila. My husband needs to use a machine at night to prevent sleep disorders. He requested that the generator be kept on after the normal close at night. The administrative staff contacted management immediate and had the power left on all night. There was no hesitation by the staff to assist us at all. I don't think we could have received better treatment at any other resort - customer service was exemplary not only in the camp but also at the entrance. Congratulations on a well run establishment.