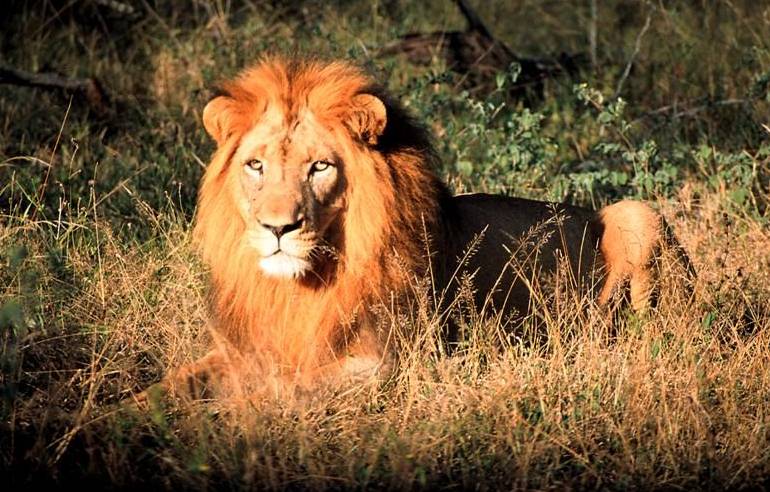 Hlane, the wilderness of eastern Swaziland, where the hot still beat of Africa continues as it has for thousands of years.
A network of game-viewing roads criss-cross the park's flat terrain, weaving between 1000 year old hardwood vegetation and shallow pans which attract great herds of animals during the dry winter months.
Hlane, this Kingdom's largest protected area, is home to the largest herds of game in Swaziland. Lion, elephant and white rhino are often see, and the bird life is outstanding.
It is home to the most southerly nesting colony of Marabou Stork, and nesting pairs of many different varieties of eagles and vultures grace the skies above Hlane. Hlane has the highest density of raptors in Swaziland.
Only an hour from Manzini on the Lubombo route between the Kruger Park and KwaZulu-Natal, Hlane's two camps are easily accessible throughout the year, Also a popular stop en route to and from Mozambique, Hlane is suitable for day trips or extended overnight visits.
Hlane is an undiscovered paradise for self-drive adventurers.
Hlane Royal National Park Accommodation:
Ndlovu Camp
Ndlovu Camp is found immediately inside the main gate off the main tarred Simunye road through Hlane. The camp overlooks a waterhole, which, especially in winter, attracts a wide diversity of game including white rhino, elephant and giraffe.
The camp is protected from big game by a three-strand electric cordon, which although not stopping smaller game movement, does keep the larger animals at bay.
The camp is open has no electricity and is reminiscent of the old Kruger National Park rest camps, with abundant bird life and a relaxed communal atmosphere.
Ndlovu Camp has thatched family rondavels, and smaller cottages all equipped for self-catering but with the option of a large open air restaurant providing delectable bushevled cuisine for groups and individuals.
Bhubesi Camp
Bhubesi Camp is found in the northwest corner of the park and can be reached either by internal park roads from the main gate. The camp overlooks the Umbuluzana River, with its reed beds and dense riverine vegetation and is private.
Bhubesi Camp has six self-contained stone cottages with all the comfort of home, including electricity, in a pristine riverine setting.

Click to display the map
Hlane Royal National Park

Guest Reviews

Average Guest Rating:

3.9

out of

5

based on

23

reviews. -

View all Guest Reviews
---
Peaceful ,friendly people ,good service
Rating:
Reviewed by Elmarie Cronje over a year ago
---
We stayed in one of the family cottages at Ndlovu Camp as a one night stopover. The accommodation was excellent and had everything we required, including very comfortable lounge furniture. Note that the entire camp operates on solar and gas, with paraffin lamps for lighting in the evening. The restaurant was impressive, the food of a good standard and the staff were all very friendly and helpful. We enjoyed the traditional dance which they performed after dinner. It was wonderful to see 10 rhino at the waterhole adjoining the camp. We also saw elephant during a very short game drive which we took as we were leaving. We would recommend Hlane RN Park and Ndlovu Camp as a worthwhile place to spend a relaxing couple of days or a stopover.
Rating:
Reviewed by Valerie Graham over a year ago
---
The staff was great ambassadors for the country! The Gate reception lady was very friendly and shared information in a very professional manner. The office staff was also friendly and helpful; however the person who did an outstanding job was Africa the game driver. He went out of his way to search for a lion on a very cold and wet morning. By the time the drive was finished he was soaking wet, but he still had a huge smile and was super friendly despite shivering and shaking! He is a great contributor to the wonderful experience of Swaziland. The only downside of the stay over was that there were ants in the kitchen (100's of ants) but there was a can of ant killer available. Well done to all of the staff at the reserve!
Rating:
Reviewed by Andrew Killick over a year ago
---
The staff were very friendly and the camp is very clean. Had an amazing weekend there. Will definitely come back. It was such a great stop over. The park is so peaceful. Enjoyed driving around. Thank you so much.
Rating:
Reviewed by Katherine Colin over a year ago