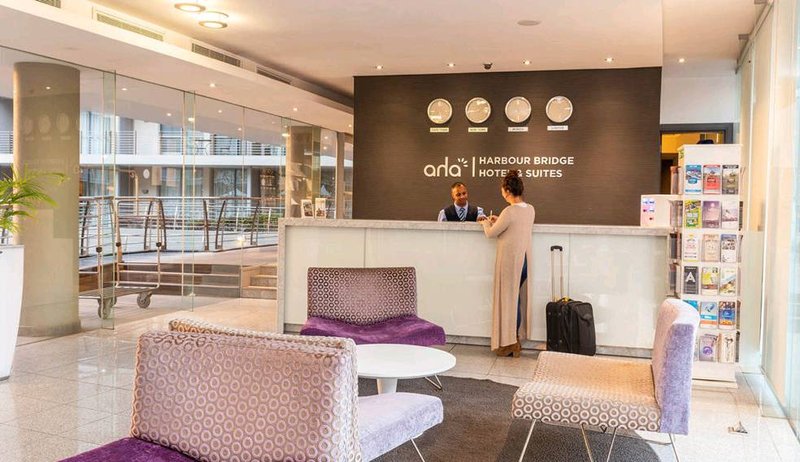 It is known that location and convenience go hand-in-hand, and the state-of-the-art aha
Harbour Bridge Hotel & Suites
is no exception.
Ideally situated within the Convention Centre and Cape Town International Convention Centre precinct, this premier four-star hotel (with its 16 Luxury Suites/Studios and 40 well-furnished Rooms) offers business and leisure travelers the ultimate accommodation experience.
The Canal Café boasts beautiful views of the canal and treats guests to a contemporary menu with a variety of simple, stylish and truly satisfying dishes. This is also an ideal venue for your next event or launch.
Within close proximity to the V&A Waterfront and Cape Town International Convention Centre, we offer a well-appointed conference venue on the picturesque Cape Town Foreshore.
Canal Cafe:
Our stunning glass-styled, Cape Town restaurant offers picturesque views of the Canal and its surrounds. Guests are invited to indulge in contemporary cuisine, consisting of a variety of delectable dishes that are classic and simple, yet pleasing to even the most discerning diner.
Conference Venue:
Our Executive Cape Town conferencing venue accommodates up to 14 delegates, and is available with the following standard equipment:
- Internet access
- hiteboard
- Flipchart
Accommodation at the Harbour Bridge Hotel & Suites:
With 40 well-appointed Rooms and 16 Luxury Suites, aha Harbour Bridge Hotel & Suites has facilities that cater to business and leisure travelers alike.
The Suites have an additional lounge area and a fully equipped kitchenette, making it ideal for guests wishing to maintain their daily regimes, or for families who travel during the holiday season.
While the Rooms and Suites each have their own en-suite bathroom and provide every optimum comfort, guests may also make use of services designed to ensure absolute relaxation 24 hours a day.