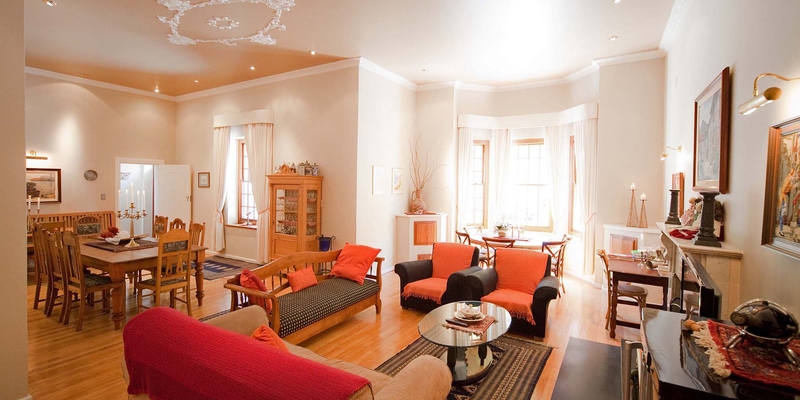 Philosophy: We aim to keep it simple.
'To host guest means to look after their well being!'
'There is nothing better than something really good!' (Bavarian saying)
Don't miss out on the best experience in the Western Cape of South Africa –The Big 5 Villages of Robertson – McGregor – Ashton – Bonnievale – Montagu!
We look forward to your visit, get in touch soon!
With warm regards from Robertson,
Gunther, Balbina and our dedicated team
GuBas de Hoek ****meet eat sleep
Rooms:
All eight rooms are en suite with bath (2) or shower (6), hairdryer, wall safe, international power points, TV, magazines, books, tea tray, fans, electric heating and much more.
Natural air condition is provided by thick walls, high ceilings and shutters to close.
Elegant and cosy, comfortable to the hilt – all rooms at GuBas de Hoek meet eat sleep are furnished in this way even although they may differ in style.
Your room serves as your castle throughout your holiday. Please inform us, if you've any preferences.
The four garden rooms are with a walk in shower, extra length double / twin beds, separate entrance with a terrace and three of them are for physically handicapped people.
Africa room is with shower, double / twin beds, separate entrance with a terrace and can be combined to a family room with
Honeymoon, has an open bathroom, an extra huge double bed, 2.00 x 2.20 m, a mini bar, a separate entrance room with a possibility for two extra beds and is full of hearts and roses.
Wine room has a bathroom with a door leading to the garden and an antique Cape Dutch Style double bed. The TV is in the lounge next door.
GuBas De Hoek Activities:
Situated in the shadow of the majestic Langeberg mountains with the Breede River as its life blood, Robertson is the western gateway to The Heart of Route 62 with 150 years of history.
It has grown into one of the most attractive Cape Wineland towns, with Victorian buildings, jacaranda-lined streets and beautiful gardens.
With 355 days of sun shine it offers a wide range of activities:
Golf:
Robertson Silwerstrand, 18 holes,3 km
Bonnievale, 9 holes, 28 km
Worcester, 18 holes, 45 km
Montagu, 9 holes, 25 km
Nature:
Hiking at various trails, biking, (can be rented, R 80,00 per day), horseback riding, distance 2 – 30 km.
Birding, we are a member of the Robertson Birding & Wine route
River rafting, 3 km
Cruise on the river, 12 km
Nordic Walking with Balbina:
Game Drives at Pat Busch Nature Reserve, 15 km
Soekershof walkabout, the worlds biggest maze, 14 km
Relaxing in the garden nearby the pool with a good book.
Wine Tasting:
The Robertson Wine Valley represents more than 50 wineries from Ashton, Bonnievale, Montagu Mc Gregor and Robertson among them big cellars and small family owned estates.
They offer all free wine tasting. We can gladly organise wine tours and barrel tasting with the winemaker, for those, who do not want to drink and drive.
Brandy tasting at Klipdrift:
Wine tasting by glass in Schott Zwiesel Top Ten Tritan crystal glasses.
The same wine can taste different, depending on the glass from which it is quaffed.
Relaxing for body and soul:
Skin care, massages and appointments with a hairdressers can be arranged within walking distance.
Arts and crafts:
Various galleries, antique shops, museums and an Oldtimer club.
Historical walkabouts in Robertson.
Visit a church service.

Click to display the map