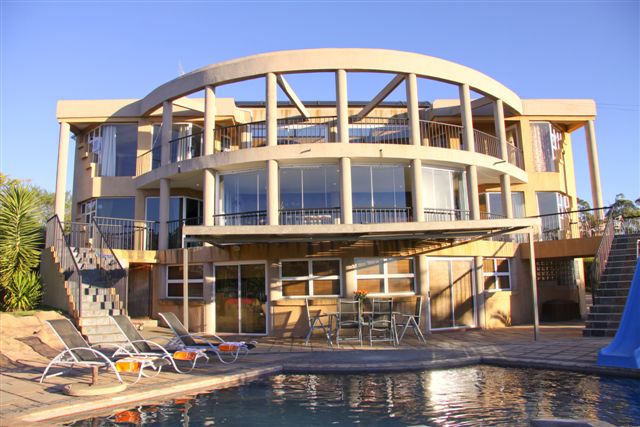 Set in the tranquility of the enclosed and secured equestrian estate, Beaulieu, Midrand, are Glenda's Guest Suites.
Upmarket, attractive accommodation at competitive prices. Our comfortable, immaculate and welcoming rooms offer peace and quiet, magnificent views, and a feeling of being out in the country, while actually being close to all the action. Watch wild guinea fowl, chickens and rabbits eat off our front lawn, while sitting on our beautiful enclosed patio, enjoying a sumptuous breakfast.
Our Accommodation is ideally suited to:
Corporate Travellers:
Our rooms are ideally positioned for the corporate or business traveller, being close to many major office parks in Midrand, Vorna Valley, E-Rand, Carswald, Kyalami. Vodaworld, Crowthorne and Beaulieu. A Wi-Fi hotspot, work desks, adequate plugs, large comfortable beds, excellent bathrooms, superb breakfasts, conference / boardroom facilities, and friendly service, all come together to make this a business persons "home from home".
Others that will enjoy our venue are:
Exhibitors, Participants and Spectators
We are very central to Kyalami Race Track, Gallagher Estates the Castle and Sunset Boma, all being within a 10km radius of us. This makes our accommodation ideal for those attending the motor or bike racing, trade shows, exhibitions, weddings and other events being hosted at these popular venues.
Foreign Visitors:
Foreign visitors will love our large garden and open space and will find that we are well situated to gain easy access to all major tourist destinations, such as Monte Casino, Gold Reef City, Sun City, Pretoria, Johannesburg, Soweto, Maropeng, The Lion Park and numerous game parks in Gauteng and neighbouring provinces. We have associations with several shuttle companies who will gladly arrange airport transfers, transfer to meetings, or trips to tourist destinations or simply enjoy the sunshine and relax by our pool.
Equestrian Participants:
Our equestrian friends have easy access to the some of the country's leading show arenas such as the Transvaal Horse Society, Kyalami Equestrian Park and Inanda Country Base, all of which are within 5km of us.
All rooms and patio`s are Wi-Fi enabled making keeping in touch with the office or family simple. All rooms also have commercial DSTV, which means you can watch your favourite news, sport or movie channel. Nature lovers will enjoy the many bird species that inhabit our garden and can even visit Beaulieu`s own bird sanctuary. Fitness fanatics can take a safe and pleasurable run or walk on our quiet roads.
We are proud to advertise that our rooms have been graded as a top 3 Star by the Tourism Grading Council, and we are a member of NAA-SA (National Accommodation Association of South Africa) and the Midrand Tourism Association.
We currently have 7 beautiful suites:
Suite 1:
Sleeps a maximum of 2 or 3. It has a king bed (or 2 singles) with enough room for a sleeper couch should this be required. This is one of our smaller units and our only fully self-catering one, having a full kitchen with oven, hob and a large fridge. It has a full bathroom and all the comforts of home.
Suite 2:
Sleeps 4. It has a queen bed plus 2 singles, a full bathroom, kitchenette and dinning table. This is a large room with a great view, lots of room to move and is beautiful and sunny. It is a partially self - catering unit.
Suite 3:
Sleeps 4 but has the luxury of two separate bedrooms, each with a king size bed or two single beds. It is a large unit, has a full bathroom, kitchenette and small dinning table. It is a partially self - catering unit.
Suite 4:
Sleeps 2 or 4. It is a beautiful thatched unit with king size bed (or 2 singles) downstairs and an upstairs loft with 2 single beds, ideal for the kids or the more adventurous adult. It has a full bathroom, kitchenette and is a partially self - catering unit.
Suite 5:
A small but beautiful thatched unit capable of sleeping 2 in a queen bed. The bathroom has a luxury massage shower unit, basin and toliet, but no bath. There is a small eating area in the room and it is a partially self-catering room. It has a lovely private bushveld feeling.
Suite 6:
Our smallest unit is suitable for a single person only. Its an attractive room with bathroom en suite with shower, basin and toliet. It also has a substantial kitchenette with sink and is ideal for longer term visitors. It`s set away from the main dwellings and is nested among the thorn trees and brings you close to nature.
Suite 7:
A large family room that doubles as a boardroom for small business meetings. The suite can sleep 6 on a queen bed, 2 singles, plus 2 sleeper couches. It has a bathroom on suite with shower only, a lounge area, dining/boardroom table and a kitchenette. Situated on the pooldeck and close to the dining area.
All king beds can be comfortably converted into 2 singles, on request.
All rooms are equipped with TV, hairdryer, microwave, fridge, toaster, kettle, coffee machine, irons, crockery, cutlery and other domestic conveniences. In addition, tea, coffee, latte, cuppachino, biscuits, rusks, fresh milk, sugar, butter and jams are all provided daily. Bath accessories are available for your use and rooms are serviced daily. Rooms are Wi-Fi enabled and all have commercial DSTV.
Each suite has its own private entrance, leaving you free to enter at your convenience. Security is however a high priority and our grounds and facilities are limited to the use of paying guests only. This also helps to ensure that all guests have the benefit of minimal disturbance. Smoking is prohibited in all rooms.
Each unit also has its own patio area for you to relax on, but with access to our gardens and pool.
Meals:
Our rates include a delicious breakfast cooked to order. Relax on your large enclosed patio overlooking the garden and enjoy a selection of cereals, fresh fruit, yoghurt, juice, breads and pastries, while we prepare your hot meal.
For those in a hurry in the morning, or for large groups, our "easy order breakfast" system allows you to sms your breakfast order the night before. This ensures that we are ready for you when you arrive in the morning and limits unnecessary delays.
For those that prefer to eat alone, selected breakfasts can be served in your room, either in the morning, or left in your fridge the night before for you to eat at leisure.
Dinners can be arranged on request, at additional cost, or order a delivery from one of our restaurants close by.
Within 5 minutes drive of the Guest Suites is:
- The Transvaal Horse Society
- Inanda Country Base
- Kyalami Race Track
- The Castle Hotel and Conference venue, Kyalami
- Kyalami Business Park
- Kyalami Country Club and Golf Course
- Leeukop Golf Club
15 Minutes drive from us:
- Midrand CBD
- Lonehill
- Montecasino
- Fourways
- Gallagher Estates
- Sandton CBD
- Centurion CBD
- Grand Central Airport
30 minutes drive from us:
- Oliver Thambo International Airport
- Lanseria International Airport
- Pretoria CBD
- Johannesburg CBD