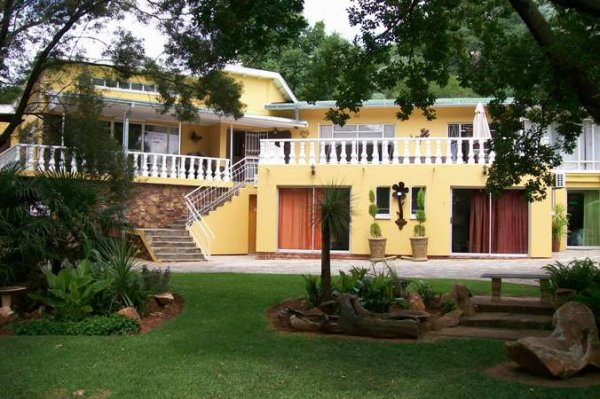 Come and relax in our affordable, private, luxurious rooms, situated in a peaceful area of Klerksdorp. We have 8 guest rooms that can accommodate up to 22 guests.
We are situated 1 km from the N12 within easy access to several hospitals and shopping centers.
Local Facilities:
* We are a short drive from excellent Restaurants and entertainment
* Tusk Rio Casino within 5 minute drive
* Different Game Viewing within 30km radius from Klerksdorp
* Near to 3 Golf Courses and various driving ranges
Rooms:
Room Facilities
- Air-conditioning in all the rooms
- Free Wireless internet
- Rooms available in which smoking is never permitted.
- DSTV with 17 channels, all the sport channels, 3 movie channels kyk-net, Discovery and SABC channels.
- Tea and coffee with fresh milk and rusks provided daily.
- Mini Kitchenette( microwave, fridge, dishes, kettle)
- Toiletries and towels.
Gemstone Guestrooms Activities:
- Mining shafts excavated in the 1880s.
- The Klerksdoro Museum. It was built in 1891 as a prison and served as such until 1973. The house of the warden hosts period exhibitions. It exhibits the Klerksdorp Spheres, metallic spheres that pseudo-archeologists consider man-made.
- The Faan Meintjies Nature Reserve, located about 15 km from Klerksdorp. It has 30 species of game and 150 species of birds.
- The Oudorp hiking trail. It is a 12 km long trail and winds its way through the oldest parts of the town.
- Goudkoppie (Gold Hill) is the city's latest tourist attraction. It is situated near both the N12 highway and the Johannesburg-Cape Town railway line.
- Klerksdorp Annually hosts one of South Africa's premium Airshows events, the Klerksdorp Airshows attracts around 20 000 people to the Klerksdorp airshow, you can view the Klerksdorp Airshows website for airplane images and photos of previous events.

Click to display the map
Health & Climate:
Klerksdorp enjoys warm to very hot summer months with most rainfall during the summer months. The winters are cool to very cold during the evenings
What a nice guesthouse, rooms are very clean and comfortable with a very nice garden to sit and relax. People are extremely friendly. When one ever has to visit Klerksdorp, this is the place to stay!
Friendly and helpfull staff. Clean and neat accommodation.
Our hosts were extremely friendly & accommodating. Breakfast was freshly cooked & good. The rooms were clean & comfortable, with basic self-catering facilities. There is a pretty garden for relaxing in. We only had a few nights here but were surprised by how much we found to do in the area - Bona Bona lion park was worth a visit, there is a small museum in town & several good bars/ restaurants.
Very enjoyable.