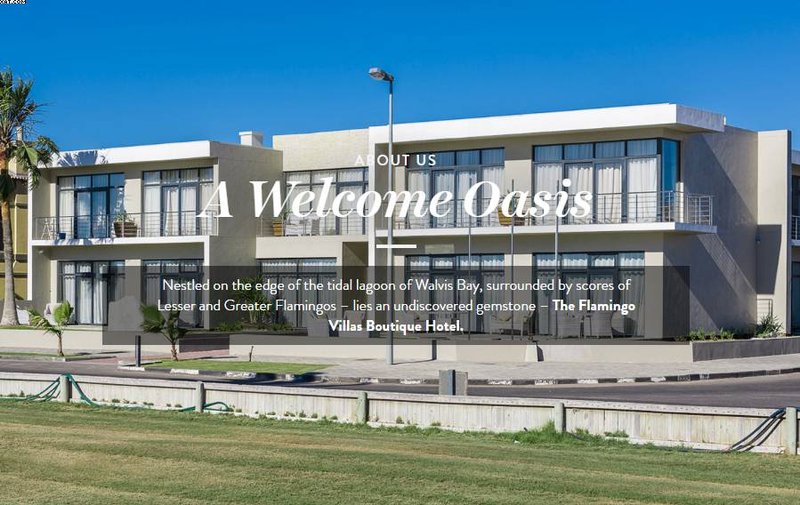 At first glance you will be transferred into a state of awe and surprise, upon entering
Flamingo Villas Boutique Hotel
, it will become evident that your awe and surprise is very well founded.
Our Boutique Hotel boasts one of the most spectacular views of the lagoon and of course sunsets over the sea with the peaceful Flamingos doing their
flamingo shuffle
, for entertainment.
Imagine sitting on the Luxury Suite patio, overlooking the lagoon at sunset with a cocktail that we specialize in - the Flamingo Shuffle - how much better can life get!
Flamingo Bay Restaurant:
Our fine dine cuisine are going to be the undisputed highlight of your stay with us. The fine art of the preparation and presentation of our exquisite cuisine has been perfected by our executive chef, Konrad Jetschko. He has brought the exquisite tastes of the Mediterranean and Europe together and infused it with the local cuisine, and turned it into a plethora of delectable tastes and an opera of a dining performance. You can choose from our perfectly selected A-la-Carte menu, accompanied by the best selection of Southern African wines, which would pamper the best of the world`s wine palates. Our wine selection is diverse and will compliment the taste of even the most sophisticated connoisseur. Our dining experience is a real symphony of tastes and exploration, while watching the Flamingos shuffle just across the Bay.
Flamingo Villa Bar and Cocktail Extravaganza:
Our full service bar caters for the most selective of visitors offering top of the line liquor, whiskeys and cognac from the world`s leading brands to our local brands and traditional drinks. Our cocktail bar serves drinks from the worlds most popular to the most popular local cocktail - not forgetting our signature cocktail, the
Flamingo Shuffle
- in reference to our signature bird, the Flamingo of course, that do the
shuffle
 just outside of our Hotel.
Other Services:
Pedicures and Manicures can be arranged for guests and must be pre booked or upon arrival to ensure the services are available. These services are outsourced and needs prior arrangement.
Accommodation at Flamingo Villas Boutique Hotel:
Standard rooms:
We boast 12 very spacious standard rooms all with a view of the tidal lagoon and the ever present flamingos. Comfortable options of either two tree quarter size single beds or queen size double beds. Five star amenities like bath robe, top-of-the-line bathroom amenities, waterfall shower, free wi-fi and unlimited downloads in the rooms, are but a few of the luxuries we provide to make your stay with us exceptional and memorable. Laundry service, room service, concierge service are all part of standard services we provide.
Luxury rooms:
Our 4 very spacious luxury rooms with an exquisite view of the tidal lagoon and shuffling flamingos is a one-of-a-kind experience and a view nowhere found on the Namibian Coast. Visitors in these rooms can relax in their private lounge suite overlooking the lagoon and flamingos with a refreshing cocktail served from the cocktail bar, as room service. The king size bed comes standard for these rooms. All other amenities are present like unlimited wi-fi, concierge service, laundry service and room service from our exquisite fine-dine menu.
Luxury Suite:
Our typical presidential suite have of course the best view of the tidal lagoon and resident flamingo flocks, full 180 view of the lagoon and surroundings, all viewed from the luxury of the room and comfortable lounge suite of the very spacious suite with a full company of all amenities, fit for a king. The bouquets of champagne and fresh flowers are standard with our suite, for the welcoming of our esteemed guests. King size beds are standard for the suite as well. All other basic privileges and amenities found in all our rooms are also applicable, and more, for the satisfaction of our esteemed guest. Messages, manicures and pedicure service are also available upon request. Daily laundry service is also available.
Flamingo Villas Boutique Hotel Activities:
All activities presented by our facility are arranged with operators and professionals in their field of experience. These activities are not part of the responsibility of the Hotel but all of these activities can be pre arranged or booked on arrival at your Hotel with the Front Desk or Concierge Desk staff.
Canoeing:
An enjoyable way to exercise, paddle and interact with the ever present dolphins in the tidal lagoon, in full view of the Hotel and surrounding lagoon areas. Excursions can be arranged either guided or un-guided at your convenience.
Wind Surfing:
Enjoy this exiting sport in the comfort of the safe lagoon and surrounding coastal scenery just a stone throw away from the Hotel. Activities of course are reliant on the perfect conditions and should be only booked if weather permit.
Sand Boarding:
Namibia boasts some of the highest and best dunes in the world. Why not challenge these with a sand board rather than a surf board. A very exiting way to enjoy the desert and a one-of-a-kind experience only on offer on the Coast of Namibia.
Four Wheeling:
Never has a challenge of the dessert dunes been so exiting - come and experience a trip on the highest dunes in the world on a four wheeler! All trips are guided by an experienced professional and one of the coolest ways to enjoy the Namib Dessert especially with a once in a lifetime sunset view on the dunes!
Desert Tours:
Enjoy the mysteries of the oldest dessert in the World in the presence of professional guides to unlock the treasures and secrets of the ancient desert mysteries in the luxury of comfortable four wheel drive vehicles and exquisite lunches in the heart of the dessert.
Sandwich harbor:
This tidal coastal venue, due South from Walvis Bay can only be visited if guided by professional guides and are only accessible at low tide. This one-of-a-kind experience with its awe inspiring beauty and pristine coastal and marine environment is a
must
 to be seen when visiting the Coastal Area of the Namib Desert.
Deep Sea Fishing:
We offer the experience of deep sea fishing for the avid fisherman and the excitement to land a marlin or barracuda that frequent the waters of our Coast. The best season for fishing, our prime time for these, is May to October. Species like Yellow Fin, Cob, Steenbra, Galjoen, Blacktail and Shad can be caught throughout the year. Spotted Gulley Sharks and other shark species also frequent the fishermen's line. Overall – very exiting fishing off shore as well as deep sea.
Catamaran Tours off shore:
Daily Catamaran tours can be done to view our seals, they actually get on the boat, dolphins that join the trip, albatrosses' that feed from the guest's hands, these are but a few of the highlights of such a trip. You will be delighted with an exotic champagne breakfast on the trip and treated with seafood to compliment the atmosphere.
Star gazing:
Some of the best star gazing can be done from our Southern Hemisphere perspective. Constellations and Clusters not usually seen can be observed from the desert and our perspective from the dessert
observatory
 is once again a one-of-a-kind experience. Come and experience the Constellations from the Namibian desert perspective. Never have stars been so bright and the Southern Cross been seen so definitive.
Shopping:
Doing a local shopping spree in search of memorabilia and Namibian arts and crafts is time well spent. Both Swakopmund and Walvis Bay offer a plethora of opportunities to do just that. Our local culture are diverse and so much can be seen, learnt and bought to make your trip more memorable to Namibia.

Click to display the map
Other Accommodation near Flamingo Villas Boutique Hotel:
Accommodation options within 8km from Flamingo Villas Boutique Hotel include: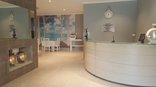 Bella Luna BnB in Walvis Bay is your home away from home. Perfectly suited for the business traveler as well as the weary soul who wants to enjoy relaxing accommodation at the coast of Namibia.
From:
R450.00
per person sharing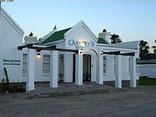 Guest Rating:

(2 reviews)
Enjoy charming accommodation, scrumptious breakfasts and quietness.
From:
R534.13
per person sharing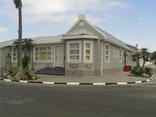 1932 House is situated within walking distance of the lagoon. This historic property was recently renovated and opened as a guest house with old world charm. Both double bed and twin bed options are available.
From:
R605.00
per person sharing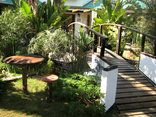 Guest Rating:

(3 reviews)
The friendly and homely atmosphere at Spindrift, a minute's walk from the famous Walvis Bay Lagoon with its unique bird life , makes it the perfect place to relax and explore the beautiful Namib and surroundings, also enjoy the many activities offered
From:
R410.00
per person sharing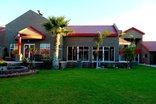 Offering free WiFi, Amjicaja Guesthouse offers rooms in Walvis Bay, 200 m from Kuiseb Delta Adventures. Located around a 12-minute walk from Pelican Bay Viewpoint (Walvis Bay), the guest house is also 1.7 km away from Walvis Bay Tourism Info.
From:
R720.00
per person sharing