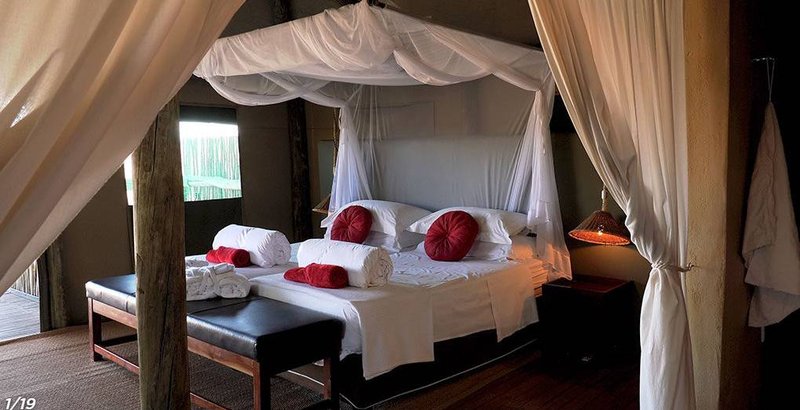 Epacha Game Lodge and Spa
is a wildlife paradise of 21,000 ha bordering on the world-renowned wildlife conservation area, Etosha National Park.
This private reserve was created as a wildlife sanctuary; commitment to wildlife preservation and nature conservation Epacha Private Game Reserve is home to the Black Rhino custodian programme and hosts 21 antelope species as well as the endangered sable antelope.
Epacha Game Lodge and Spa accommodation
In keeping with the Victorian era in Africa, Epacha Game Lodge uniquely combines turn of the century elegance with personalised safari luxury.
All 16 chalets are individually appointed with specially commissioned antique furnishings and stylishly decorated in subtle, relaxing colours.
All our luxurious chalets encompass a spacious suite and a magnificent en-suite bathroom as well as an open-air shower, and each has its own private balcony, complete with a breathtaking view across the majestic private reserve and the Ondundonzondandana valley.
All the chalets are equipped with air-conditioning, a mini bar, room safe, ceiling fan, telephone, coffee/tea service station.
Our guests can indulge in any of the numerous lodge activities; spend time relaxing in one of our spacious lounges overlooking a waterhole; seek haven in the library or cigar lounge; unwind in the billiard room or enjoy a refreshing cocktail from the bar on the pool deck.
Presidential Suite
The Presidential Suite forms part of the Epacha Game Lodge & Spa, this private villa is fully butler serviced and consists of 4 Luxury Rooms.
It is the ideal option for small parties and VIP dignitaries who require privacy and exclusive butler service. Conveniently detached in relation to Epacha Game Lodge, this villa has its own swimming pool, barbeque and entertainment area secluded in a private garden, kitchen, lounge and dining area.
Spa
Epacha Spa is a sumptuous and contemporary facility; which offers the following amenities: Sauna, Jacuzzi, Steam Room and Splash Pool. Our skilled Spa Consultants are trained to offer a wide range of beauty and wellness treatments as well as rejuvenating stress relieving programmes.
The Spa is idyllically situated to capture the peace and tranquillity of the African bush making it a peaceful haven of leisure and relaxation - a rare quality of life experience.
Epacha Game Lodge and Spa activities
- Game drives to Etosha National Park
- Game drives on Epacha Private Game Reserve
- Night drives on Epacha Private Game Reserve
- Guided Walking Trails
- Scenic Sundowner drives