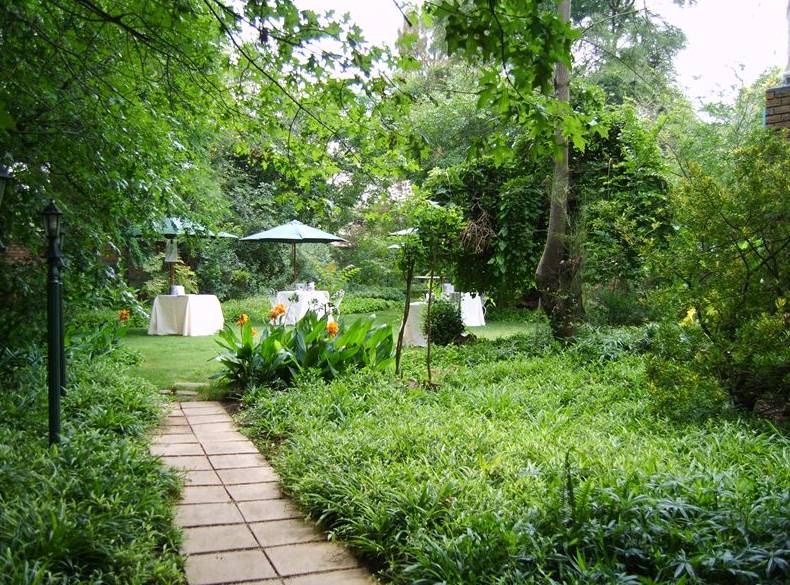 Emerald Guesthouse is situated in the upmarket suburb of Selcourt in Springs.
Emerald is very close to the "village" of Selcourt with take aways and restaurants and delivery services.
Emerald has been upgraded recently with a new wing with luxury suites and an upgrade of other rooms. Some rooms provide private entrances.
Facilities & Services
* All of our rooms and suites have Mnet and DSTV
* There is ADSL wireless internet available from the rooms.
* There is secure parking behind a high wall with remote gates.
* Laundry service available
* Heaters and fans
* Small fridge and microwave in suites.
* There is a small jet pool which is cold in winter but off chill in summer as there is solar heating.
The bird life in the garden is spectacular.
Rooms
All rooms are spacious and there is enough room to add a single bed for a child ( we have numewrous beds readily available.)
The Gold Room has a small fridge, Microwave, TV, Double bed, bath and shower plus his and hers basins en suite. Looks on to the jet pool.
The Pool Room has walls of glass looking on to a deep green garden with a double bed and bath en suite. TV and small fridge
The Wisteria Room has a double bed, fridge, TV and double shower ensuite.
Fern Cottage has a double bed TV, fridge, microwave and shower en suite.
The Gardenia Room has a double bed, bath and shower ensuite with TV, fridge and microwave.
The Seville Cottage has a shower en suite, fridge, microwave and TV.
I had a lovely stay at the Emerald Guest House. The owner was very friendly and accommodating and went to great lengths to ensure I was comfortable. The setting was very peaceful and tranquil and I will definitely stay there again when I return to the area.
Welcoming and a feeling of home and a pleasure to stay at Emerald. The breakfast was delicious.
Had a wonderful stay. Owners went out of their way. Beautiful gardens and accommodation was great. Would recommend to anyone looking for a stay in springs.
I had a lovely stay and I will definitely recommend Emerald Guest House to fellow business colleague travellers.