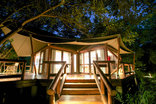 Easily accessible from South Africa, in the easternmost corner of Botswana, lies a unique, timeless corner of Africa. Game drives, walks and sleep-overs in the bush. The Lodge offers cosy suites and a sparkling pool.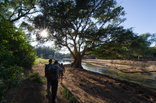 Molema offers self-catering accommodation in wooden chalets, permanent dome tents and camping sites. The accommodation is exquisitely located close to the banks of the Limpopo River, shaded by huge Leadwood and Mashatu trees.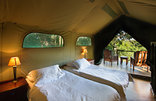 Serolo Safari Camp is located along the shady floodplain of the Limpopo River, 600 m from the river itself, under the many massive Riverine trees including the magnificent Mashatu and tall Apple-leaf trees.
A land of huge vistas, big skies and giant trees. An abundance of elephants, large cats, vast herds of antelope and more than 350 species of birds. Where the present echoes with footsteps of the past, making it difficult to leave and impelling to return.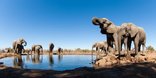 Mashatu lies at the confluence of the Limpopo and Shave rivers in a diverse wilderness of savanha, riverine forests, marshland, open plains and sandstone outcrops.