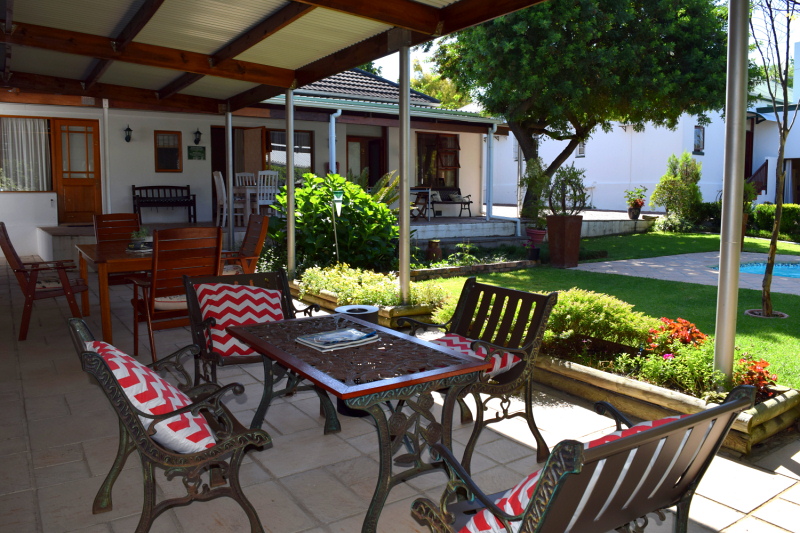 Cummings Guesthouse
is a charming B & B in the peaceful town of Wellington, surrounded by mountains and vineyards. We offer 12 rooms that accommodate 24 people. The 6 (six) B and B air conditioned rooms offer en-suite, double beds and single beds. A value for money breakfast is served in the dining room, lunch boxes and dinner are available on request. In addition there is a swimming pool, bar fridge, DSTV (Hotel pack), Wireless Internet - just a few of the extras we offer. Mattie and Cummings friendly and personal attention will make your stay truly memorable. It will be home away from home.
Accommodation at Cummings Guesthouse
Standard Rooms
All rooms are equipped with air conditioning, access to communal swimming pool, en-suite bathrooms, TV + DSTV (Hotel pack), wireless internet (WiFi), double or single beds, bar fridge, hairdryer, coffee & tea tray, breakfast, private entrance to every room, safe parking on premises, behind electronic gates.
Cummings Guesthouse
are within walking distance from Wellington`s town centre - including shops, restaurants, pubs, colleges, businesses, pharmacy, doctor, etc.
Self-Catering Rooms
The 6 (six) self catering air conditioned rooms offer en-suite, double beds or single beds. In addition there is a swimming pool, DSTV (Hotel pack), Wireless Internet - just a few extras we offer to make your stay unforgettable. The self catering rooms are further equipped with a microwave, mini fridge, kettle, cutlery, etc. A two plate stove, pot, pan and barbeque utensils are available on request.
On request
Lunch boxes and dinners, mobile "braai`s" for barbeque on request, firewood available to purchase, babysitting on request.
Wellington is conveniently situated to explore the wine, scenic and historical routes of Wellington, Paarl, Franschhoek, Stellenbosch, Tulbagh, Ceres, Swartland and Darling and West Coast.
Cape Town International Airport (63.5km) is only 50 minutes away.
What to do in Wellington
- Wine land walks
- Golf course nearby
- Wine routes
- Historical architecture with modern cellars and interesting people
- Brandy routes
- Shopping - factory outlets/crafts/art (dried fruit, leather products, mohair products, towels, juice, ext)
- Historical Walking Route & Scenic Bainskloof Pass
The welcoming was warm and friendly. The cleanliness and calm atmosphere was a welcome asset and we had a good night rest . Thank you.
The reception was very good and the room very comfortable and clean. Just one complaint: we asked for a self-catering unit, but the room had only a bar-fridge and kettle. You can also hear other guests moving around in their rooms.