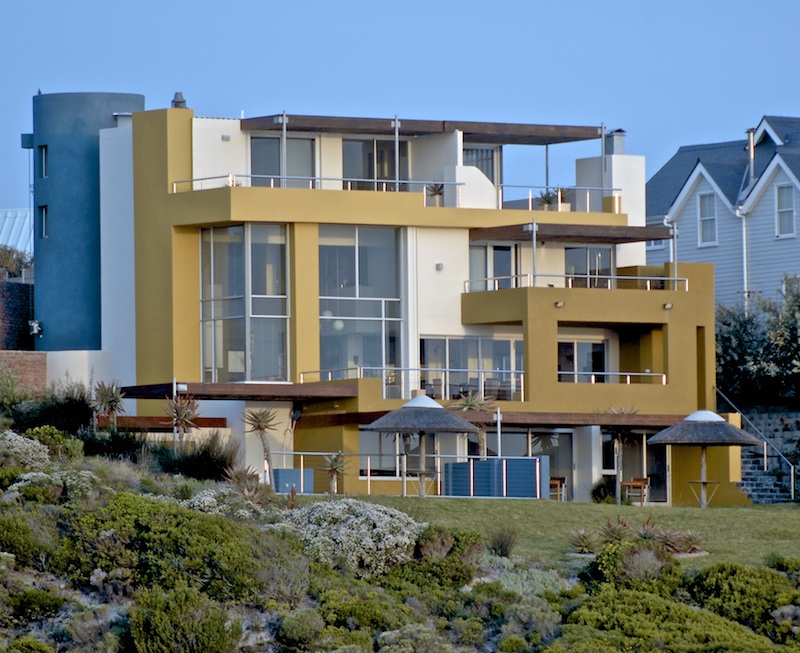 Live the warmth of the sunsets, the magic of the whales and the beauty of the sea - at Crayfish Lodge.
Newly built in 2005, this beautiful modern 5 star sea front guest house is designed to let you marvel at the sound of the whales, discover this pristine coastal area, and, of course, to let you simply relax.
At Crayfish Lodge you will certainly be enjoying some of the finest sea, mountain and Fynbos views in South Africa.
Full health breakfast buffet is served - on the sea view veranda or inside - with a wide varietyof the freshest local produce to please any palate. A stay at Crayfish Lodge also includes an optional gourmet dinner in one of the most stunning restaurants of the area.
Rooms:
All our rooms are equipped with DSTV decoders, offering a selection of satellite TV channels - including movie-, sports-, news- and foreign
language programs.
Children 16+ welcome.
Atlantic Garden Room:
Each beautifully furnished room has its own sitting area, a private patio or courtyard with sea views (covered with beautiful pergolas for comfortable shade) and direct access to the large pool and beach.
Panorama Suite:
Our large luxury suites offer a high level of comfort. Each individually shaped and decorated. Enjoy your spacious bath area, spa bath and spa shower. From your own private balcony overlooking Walker Bay you'll have the most spectacular panoramic views.
Crayfish Lodge Sea & Country Guest House Activities:
* Hiking & Fynbos
* Golf
* Day trips in land
* Boat trips
* Coastal day trips
* Scenic Flights
* Sharks
* Whales

Click to display the map