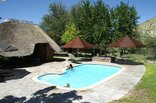 Accommodation in a en-suite thatched bungalows and 6 luxury tents. Each unit has a private patio, and the lodge has a dining room serving 3 meals a day, a private guest bar and a guest lounge. Located on a 12 000 Ha farm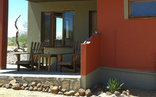 The Hohenstein Lodge is situated on the south- western edge of the Erongo Mountains at the foot of the huge Hohenstein Massif about 25 km north of Usakos on the road D1935. It is the closest Lodge to the famous Spitzkoppe mountains.
41.5 km FROM Karibib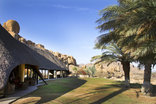 Ai‐Aiba ‐The Rock Painting Lodge is dramatically set against imposing granite boulders in the foothills of the Erongo Mountain range. Famous for its countless rock painting sites Ai‐Aiba is a mystical exploration of nature.
55.9 km FROM Karibib