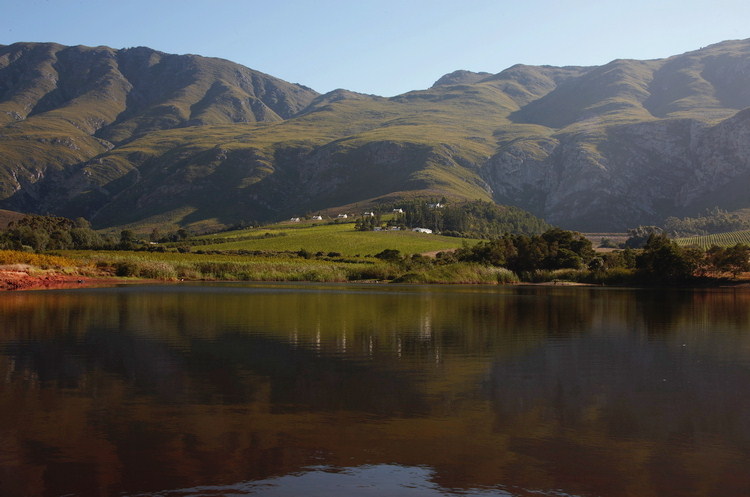 Bushmanspad Estate, a top-quality red wine project situated high on the slopes of the spectacular Langeberg mountains in the Western Cape of South Africa, offering high class wine and accommodation.
The name of the farm relates to the time when the Bushmen came over the mountains to do trading in the valley. The old trail and the kloof in the rocks above the waterdam still shows records of those days.
The 5 newly built luxury cottages enable us to share the spectacular panoramic views, breath-taking sunsets and peaceful nights as only enjoyed under an African sky.
Come and enjoy our wines either by staying in one of our cottages or by visiting our 200 year old wine tasting room and cellar for a relaxing winetasting.
Activities include:
- Wine tour, bird watching and mountain biking. Please don't forget your Mountain Bikes & Hiking Boots!
- Swimming in the dam or relaxing at its adjacent picnic area
- Watching the beautiful indigenous Nguni cattle in the meadow
- Hiking along the old Bushmantrail to the Kloof
Rooms:
We have 5 self catering cottages each with a 1 bedroom with a double bed, en-suite shower and open plan kitchen and living area. We have a large sleeper couch in each cottage which is suitable for children.
The 5 luxury cottages are set high in the mountains, yet easily accessible by car and offer spectacular views of up to 100 kms to the sand dunes between Witsands and Agulhas:
- Fully equipped including satellite television
- Barbeque area with "the best view in the Western Cape"
- Bathrooms with showers en suite
Bushmanspad Estate Activities:
There are many other attractions within a 40 km radius of us like horse riding, boat cruises with wine tasting, cheese factory, a maze, Birds of paradise, Montagu hot springs, tractor rides up the Langeberg mountains overlooking the Boland and lots more.
- 48 cellars in the Robertson Valley for tours and tasting
- Lunch cruise with wine tasting on the Breede River
- Perfect fishing spots alongside the Breede River
- Awesome 4x4 routes from the exciting to the daring
- Stunning hiking trail from Montagu to Swellendam
- Horse and camel rides in Sakisa Safari Park in Ashton
- Robertson with its "Birds of Paradise" collection, the famous cactus garden and the newly opened maze
- Historical Swellendam with its museum and Bontebok Park
- Montagu with its museum and Bontebok Park
- Montagu with its lovely restaurants and famous hot springs

Click to display the map
Clothing & Accessories:
Bring towels for swimming.