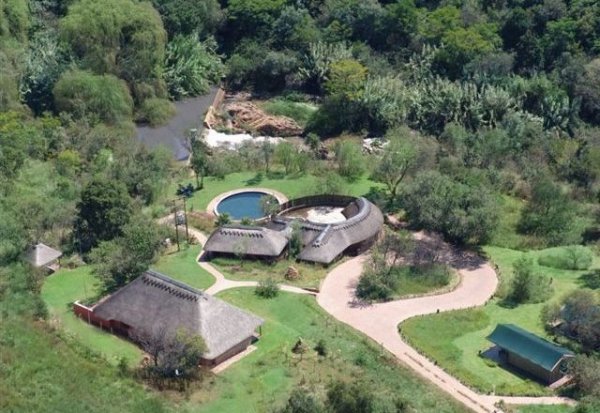 Situated in Muldersdrift only 30 minutes from both Johannesburg and Pretoria,
Bush Willow Tented Camp
offers a unique experience.
The small tented camp is built in a sector of Glenburn lodge which is surrounded by indigenous bush, at the foot of the Zwartkops Mountains, on the banks of the Blaauwbank River.
Accommodation comprises ten large comfortable walk-in tents, sleeping upto six people each, including hot indoor showers and a small kitchenette.
The communal braai area is at the Boma, and there is a heated outdoor pool.
The tented camp can be booked exclusively by a group in conjunction with the full take-up of all the tents, accommodating up to 60 people. All meals are prepared and enjoyed in the thatched boma area where one can relax with a glass of wine while the tantalizing aroma of food grilling fills the air.
Accommodation at Bush Willow Tented Camp:
Army type beds with mattresses and mattress protectors. Linen will be provided on request at an additional charge. The linen is placed at the foot of the bed for the guests` own convenience.
Rooms:
EACH TENT CONSIST OF THE FOLLOWING:
• Permanent walk-in tent
• 6 x Army style single beds with mattresses and mattress protectors
• 4 x bedside Lights
• 1 x emergency backup light
• 4 x electric plugs points
• 1 x kettle
• 1 x 2 plate stove
• 1 x small fridge
• Kitchen basin
• 1 x cutlery/crockery rack
• 2 x dustbins
• 1 x Bathroom mirror
• 1 x Duck boards
• 1 x Shower with shower curtain
• 1 x Toilet with toilet paper
• 4 x Steel Trommels (Lockable)
• 2 x Steel cabinets
• 6 x Plastic chairs
• 1 x Mop & bucket
• 1 x Broom
• 1 x Dustpan
• 1 x Bucket for cigarettes
• 1 x picnic bench
BOMA: (communal area)
• 1 x Urn
• 1 x Microwave
• 8 x Braai stands
• 1 x Gas braai
• 8 x Picnic benches
• 1 x Fridge
• 1 x Freezer
• 1 x Washing-up area
Bush Willow Tented Camp Activities:
RECREATIONAL FACILITIES (ON-SITE)
No charge to in-house guest
Exclusive use of a heated swimming pool, access to river fishing as well as nature walks and bird watching along marked trails in the mountain are some of the leisure activities available.
MOUNTAIN BIKE - Two cycling routes - Less than 5km.
The beginners route (Green) is for cyclists of all ages and levels, while the advanced route (Red) is
a technical ride with several up - and downhills with rocky stretches.
Bike hire fees applicable - please contact reception for further information.
With rugby, hockey, cricket and soccer facilities, Bush Willow is an inviting option for school, provincial and international sport teams requiring training facilities.

Click to display the map
Clothing & Accessories:
CHECKLIST FOR CAMPERS
(please bring)
• Bedding (Sleeping bag & Pillow)
• Torch & Batteries
• Food and Beverages
• Lock & Key
• First Aid Supplies
• Cell phone & charger
• Proof of payment / Balance of payment
• Plates, Drinking glasses, Bowls Cups / Mugs, Knifes & Forks, Spoons
• Pot & pans
• Dish cloth, sponge & soap
• Payment for specialists – if arranged / booked
• Cleaning materials
• Ice and Cooler box
• Firewood / Charcoal / Firelighter and Matches
• Black bags
• Camping clothes Jersey / Dry Mac, Hiking shoes / tekkies/ strops, hat
• Sunscreen
• Camera / Film, Binoculars
• Toiletries
• Towels, swimming costume
• Mosquito repellent
• Sporting equipment
• Water bottles
• Pens & writing paper
• Plastic bag for wet clothing
• Gas Braai's permitted outside the tent
• Any special medication ***