Bergsig Guesthouse Activities:
Harrismith is a small, charming country town, founded in 1849, but discovered by tourists only recently. Visitors remark on its cleanliness, and the friendliness of its inhabitants. It is the ideal destination to break a long trip, hold a conference or escape from the stresses of city living and recharge batteries in tranquil surroundings and excellent facilities.
The town is well known for its gardens (both domestic and wild flower gardens), golf course (the oldest in South Africa) and links with the South African War, with close by battle sites, blockhouses and a military cemetery. There are also Boer, Brit and sandstone architecture to be seen.
Indulge in open air hobbies like birding, biking, 4x4, hiking, climbing, golfing, history, water sport and lots more. Activities near Harrismith include trout fishing, water sport on the Sterkfontein Dam (the third largest dam in South Africa), bird watching and visiting well stocked game farms.
The Drakensberg range and Maluti Mountains provide a spectacular backdrop to Harrismith.
Attractions:
- Debora Retief Garden -a 250 million-year-old, 33 m fossilised treelies in this garden next to the town hall.
- Golf courses - the 18 hole course is the third oldest in South Africa.
- Kerkenberg - the Voortrekkers camped in the area, whilst their leader, Piet Retief, negotiated with the Zulu leader Dingane. After receiving reports of what the Voortrekkers interpreted as successful negotiations Retiefs daughter wrote his name, and the date, which was also his birthday, on the rock where they held a church service.
- Harrismith Museum - a small community museum in the Market Hall at the back of the Harrismith Town Hall.
- Platberg Mountain - the 2 394 m flat mountain is Harrismiths landmark. A famous race, claimed by some to be the toughest in South Africa.
- President Brand Park - a picnic area along the tranquil banks of the Wilge River.
- Sterkfontein Dam - the third largest dam in South Africa, and unusual as practically all the water is pumped up the escarpment from KwaZulu-Natal. Built before the Lesotho Highlands water scheme was developed, this was a vital source of water for Gauteng.
- Swinburne - now looking insignificant compared to larger brothers, the second oldest bridge in the Free State, a National Monument, spans the Wilge River. At the official opening in 1884 it was claimed that, as it was the furthest of its kind towards the interior, it marked a distinct advance of the forces of civilization.
- Harrismith Town Hall - a graceful sandstone and brick building built in 1907, and a National Monument.
Bergsig Guesthouse Map:
Guest Rating:

(11 reviews)
Amadudu provides friendly service and rooms with luxurious linen, excellent mattresses, coffee/tea, hairdryers and electric blankets, free wireless internet and excellent security.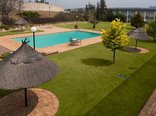 Guest Rating:

(18 reviews)
Harrismith Inn is your ultimate country venue for luxury accommodation, conference and banqueting facilities, with some 115 rooms, venues for hundreds of people, Sir Harry's Bar, Buffet and a la Carte Restaurant, modern facilities and amenities.
From:
R417.50
per person sharing
Central between Johannesburg and Durban, King's Garden provides a sunny garden room, braai facility and luxurious rooms with friendly and personal service. Free wireless internet and excellent security ensures you are comfortable.
From:
R300.00
per person sharing
Offering accommodation in a historic house that was built in 1860. We have time to live and to love. A warm welcome awaits you at our establishment which is steeped in history, a gem that offers great charm.
From:
R565.00
per person sharing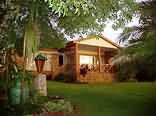 Grading:

Guest Rating:

(7 reviews)
Greensleeves guest rooms located in the Kingshill area of Harrismith near the SPAR supermarket, offering overnight accommodation. Always, neat, clean and tidy with all comforts provided. Also a remote control Lockup garage.
From:
R373.75
per person sharing