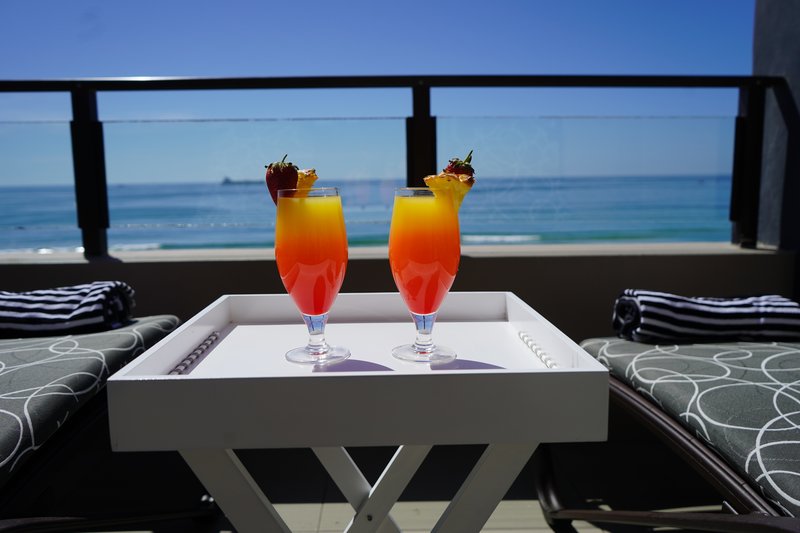 Bay Lodge
- Nesting on the sand dune at the ocean, with the majestic Outeniqua Mountains as a back drop, lies our gem, Bay Lodge on the Beach. Here you can relax, see and smell the ocean at the same time. Closer to the ocean you will not get. Come and watch as the dolphins and whales pass by while enjoying our lay beds and drinks. Experience our candle light evenings with our fire boma out looking the ocean. Enjoy our scrumptious breakfast with a starter in our lounge or on the beach if the weather permits. Swimming in the ocean or our pool, sunbathing, fishing, drone fishing and strolling on the beach is just a few activities that you can experience at Bay Lodge. You have come to the place where holiday dreams do come true. Please contact us if you would like to request a booking.
Accommodation at Bay Lodge:
The contemporary interiors combine eclectic style and eco-friendly textiles. Choose from any of our stylish and comfortable rooms with thoughtful touches and attention to detail.
Our rooms offer coffee/tea facilities, minibar fridges, flat screen televisions, DSTV, electronic safes, luxury amenities and WiFi internet access. All rooms are strictly non smoking.
Superior Suite 1:
- Upper Floor
- King-size bed with 200 thread count percale linen
- Sleeps 2 guests
- En-suite bathroom with 2 basins, bath and shower
- Dresser and chair with high quality hair dryer
- 2 Arm chairs
- Flat screen television (Selected channels)
- Electronic safe
- Alternative bedding on request
- Mini Bar fridge
- Coffee/tea facilities
- Free wireless internet
- Free off-street parking
- 180° Ocean Views
- 20 Meters from the beach
- Microwave oven
Luxury Suite 1:
- Upper Floor
- King-size bed with 200 thread count percale linen
- Sleeps 2 guests
- En-suite bathroom with 1 basin and shower only
- Dresser and chair with high quality hair dryer
- 2 Arm chairs
- Flat screen television (Selected channels)
- Electronic safe
- Alternative bedding on request
- Mini Bar fridge
- Coffee/tea facilities
- Free wireless internet
- Free off-street parking
- 180° Ocean Views
- 20 Meters from the beach
- Small Balcony
- Microwave oven
Luxury Suite 2:
- Upper Floor
- King-size bed with 200 thread count percale linen
- Sleeps 2 guests
- En-suite bathroom with 1 basin and shower only
- Dresser and chair with high quality hair dryer
- 2 Arm chairs
- Flat screen television (Selected channels)
- Electronic safe
- Alternative bedding on request
- Mini Bar fridge
- Coffee/tea facilities
- Free wireless internet
- Free off-street parking
- 180° Ocean Views
- 20 Meters from the beach
- Small Balcony
- Microwave oven
Room 1 - First Floor:
- King-size bed (2 single beds) with a 200 thread count percale linen
- Sleep 1 to 2 guests
- Full en-suite bathroom with bath and separate shower
- Air conditioner
- Dresser and chair with high quality hair dryer
- 2 Arm chairs
- Flat screen television (10 channels)
- Electronic safe
- Alternative bedding on request
- Bar fridge
- Coffee/tea facilities
- Free wireless internet
- Free off-street parking
- No ocean views
- Microwave oven
- Toaster
Room 2 - First Floor:
- King-size bed (2 single beds) with a 200 thread count percale linen
- Sleep 1 to 2 guests
- Full en-suite bathroom with bath and separate shower
- Air conditioner
- Dresser and chair with high quality hair dryer
- 2 Arm chairs
- Flat screen television (10 channels)
- Electronic safe
- Alternative bedding on request
- Bar fridge
- Coffee/tea facilities
- Free wireless internet
- Free off-street parking
- No ocean views
- Microwave oven
- Toaster
Room 3 - First Floor
:
- King-size bed (2 single beds) with a 200 thread count percale linen
- Sleep 1 to 2 guests
- Full en-suite bathroom with bath and separate shower
- Air conditioner
- Dresser and chair with high quality hair dryer
- 2 Arm chairs
- Flat screen television (10 channels)
- Small street facing Balcony with Patio set
- Bar fridge
- Coffee/tea facilities
- Free wireless internet
- Free off-street parking
- Balcony
- No ocean views
- Electronic Safe
- Alternative bedding on request
- Microwave oven
- Toaster
Room 4 - First Floor:
- Double bed with a 200 thread count percale linen
- Sleep 1 to 2 guests
- En suite bathroom with shower in bath
- Air conditioner
- Dresser and chair with high quality hair dryer
- 2 Arm chairs
- Flat screen television (10 channels)
- Electronic safe
- Large street facing Balcony with Patio set and Weber BBQ
- Alternative bedding on request
- Bar fridge
- Coffee/tea facilities
- Free wireless internet
- Free off-street parking
- Balcony
- No ocean views
- Microwave oven
- Toaster
Family Room 5 - Ground Floor:
- King-size bed and two single beds with 200 thread count percale linen
- Sleep 1 to 4 guests
- En-suite bathroom with shower only
- Air conditioner
- Dresser and chair with high quality hair dryer
- 2 Arm chairs
- Flat screen television (10 channels)
- Electronic safe
- Alternative bedding on request
- Bar fridge
- Coffee/tea facilities
- Free wireless internet
- Free off-street parking
- No ocean views
- Microwave oven
- Toaster
Presidential Suite:
- Sea breeze
- Air-conditioner
- King-size bed with 400 thread count percale linen
- Dresser with chair and high quality blow dryer
- Lounge area
- Flat screen TV
- DVD player
- Electronic safe
- Alternative bedding available
- Bar-fridge
- Cutlery for 2 persons
- Microwave oven
- Coffee/tea facilities
- Nespresso coffee machine