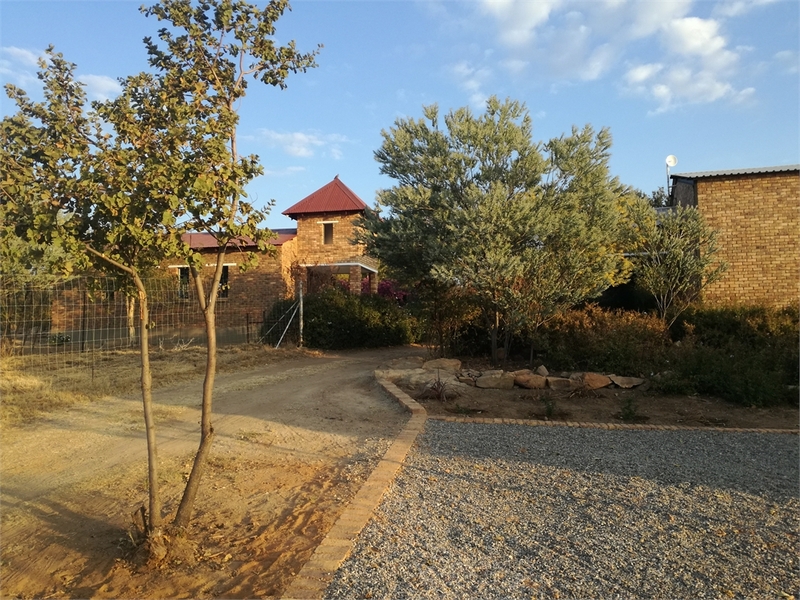 Bark at the Moon
started through a genuine desire to provide all couples with a unique experience. Every couple is different, and so your wedding should be too. So, we built an exquisite venue, close enough to Pretoria to be accessible, far enough to still be isolated. Away from the city lights, the Milky Way can show its splendour. Situated in the lush bushveld, we are surrounded by wildlife that freely roams so we can provide an idyllic setting for any wedding. But we are more than just a wedding destination. We want everyone to share in the beauty of our surroundings. We offer bespoke solutions to all your event needs, from conferences to birthday parties, christenings, or pop-up markets.
Accommodation at Bark at the Moon:
Self-catering cottages with breakfast included
We offer two one-bedroom self-catering cottages that can each sleep a family of up to four. Each cottage comes with a double bed, and pull-out sofa beds in the sitting room that can be used for small children.
Our luxury cottages come fully equipped for your convenience. Make the most of a variety of activities or just sit back, relax, and enjoy the solitude of the veld.
Venue at Bark at the Moon:
Weddings:
Our wedding package has been designed with you in mind, so that you can have your special day, your own way!.
Bark at the moon is perfectly located to offer you a romantic setting, nestled in tranquillity and a mere 25 minutes from Pretoria. We offer a chic venue surrounded by lush bushveld giving our couples an unforgettable location with stunning photo opportunities.
Whether you are looking for something a little more traditional, a very informal celebration or a garden wedding, we have the venue to make your dreams come true.
We believe your wedding should be as individual as you are, so we put you in charge of even the smallest detail of your big day. Bark at the Moon provides you with unlimited opportunities for customisation to make your wedding dreams come true. So, go big and bold or quiet and discreet to create those magical moments that will make your special day even more memorable.
We have an on-site chapel for smaller weddings that can seat up to 60 guests, or you can embrace your surroundings and walk down the aisle under the blue skies for a garden ceremony where we can host up to 250 guests. We even provide accommodation for up to eight people for those special out-of-town guests.
Bark at the Moon is fully licensed and stocked with a variety of drinks options. Choose from a full account bar, account bar with a limit, or full cash bar.
Conferences and Functions:
Bark at the moon is the perfect location for breaking the mould and impressing your guests and colleagues by offering something unique and exciting.
Conferences provide the ideal networking opportunity for your company. And whether you want to strategize for the future, workshop, train, launch a product or have special awards evenings, what better backdrop for your next get-together than surrounded by wildlife and bushveld?
A mere 25 minutes from Pretoria, we've established a tranquil oasis for a relaxing working environment both indoors and out.
At Bark at the Moon we offer ample space both indoors and out and can accommodate up to 300 guests. Our venue is offered as a shell, so you can bring your brand identity to life throughout the whole event.
We know that conferences have the potential to last all day and sometimes even into the night, and food plays a big role in keeping your guests engaged and alert throughout. That is why we offer a customized menu for your event needs.
We also cater for the following private functions:
- Baby Showers
- Christenings
- Birthdays
- Engagement Parties
- Anniversary Parties
Some interesting facts:
Cullinan is a small town 30 km (19 mi) east of Pretoria, Gauteng, South Africa. It is a small town ... The town of Cullinan owes its existence to the diamond mining in this area, this mine have historical half day tours, Cullinan Victorian little village is only 10 minutes away from our venue and has shopping and restaurant facilities, an Italian World War II prison Museum Zonderwater Italian POW with a large Italian cemetery , Lion and Cheetah Sanctuary, Dinokeng Game Reserve, Roodeplaat Dam, Rovos Rail Steam train Tours,