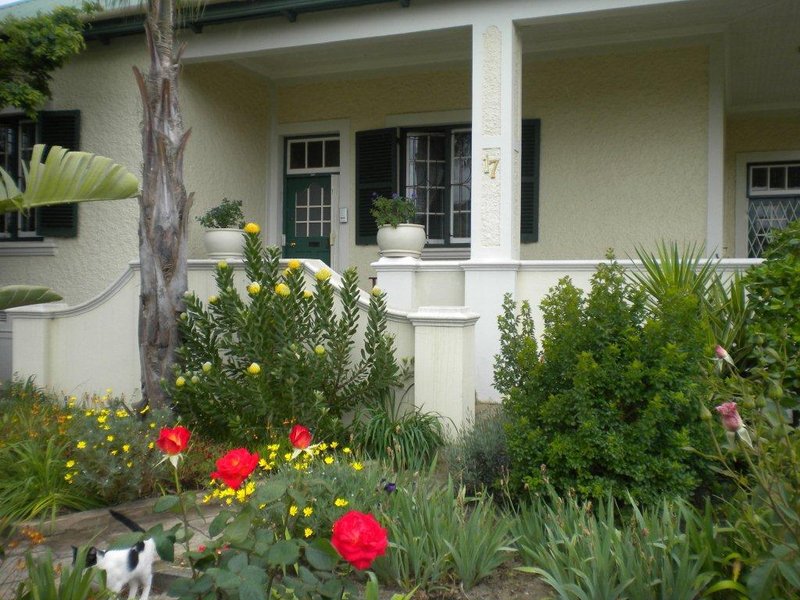 Auberge Alouette Guest House
is situated within one hour's drive from Cape Town and even less from the Cape Town International Airport, all this is within reach for those who would like to experience the beauty and treasures of this jewel of the Winelands.
After a day of making unforgettable memories to take home, exhausted guests can return to a place where you can rejoice and relax in the splendor of homeliness, sincere warmth and the service of friendly and caring staff.
You can come home to Auberge Alouette Guest House –
'Place of the Lark'
, hosted in a lovely old home dating back to the 1940's, which shows off the warmth of wooden floors and doors and the ambiance of that time, but facilitates the comforts of the 21st Century and offers a spacious garden that is awaiting the lark to arrive and sing his beautiful song to you.
Breakfast Room:
Staff, whose priority proofs to be one of genuine interest in your comfort, satisfaction and happiness, will meet you on arrival. Whether it is to make you feel the important person you are to us or to ensure that you enjoy the breakfast we offer.
Lounge:
Meet other guests in the lounge where comfortable chairs, interesting books and a piano offer interaction with fellow guests. The family-size Stinkwood table and chairs are ideal for the occasional meeting with business associates or a special arranged dinner with visiting friends.
Passages:
Coffee and tea facilities are offered in the main passage, which is inter-linking the rooms with the annex where the Reception and Breakfast room are situated.
Pool area:
Make yourself at home in front of one of the jets in the pool to enjoy the subtle touch of thrashing water on your back and afterwards allow the South African sun to caress your body up to a stage of total relaxation.
Accommodation at Auberge Alouette Guest House:
We only facilitates five double rooms. We do not offer accommodation for children and do not have any facilities as such available.
All the rooms are basically the same, offering oregon pine floors, door frames and furnishing. Every room has been decorated according to the individual piece of art above the queen size bed and accordingly named after a South African bird. The beds are of excellent quality and white crisp 100% Percule cotton bedding is used.
Because of the height of the ceilings air-conditioning is not necessary, but ceiling fans help circulating the air throughout the year. Wall heaters ensure a cosy atmosphere during winter months and a hair-dryer is available in every room.
The interior of the rooms are decorated according to the canvases.
With pleasure. We were most impressed with the facility. We are regular travellers and usually stay @ 4/5 star establishments when on holiday. In this instance we had to attend a meeting and required just overnight sleeping facility. We found AA scrupulously clean, the bedding white and clean, towels white and fluffy. We were even given bath products and face cloths. The owner is charming, attentive but not intrusive and the breakfast good. The place is very central, easily within walking distance of town centre yet very quiet. We will recommend it without hesitation.
Very welcoming and helpful, guided to visit lots of places, we enjoyed our visit immensely. One comment would be that we were not asked what we would like for breakfast.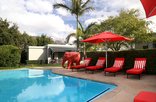 Avondrood Guesthouse is nestled amidst the beautiful mountains and vineyards of the Cape Winelands and conveniently located within walking distance of the village centre of Franschhoek, South Africa's renowned gourmet capital.
From:
R825.00
per person sharing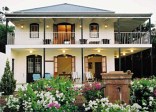 Gelatenheid is a 220 square metre guesthouse - a double storey just for two.There is a romantic bath under the trees with a heated towel rail.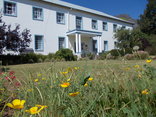 Grading:

Guest Rating:

(1 review)
Traveler's Lodge for individuals or large Groups. Ideal for Church, Sports or School groups. 80 beds available. Available for another 60. Accommodation for permanent or semi-permanent guests.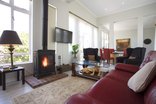 No visit to the Western Cape would be complete without a visit to Franschhoek, with its award winning restaurants, beautiful shops, wine farms and tours and stunning scenery. The Penthouse at Bijoux Square is centrally located in town.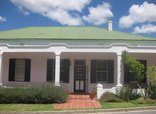 Sunny Lane, situated in the heart of Franschhoek Village and within walking distance of top restuarants and shops.