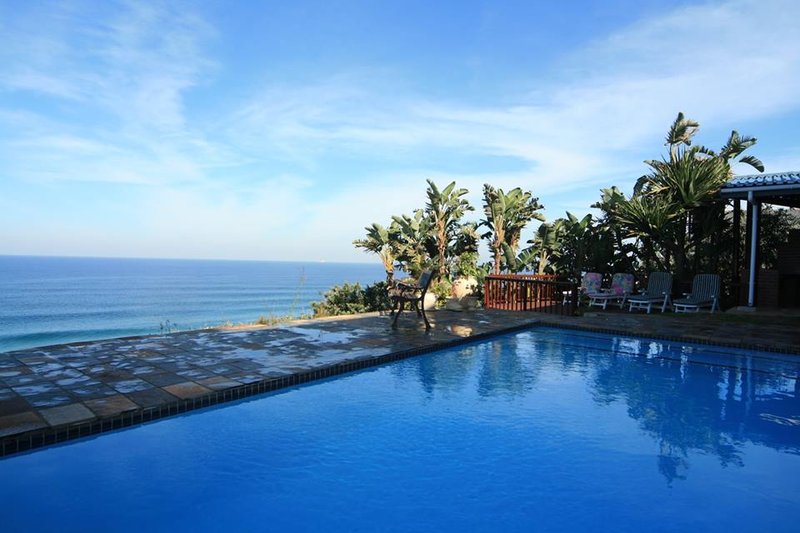 All Seasons B&B
- We provide luxury accommodation including breakfast. All Suites have sea views. Access to the most beautiful private beach from the Guest House.
Enjoy long undisturbed walks along the beach, surfing on the famous Garvey's and Cave Rock Beaches, beautifully preserved coral reef for diving and snorkeling and collect an abundance of seashells.
Accommodation at All Seasons B&B:
Private Bedrooms equipped with a coffee station, television, private bathroom, hairdryers, comfortable beds and private balcony. Private reading lounge overlooking the sea in peaceful setting.
Common lounge with television and dinning area combined for the travelers who do not want to be alone. Beautiful pool deck and braai area.
Main deck overlooking the garden, sea and undisturbed environment, an abundance of bird life to view. Magnificent sunrise and sunsets over the ocean to be viewed on the sundecks or from your own private balcony.
Self Service coffee station and refreshments available 24 hours a day. Laundry facility provided 24-hour service depending on weather conditions. All rooms are serviced daily.
In addition to the suites available at the main B & B, there is an upstairs, two-bedroom self-catering apartment situated across the road. All towels, linen, crockery and cutlery provided. This apartment is also serviced daily.
The bed and breakfast has a self catering unit where we stayed. It has recently been refurbished and is ultra modern and everything is sparkling clean. Over the road is the main B&B which has the most stunning views of the beach below. The beach is secluded and if you like to take lovely long walks on the beach then this is the place for you. I would recommend it to anyone.