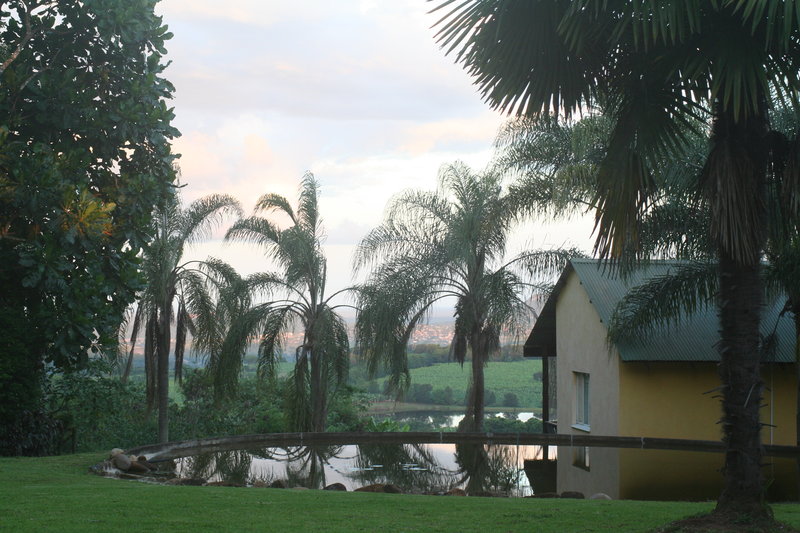 Unpretentious and casual,
Nabana Lodge
is a small family run establishment, set in a tranquil environment between banana farms with amazing views over the eastern escarpment. Waking up to spectacular sunrises, the tone is set for the day.
Rural it may be, but the area is the playground of the extreme adventurous with activities such as white water rafting, mountain biking, tree top sailing, bungie jumping, quad biking and many more.
Or just want to recharge your batteries? Nature lovers can indulge in scenes such as God`s Window, Three Rondavels, Mac Mac Pools, Blyderiver Canyon and the wondrous waterfalls surrounding Sabie and Graskop. With two gates to our beloved Kruger National Park a mere 22 km away, animal lovers can catch the sunrise in the Park and benefit from the much lower accommodation rates offered here.
Nabana is a fully catered lodge and facilities include clean and comfortable rooms, a vibrant pub, Thyme Restaurant, a sparkling pool amidst extensive gardens and a large parking area directly off the main road. Parking is also available at your room. For your safety, measures taken include an electric perimeter fence, 24 hour access control and guard at night.
Rooms are 3-star graded, en-suite with DSTV, a ceiling fan, small safe, coffee and tea station and microwave. All rooms overlook the eastern escarpment. Of the eight rooms, one is a double en-suite and the other seven twin en-suite. Two of the units have interlinking doors giving easy access to children.
The Sportsman Bar on site is where locals, business travelers and tourists meet to share their experiences of the day, have an ice cold drink or challenge each other at a game of pool. For major sport events there is a large movie screen and the atmosphere becomes electric.
Set amongst banana farms, Nabana Lodge is a little haven for little creatures and birds such as Heuglin's Robins, Paradise Flycatchers, Cape White Eye, a number of owl species and many more. Bats and Palm Swifts co-habitat happily in the Watsonia Palm at the pool deck. A bird list for our area is available from reception for the keen birder. There are twelve species of Palms in the gardens, from the Bottle Palm to the majestic Royal Palm.
Children are most welcome and special provision is made for them, with a safe play area and a kiddies menu in the restaurant. Your furry friends are also welcome and will enjoy the company of the two resident jack russels.
Thyme Restaurant is run under the very capable hands of owner, Paul Shepheard, who is an internationally trained and experienced chef. Dine in the relaxed atmosphere on the deck overlooking the gardens or in the pub. The menu is extensive, meals are very well priced and weekly specials are on offer. We cater for individual dietary needs and can make breakfast packs for those explorers wanting to leave early. Your choice from the menu, or a pre-cooked frozen meal can be delivered to your room should you arrive late, to be warmed in the microwave provided. The restaurant is open all day, from 07h00 to 19h00 on Mondays, Tuesdays and Thursdays but stays open later on Wednesdays, Fridays and Saturdays. We are closed on Sundays.
Nabana Lodge is a small inn where the emphasis is on giving our guests a memorable experience, exceeding your expectations. Come and enjoy our hospitality.
Accommodation at Nabana Lodge:
At Nabana Lodge we have 8 rooms, one having a double bed and seven being twin rooms. Our rooms are pleasant, clean and comfortable all with en-suite bathroom and a shower in the bath. Bathroom amenities are supplied.
For your convenience an extra blanket and hot water bottle is provided for the colder winter nights. The ceiling fan is all you need to sleep restfully in summer.
DSTV - Mnet, MM1, MM2 and Supersport are available in the rooms and coffee and tea facilities, microwave as well as a safe. Our rooms are all east facing offering breathtaking sunrise scenes over the farmlands below.