Lincoln Cottages Activities:
Lincoln Cottages is also centrally located to many of the various schools, hospitals and recreational facilities.
- PMB Action Sport Cricket- 5 km( 7 mins)
- City Hall (Start of Comrades Marathon) 7 km to 11 km
- Midlands Meander - 46,2 km, 37 min
- King Shaka Airport - 102 km, 1 hour 5 min
- Pietermaritzburg Oribi Airport - 7,2 km, 12 min
- Liberty Mall - 10,1 km, 17 min
- Royal Agricultural Show grounds - 9,9 km, 16 min
- Duzi River (Start of Duzi canoe marathon) - 2,6 km, 5 min
- University of Kwa Zulu Natal - 5,2 km, 10 min
- Golden Horse Casino - 4,8 km, 7 min
- Drakensberg Mountains - 231 km, 2 hours 43 min
- Secret Gardens Wedding Venue - 10,4 km, 18 min
- Savannah Estate Wedding Venue
- Pietermaritzburg Golf Club - 4 km, 6 min
We have a jungle gym and a huge, lovely blue crystal clear pool on the property.
Lincoln Cottages Map:
Health & Climate:
The climate in the KwaZulu Natal Province is all year round tourist friendly. Sea temperatures are also relatively stable, averaging 21 degrees all year, providing possibilities for a diversity of aquatic activities in any season, including diving, fishing, swimming, boating and surfing.
Visitors to KwaZulu Natal can look forward to a splendid climate. The largest city, Durban, enjoys warmth and sunshine very occasionally mixed with light, steady rainfall. In Durban the air is heavy with humidity and the subtropical latitude of the city brings with it long, hot summers with rainfall, and very mild winters.
Grading:

Guest Rating:

(3 reviews)
Enjoy the African Experience of home. Close to Duzi, Golden Horse casino, race course, and, city centre, university and malls. Offering tranquil surroundings, complete security and privacy.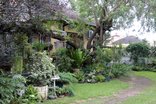 Affordable accredited accommodation, easily accessible in KZN's capital city, Pietermaritzburg. Close to University, schools & many tourist attractions. Acclaimed gardens with large swimming pool. Well established - opened in 1996.
From:
R345.00
per person sharing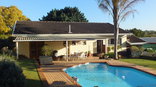 Grading:

Guest Rating:

(1 review)
Situated in Hayfields, we have 4 very comfortable en suite rooms with all the extras needed. Close to schools, University and other amenities. Off street parking with remote access and private entry to rooms. B&B or self catering options available.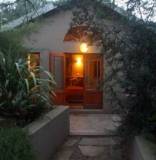 Beautifully appointed with an African safari lodge flavour. Close to all amenities and extremely affordable. Offering you a choice of self catering or B & B. Suitable for families, corporate guests, sporting groups and tourists alike.
From:
R325.00
per person sharing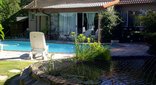 The B&B is situated at a quiet suburb away from the city noise, enter to a tranquil garden with trees and birds for the guests to enjoy. In the manner of every classic B&B, we believe mornings are something to look forward to.
From:
R445.00
per person sharing