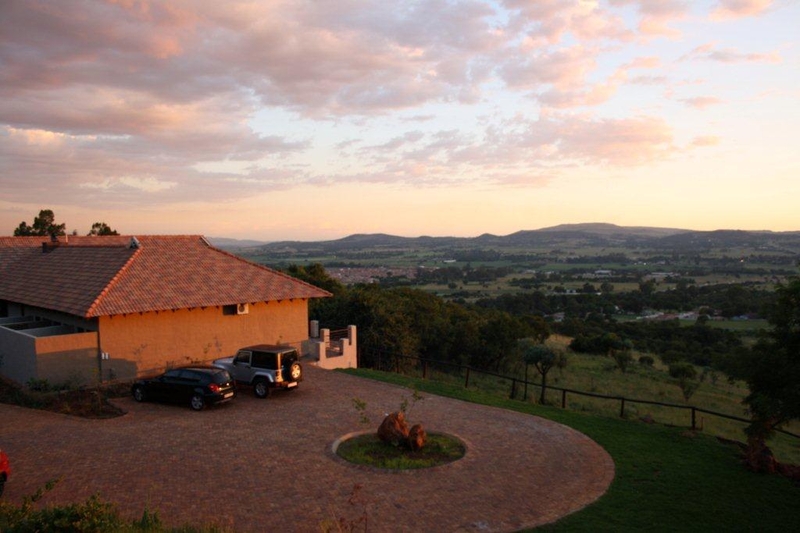 To the South, Nested above the rush and noise of a city that never sleeps, confined within the boundaries of the Klipriversberg Conservancy is where you will find us.
Here a Sunset can be appreciated after a long, warm and dusty African day. Time comes to a stand still, frogs croaking in the back ground, owls howling in the calm cool breeze, all troubles rolling down and away into the Eikenhof Valley to be washed away by the Klipriver itself.
Welcome to our Home,
Eagles Nest Estate Guest House
.
Here we pride ourselves in living life close to nature and to the core of being, still making time to sit around a 12 seater table in our country style kitchen, listening to each other's adventures and dreaming together of conquering the challenges of a new day. Sharing the tales of new friends and the memories of bygones where you are always welcome to join us.
You'll wake up the following morning, walking out onto the balcony with a freshly brewed cup of coffee, listening to the chattering of the guinea fowl at the foot of the valley, wondering when last you have been here, so close to nature, so wanted, so refreshed.
Accommodation at Eagles Nest Estate Guest House:
Eagles Nest Estate comprises of 3 luxurious havens of quiet rest after a busy day, a place where you can kick your shoes off and enjoy the spectacular 180 degree view of the unpopulated Eikenhof valley.
Each double room is spacious, en suite luxury with an outdoor shower as an unusual bonus. The rooms are fitted with Comfortable beds and pure cotton linen that invite you closer. All our rooms have mini coffee bars and LCD Television DSTV, SABC'S and a Movie Channel.
Our lounge is a spacious area with high ceilings and comfortable couches and corners where you can sit and relax with a book or simply enjoy the ambiance of easy luxury.
During cold Highveld winter months you may want to spend long hours in front of the open fireplace that burns around the clock.
The dining room is dominated
By a 12 seater table that makes up part of the open plan country style kitchen with a gas stove and cosy atmosphere.
Meals can be served at the stretched dining room table or can be served at various other tables – in or outside
if the weather permits.
Breakfast is a choice of a Cold Continental spread of fresh fruits, yogurts, pastries and freshly squeezed fruit juices followed by a freshly prepared South African Breakfast.
Dinner is available on request with your reservation.
Eagles Nest Estate Guest House is surrounded by beautiful landscaped gardens overflowing into the surrounding indigenous growth.
This subtle blend of bush and garden gently suggests that you are nowhere near the city, but rather somewhere in the countryside.
With the sound of water and several bird species you will soon forget the noise of the city that you left behind.
Special Events:
At Eagles Nest Estate Guest House we would like to cater for all your special requirements.
We took our facilities and decided to make it available for your special functions, be it a special
- Drumming Evening around our Bush veld boma,
- Friday afternoon tea or a
- Sunday Afternoon lounging around listening to a musician making their debut.
Please feel welcome to contact us and we will take care of all your requirements and arrangements to make it a event that will stay with you and your guests long after the party is over!