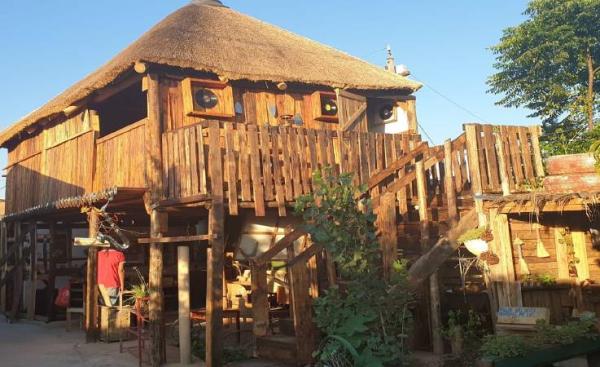 Soweto Inspirational Home Museum is about 200 metes from Regina Mundi. The Museum is the first of its kind, situated in the middle of homes. It provides knowledge about the ancient connection between people, plants and animals. It is inspirational while also connecting communities. Through our museum and art gallery, we deliver world class public service, which offers individuals, families, schools and tourists a place to visit and learn whilst having fun. The museum provides a place and resources to which people turn to for information and learning. The museum is very rich with the legacy from the past while creating a legacy for the future.

The Museum offers local tea tasting from plants that are picked up from the Museums garden. Tourists get the opportunity of being tested in the old symbol writing and win fun prices from the Museum, lunch is offered on request. Our local jazz old and new friends love to mingle with our visitors and exchange ideas and words of wisdom. Locals love the Museum as it is the first of its kind. It is a space that inspires people to think out of the box and most of all it is the first place that showcases Africa indigenous knowledge, on how African people connect with Animals and their indigenous writing systems. It will allow you to reflect and learn all about forgotten history.

Soweto Inspirational Home Museum was founded by the very same business Woman who started Imbizo Tours in 1994. She was the very first black female tour operator in South Africa, Mandy Mankazana. Mandy, one of the countrys most fascinating women, born in Rockville, deep in the heart of Soweto. During Apartheid, she stood on the frontlines of the protests against the countrys repressive apartheid laws.

The Museum is a must see and inspiring place to learn about indigenous history, ancient medical plants, discover hand writing that goes back to centuries which was used by Bantu people and taught to them by traditional healers, the Museum will also teach about how people were connected in sacred way with animals and that connection exists as we still encounter different totem animals for different African families.

When Mandy started her business, she had hopes of showcasing Sowetos vibrant culture. She developed a reputation for offering enriching and unforgettable tour experiences over the years, which have now expanded to other regions of South Africa. She is highly recommended by travel guides including Lonely Planet and has received a large number of positive online reviews. Aside from her business, Mandy also ensures she gives back to her community. She has made a huge difference in a lot of peoples lives, by creating employment through the Museum and Imbizo Tours. She has also opened a platform for our local artists to showcase their artwork and make a living from that.

Vision
Our Vision is to Educate, Preserve, protect and exhibit our unique cultural heritage, challenging peoples way of thinking and inspire them.

Mission
- To manage the Museum more effectively
- To enhance access to our art collection
- To invest in our people and make a difference in our community
- To promote local artist and turn Tunzi Street into a tourist attraction
- To increase self-generated income
- To form an educational relationship between older generation and todays youth
- To offer free art and chess classes to the community

Basic Museum Information
Soweto Inspirational Museum is an exciting place to learn about indigenous history, ancient medical plants in an environment that is relaxed, it is full of tranquility, wisdom and everything is inspired by recycled material.