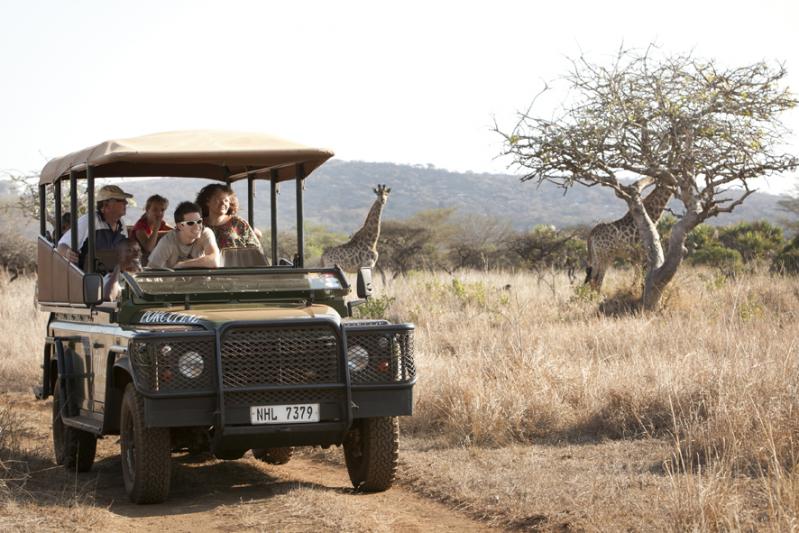 KwaZulu-Natal`s game parks and the
iSimangaliso Wetland Park
lies spread across Zululand on the subtropical coastal plain and on the upper reaches of some of its larger rivers.
These sanctuaries give refuge to several hundred bird species - 60% of South Africa's total - in addition to many antelope variants as well as the Big Five in the
Hluhluwe-Umfolozi Game Reserve
.
Wildlife AreasPopular
-
Hilltop Camp
Set within the Big Five Hluhluwe Imfolozi Game Reserve, the oldest game reserve in Africa, and like the
Mpila Camp
, very popular.
-
Ntshondwe Camp
Located within the
Ithala Game Reserve
in northern Zululand near Louwsburg. Four of the Big Five (no lions).
-
Phinda Game Reserve
Comprises 14 000 hectares of prime conservation land and the four lodges offer sophistication and style in the African bush:
Forest Lodge
,
Vlei Lodge
,
Mountain Lodge
&
Rock Lodge
.
-
Tembe Elephant Lodge
This remote park, deep in an area of sand forests, pans and wetlands, protects the largest elephant herd in KwaZulu-Natal.
-
Wilderness Beach Lodges
A few remote, but exclusive lodges are situated along the coast between Kosi Bay and Sodwana Bay:
Thonga Beach Lodge
,
Rocktail Beach Camp
,
Sodwana Bay Lodge
,
Kosi Forest Lodge
KwaZulu-Natal Game Lodges Map