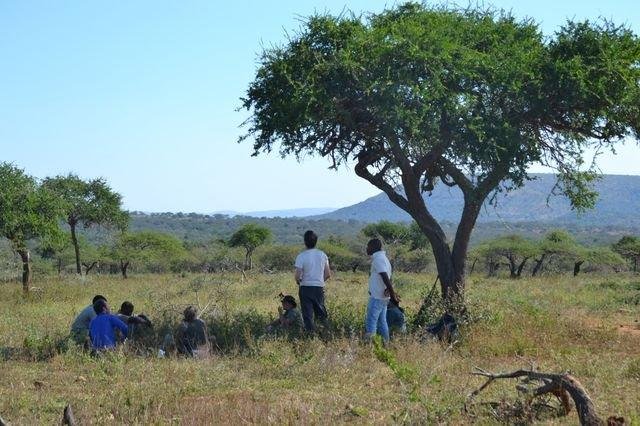 The
Hluhluwe-Imfolozi Game Reserve Walking Safari
or wilderness trails (2-4 nights) are undertaken in the 25000ha wilderness zone of the
Hluhluwe-Imfolozi Game Reserve
.
There are no roads and access is only on foot. The area is maintained in a pristine state and kept as undisturbed by man as possible.
The Hluhluwe Imfolozi Game Reserve is noted for its wide variety of both bird and animal life. Most of the big game species including lion, elephant, white and black rhino, buffalo, leopard and giraffe occur in the reserve and adds an adrenaline charged element to the pleasure of experiencing the park's magnificent diversity of fauna and flora.
Each of the different types of trail is led by two experienced trails staff members.
Short Wilderness Trail
The Short Wilderness Trail is fully catered - bedding, food, backpack and water bottle are provided. Both nights are spent at a satellite camp within the wilderness area.
The Base Camp Trail
The fully catered 4-day The Base Camp Trail will expose you to the wonders of the Zululand Bush where many lives have been changed though the brief encounter with the untamed bush; rich in a cultural heritage.
Please Note
- Short Wilderness trails are run from 14th February to 20th November, and depart on Fridays and Sundays. They are 2 nights and 3 days in duration.
- Base camp trails are run from 20 March to 15 November and take groups of a maximum of 8 trailists at a time.
- Trailists are required to book in at
Mpila camp
by 12:00 on the first day, where they are met by the trails staff and given a trails briefing.