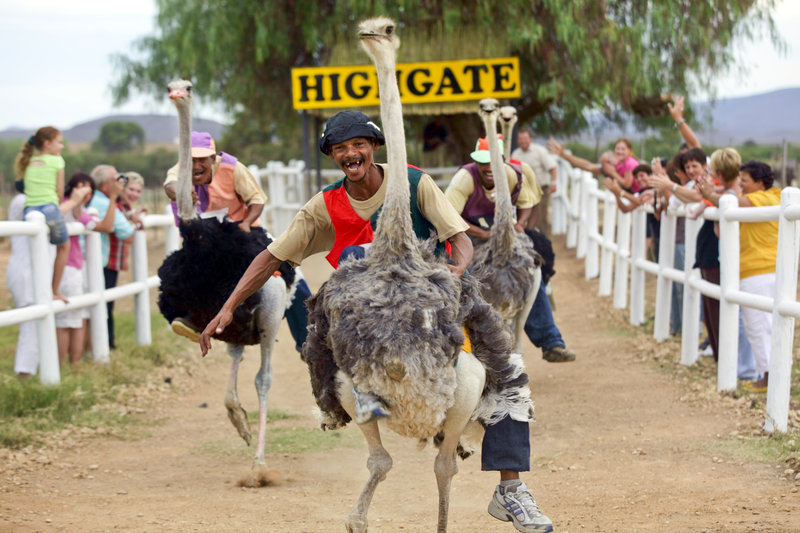 Highgate Ostrich Show Farm near
Oudtshoorn
, established almost 100 years ago by the Hooper family, is a large ostrich farming concern producing primarily feathers and ostrich by-products.
It was opened to the public in 1938 and since then hundreds of thousands of visitors from all over the world have been entertained by our staff on the establishment.
The farm is still run and also under personal supervision by the Hooper family. Our specialties are good personal advice, ostrich riding and racing. Open daily for an ultimate experience.
Highlights include:
- ostrich racing for all
- feed an ostrich
- ride at your own risk
- you can sit on an ostrich
- see our incubators
- visit nest and stand on eggs
- watch how dusters & boa's are made
Contact
Tel: 27442727115
Fax: 27442727111
Highgate Ostrich Show Farm - Oudtshoorn Activities:
During your visit experience the world's largest bird which lays the largest egg, has the most beautiful feathers and eyes that make you want to fall in love and hug them.
At Highgate you can enjoy riding the birds at your own risk, stand on their eggs, touch the birds and cuddle the chicks all in approximately 1 1/2 hours.
Professional multilingual guides take you on a conducted tour where you will learn about the birds, experience laughter & beauty situated in a valley surrounded by thousands of ostriches and majestic mountains.
We cater for disabled visitors.

Click to display the map