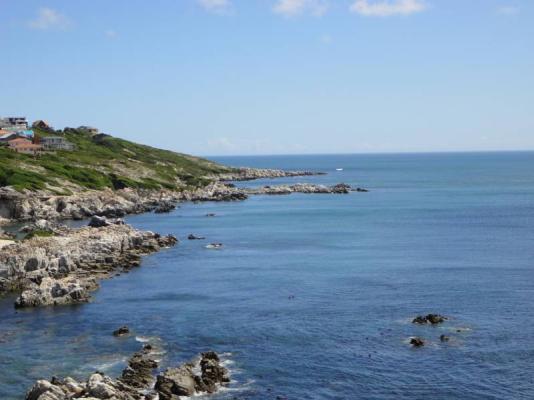 Gansbaai
Life in Gansbaai is very much associated with the sea and the fishing industry. The cove that once provided safe landing spot for the small fishing vessels of yesteryear, was deepened, adequate moorings were built and today

Gansbaai boats a mordern harbour where many fishing trawlers come and go daily. To argument the fishing industry, a modern canning and fishmeal factory was built at the harbour site.

Along with the fishing industry, Gansbaai has grown into a charming village and holiday resort with its own municipality. It has primary school, churches of various denominations and shops to provide for every need. Fishmongers are stocked with fresh catches daily.

A village and holiday resort well worth visiting, as many a weary city dweller, finding respite in its tranquil surroundings, has discovered. Whether you pass through or stay over, take a stroll down to the harbour, walk along the old harbour wall and watch the trawlers leave for the open sea, or see them bedding themselves down at dusk in the safety of its moorings.

De Kelders (3 km from Gansbaai)
De Kelders lies spread out above a rough coasatline, varying from rocky beaches to awesome cliffs, and flattens out onto the sandy stretches of the Plaat, a fisherman 's paradise.

The area, well-known for shore angling has scenic wonders such as the Duiwelsgat hiking trail and recently excavaterd caves. Excavations at Klipgat revealed archaeological deposits left by Middle Stone Age people about 85 000 million years ago, and by the Khoisan ( Later Stone Age ) using it about 2 000 years ago.

The tall, rockey cliffs of De Kelders provide some of the best vantage points in this area from which to observe the Southern Right whales as they come to Walker Bay between June and November each year.

Stanfords Bay (2 Km from Gansbaai)
This marvellous little cove, once used by Captain Robert Stanford for exporting his farm produce, has developed into a beautiful, tranquil pleasure resort.

Old milkwood trees cluster in a semicircle round the bay where swimming is perfectly safe and picnicking a must. Fig trees dating back to approximately 150 years ago can be seen here, not far from the freshwater springs at Flentergat.

Kleinbaai (4 km from Gansbaai)
Kleinbaai is a picturesque little village nestling amongst milkwood trees, summer daisies and glorious heather.

It also boats a tidal pool, golf course with a sea view and a sports centre. During peak season the harbour becomes a beehive of activity as boats and rubberducks come and go.

Fishing is a major sport and many try for the elusive big ones amoungst the galjoen at the Plaat.

Franskraal & Uilenkraalsmond (7 Km from Gansbaai)
Franskraal is a modern village and a botanist 's dream. Most of the flora is seasonal, flowering in spring. An ancient milkwood forest one of the last left in the world - cluster upon cluster of gnarled trunks, is one of the splendid wonders of creation at Franskraal.

Uilenkraalmond is situated at the mouth of the Uilenkraai River and is a popular holiday resort with a big, modern caravan park, supertube, putt - putt course and trampoline. Its tranquil lagoon, safe for swimming, is also the homing ground for estuarine birds such as waders and gulls.

Pearly Beach (21 Km from Gansbaai)
Pearly Beach village lazes partly obscured between heather covered dunes which undulate for kilometers above a magnificent shoreline. Its carvan park, shaded by ancient milkwood trees, is completely sheltered.

Vast sandy stretches offer good angling sports. In season perlemoen and crayfish diving is a popular sport. Swimming in the aquamarine sea or lazing on the dazzing, pearly beach is so enjoyable that visitors return year after year.

Dyers Island
Dryers Island is a breeding colony for jackass penguins. Not far from Dryers Island is Geyser Island, a breeding ground for seals.

As the area around these Islands teems with an abundance of sea life, it has become a notorious feeding ground for the Great White shark which frequents its waters in large numbers.

Danger Point (9 Km from Gansbaai)
Between Gansbaai and Franskraal, the flat rocky peninsula of Danger Point extends for about 8 kilometers into the sea. The many reefs and sunken rocks along its shoreline make it one of the most dangerous places in the world for ships coming too close inshore.

To make things worse, a hidden rock lurks just below the surface off the Point. It was on this rock that the legendary HMS Birkenhead met her doom on the fateful night of 26 February 1852, with the loss of 443 lives. After further losses of more than 20 ships, a lighthouse came into operation in 1895.

The notorios Birkenhead Rock can be seen at low tide, just a few kilometers off Danger Point. Tours to the lighthouse and the Birkenhead Memorial can be arranged at request.

Stanford (25Km from Gansbaai)
This is a peaceful country village on the banks of the Klein River just before it meets the sea in a coastal lagoon. Visit the charming English Church, Standford House and the pottery factory. Popular for walking trails and bird watching.

Baardskeerdersbos
Old fashioned little hamlet 20 km from Gansbaai. The old Dutch Reformed Church is recently restored. The area is well known for its wild flowers.