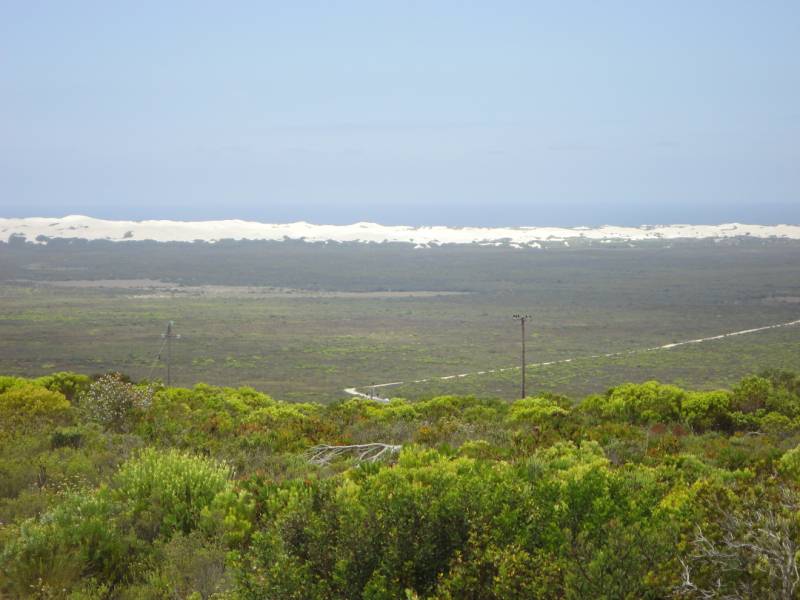 De Hoop Nature Reserve is one of the Western Cape's best known Nature Reserves.
It lies on the southern Cape coast, and is renowned for its floral fynbos diversity, rich bird life, natural vlei and wild antelope. It also provides the backdrop to some of the world's best whale-watching possible.
Just 3 hours drive from Cape Town, and 50km east of Bredasdorp, it offers visitors the choice to explore a pristine coastline, a large vlei, limestone hills, extensive dunes and the Potberg mountains.
Accommodation
The
De Opstal
is close to the hub of central offices, restaurant, deli and shop and offers a variety of accommodation options.
The Reserve
It is a botanist's dream, with 50 of its 1500 fynbos plant species found nowhere else in the world.
For animal lovers there are endangered bontebok and Cape mountain zebra, while baboons, ostriches, eland, grey rhebuck, duiker and steenbok are all common sights.
Known to amateur and working ornithologists alike, the De Hoop vlei is forever changing. A wetland recognised by the Ramsar convention as being of international importance, the vlei's uniqueness lies in its partial location in a gorge, while for the most it is a 16km-long lake, blocked off from the sea by coastal dunes.
It draws a variety of birds during the year, especially waterfowl and waders.
De Hoop's marine reserve is the breeding ground for 40% of the worldwide population of Southern Right Whales. Dolphins, seals and other sea creatures abound in the waters at Koppie Alleen.
De Hoop Nature Reserve Activities:
Few other reserves offer as complete an outdoor experience as De Hoop - sea, sand dunes, the vlei, a floral sensation of rare fynbos plants, diverse antelope and the Potberg Mountains. Birders observe wading birds on the shores of the vlei while the Potberg Mountains are home to a colony of endangered Cape vultures.
Hikers and cyclists have close-up encounters with bontebok, Cape mountain zebra, eland, red hartebeest, baboons and ostrich.
Activities are diverse and guests choose between various day walks, mountain biking along the many gravel roads or scenic game drives. Lazing on the beach and snorkeling in the many turquoise rock pools is simply another way to pass a rewarding day.
Whale-watching
De Hoop offers some of the best and most accessible whale-watching opportunities in the world. Seven whale species have been recorded in the waters off De Hoop but it is the southern right that is most common. Other less common whale species are the Bryde's whale and the rare humpback.
Day trips
Day visitors are welcome at De Hoop and guests may leave their vehicles at any time to walk or cycle anywhere in the reserve as long as they take care not to trample the natural vegetation. Birding, hiking, mountain biking and snorkeling are rewarding activities.
The Fig Tree Restaurant is open all day offering delicious local fare including picnic baskets for alfresco meals.
Hiking
Hikers have close-up encounters with bontebok, Cape mountain zebra, eland, red hartebeest, baboons and ostrich.
* De Hoop Coastal Trail - this gentle linear trail begins at Koppie Alleen. Enjoy either a beach walk or an exploratory ramble along rocky shores
* Klipspringer Trail - hike 6 km (about 2 hours) in the Potberg Mountains in the northeastern section of the De Hoop Nature Reserve with views of the Breede River valley, the Cape vulture colony and gorgeous floral fynbos.
* Vlei Trail - starts near the reserve office with three variations to the trail and hikers may walk the entire 15 km to Die Mond or cut their walk short by circling back along either one of two jeep tracks. All three variations of the Vlei Trail are well signposted.
Mountain Biking
Cyclists are welcome to use any of the gravel roads laid out in the western sector of the reserve as long as they take care not to trample the natural vegetation.
Weddings & Romance
De Hoop is a unique and romantic location to celebrate a wedding and honeymoon. With almost year-round sunshine and spectacular natural beauty, the reserve is a memorable and special place to exchange wedding vows.
The Ultimate Family Getaway
The De Hoop Reserve is a safe, outdoor destination with almost year-round sunshine. Children of all ages will relish the freedom to explore the reserve. The endless beach, towering sand dunes, inter tidal rock pools and diverse fauna and flora provide a natural playground for kids to learn.
Conferences & Incentivies
With up to 250 beds, a restaurant and team building facilities on offer, you can easily arrange your next conference at De Hoop.
De Hoop Nature Reserve Map:
More Info:
From Cape Town, take the N2 to Caledon. From Caledon, head for Bredasdorp.
From Bredasdorp take the R319 for Swellendam.
After about 6km, turn right at the De Hoop/Malgas/Infanta sign and follow this dirt road for about 60km to the reserve. About 3 hrs drive (230km).