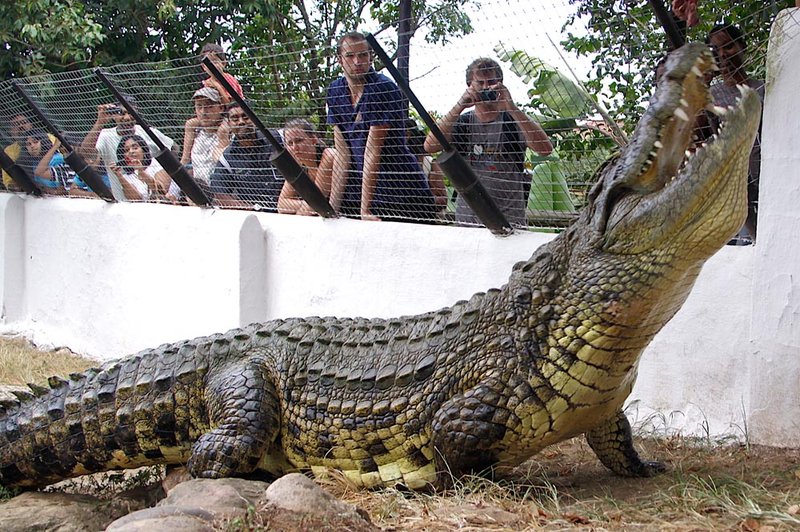 Nestled in sub tropical coastal bush, overlooking the Utongati River flood plain, mid way between Ballito and Tongaat, north of Durban, in Kwazulu Natal (KZN)
Crocodile Creek
, established by the Watson family in 1983, has built a solid reputation as one of South Africa's 'Best Activities', and for good reason.
With roughly 10000 Nile Crocodiles, West African Dwarf Crocs, Slender-Snouted Crocs, American Alligators, Deadly Mambas and a wide array of Snakes, Tortoises, Rabbits, Wild Monkeys, Banded Mongeese and more, this well-thought-out attraction is a Fascinating, Hands-on, Interactive, Fun and Adventure for All, whether you're a family, individual, tourist, school tour, group, birthday party, bulls party, you name it.
With 100 years combined experience, our passionate guides, Sean, Timan, Daneel and Peter, will give you a unique insight into the fascinating lives of these Carnivores, which have existed from prehistoric times, in fact, for 240 million years.
The venue covers a large area with all sections cleverly connected with walkways, decks and paths and with plenty of viewing spots it's easy to watch these prehistoric reptiles doing their thing.
It also includes several covered Learning and Party areas, with plenty of seating and space, as well as a fully functional Café / Restaurant that serves great, simple, budget-friendly food.
Fun, Fear, Fascination and Entertainment, in one tour and demonstration.
Services:
Crocodile Creek provide several services and products as listed below:
- Family & Individual Tours
- School & Educational Tours
- Team Building
- Paint balling
- Parties & Events
- On-site Cafe / Restaurant
- Trading Post / Gift Store
- Live Crocodile Exports
- Wet, Salted Crocodile Skins
- Agricultural Consultancy - Farm Building / Tourism
Cafe / Snacks:
We offer great, simple snacks and refreshments to keep you energised.
Try our tasty specialities - Crocodile Burgers.
Tours:
Tour Times:
There are five tours daily: 10:30, 11:30, 12:30, 14:30, 15:30.
Costs:
- Adults: R95
- Under 4 Years: R0
- 4-13 Years: R60
- 13-17 Years: R75
Tours ~ There are five tours daily:
- 10:30
- 11:30
- 12:30
- 14:30
- 15:30
- Feeding Times (Not in Winter)
As part of the 10:30 and 14:30 Tours.
Due to connectivity issues the farm faces during the holiday peak season kindly bring cash in case of signal loss during this time.
With one of the largest collections of Nile Crocodiles in South Africa, as well as a host of other interesting animals, Crocodile Creek, situated between Tongaat and Ballito, near Durban, KZN, provides a wonderful and educational tourist attraction.
Catering to families, school parties, groups or individuals, all are guaranteed to enjoy this fun-packed African adventure.
Our passionate staff and animal handlers provide a personal, hands-on approach with both visitors and animals, making for a exciting tour.
Whether it's the sight of those powerful jaws and big teeth at lunch time or the sheer size of some of these prehistoric reptiles, prepare to be awe struck!
Check out our Tour Times and feel free to Contact Us . We're based just south of Ballito, north of Durban, on Kwazulu Natal's North / Dolphin Coast, KZN.
Opening Times :9h30-16h30