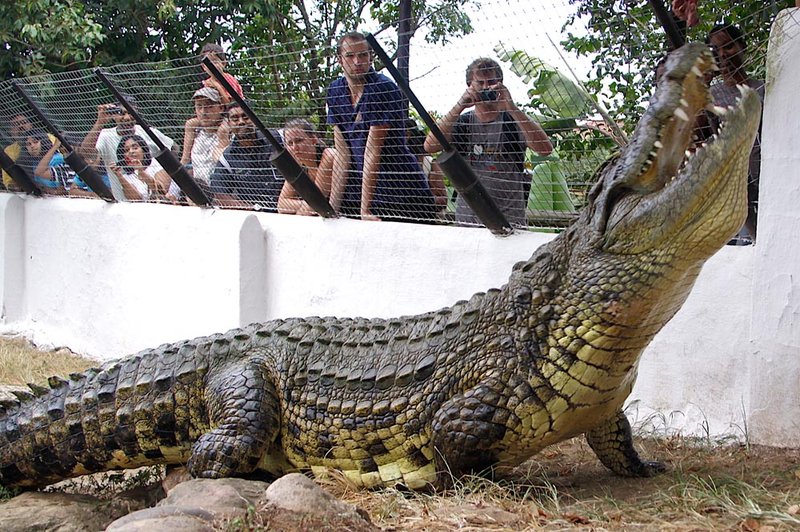 Enjoy the personal, informal manner in which our experienced quides handle and explain the fascinating lifestyles of crocodiles. From 700kg monsters to cute little hatchlings weighing less than 70g.
Fierce-toothed crocodiles can be found in the crocodile farms or parks in the Zulu Kingdom or KwaZulu-Natal. From snappy youngsters to lethargic but deadly adults, time spent in the company of these almost prehistoric creatures is well worthwhile.
Operating crocodile farm. 9000 crocodiles, snakes, tortoise, leguaans, miniture monkeys, alligators. West African Dwarf and slender snouted crocodiles. Guided tours `hands on` with an opportunity to touch a small crocodile and or snakes. Curio shop, crocodile leather belts, shoes, boots, wallets, purses, heads etc. Bush trail. Crocodile dishes. Light refreshments. Special functions corporate / teambuilding. School groups educational including meals if required.
Visit Africa as it was, tranquil, mysterious and timeless. Sungazers, tortoises, snakes and thousands of crocodiles oblivious of the modern day rush and stress.
Sit in the thatched Lapa enjoyig a tasty Crocodile delight or other refreshments. Jane Mdaweni's famous scones are fantastic. Unique African Curios and leather goods from our farms productions.
Open daily from 09h30 to 17h00 (closed on Saturdays). Feeding hours are from 1100 & 1500.

Click to display the map
More Info:
Crocodile Creek, is situated 40 minutes north of Durban (N2) and 10 minutes from Ballito.
Take the Tongaat turnoff on the N2 at the toll booth or take the Crocodile Creek turnoff from the R102.
N2 North Exit 202, Left to Tongaat, Right at T Junction, 3.3 Kms, Right at 5 Kms sign.
Source & more info
Crocodile Creek