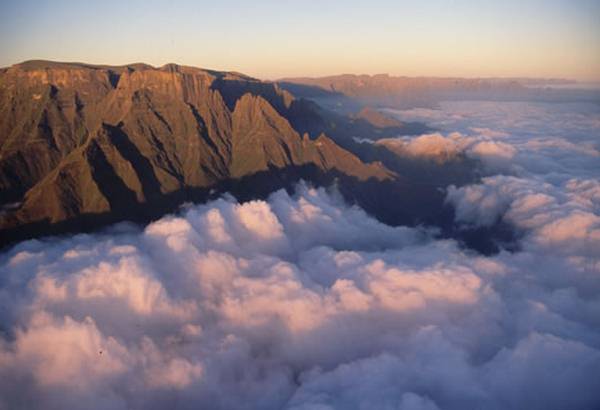 The Central Drakensberg is a rich source of San (Bushman) paintings with some caves containing several hundred of these beautiful works of art. Most of the Central Drakensberg makes up a good part of the
Ukhahlamba Drakensberg Park
, a wilderness area with an abundance of wildlife.
The area is one of the countries top vacation hotspots and as a result there are a number of activities and attractions for you to part take in.
Hikers are frequently surprised by bushbuck, oribi, mountain reedbuck, tiny duiker, and the largest of South Africa's antelope species, the eland, as well as many others. The great bearded vulture, the Lammergeyer with its 3 metre wingspan, can be observed when dropping bones from a great height onto rocks to get at the marrow
Accommodation
Popular with hikers, rock climbers, trout fishermen, and other holidaymakers, the
Central Drakensberg accommodation
options range from hotels, country lodges to bed and breakfast accommodation venues.
The Central Drakensberg is divided into the following regions:
* Mlambonja Wilderness Area in the north which include
Cathedral Peak
and
Didima
and is accessible via
Winterton
.
* Mdedelelo Wilderness Area which includes Cathkin Peak, Monk's Cowl and Champagne Castle and is accessible via
Winterton
and Loskop.
*
Injisuthi
and
Giants Castle
(towards the southern central area) and
Kamberg
(further south) which are accessible via
Estcourt
, Loskop,
Mooi River
and Nottingham Road.
Activities
The Central Drakensberg mountains also contain thousands of Bushman Rock Art sites, evidence of the small, primitive San people who practiced a prehistoric life style in the area long ago.
The earliest of these paintings are about 800 years old, and the golden age of the painters was between 400 and 200 years ago.
Kamberg has a Rock Art Centre - the first South African rock art site to be known in other parts of the world.
The Central Drakensberg escarpment is frequently covered in snow in the winter months, transforming the area into a picture-postcard winter wonderland.
For the more adventurous there are also many trails which use caves up in the mountains as overnight stops.