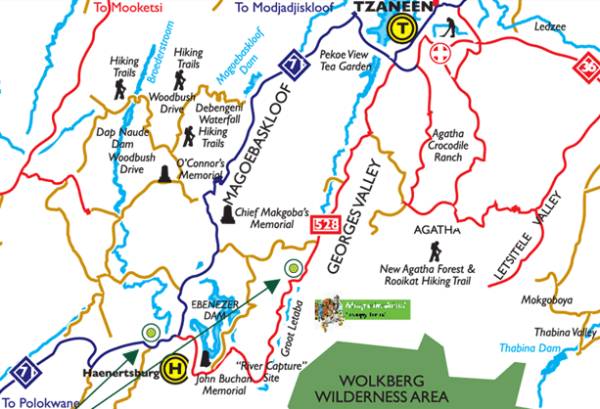 Canopy Tours involve sliding from one high level forest platform to another along a steel cable suspended up to thirty metres above the forest floor. The tours consist of about ten platforms and slides that zig-zag down through a pristine forested valley or ancient rocky gorge.
Two trained guides accompany the tour and ensure the safety of each group while also pointing out any interesting plants, birds or animals along the way.
The canopy tour begins with a safety briefing at the canopy office. Here your guides will first demonstrate how to slide on the cables and the safety procedures to be followed on the tour, before kitting you up with full body harness, pulley, climbing equipment and safety helmet. You and your group will then be transported into the forest or up to the mountain in an open vehicle to the start of the canopy tour.
From the start on the launch platform a new world unfolds as one gently glides on a steel cable to the first platform. All groups are escorted by a lead guide and safety guide at all times.
If anyone looks too nervous or would rather not slide on their own then we will gladly take you on a tandem tour. This is the 'look ma no hands' version and allows you to slide down each cable attached in front of a guide who controls your speed and allows you to take in the whole experience without worrying about a thing! Many of the younger and older clients enjoy this service.
Once you arrive at each platform we encourage you to stop awhile and enjoy the view while your guides point out interesting features or facts about the surrounding ecology.
Each tour ends with a short walk out of the forest to the waiting vehicle. Upon returning to the office you will then be shown into the restaurant to enjoy a well-deserved meal and refreshments.
Where to do it
Canopy Tours can be done at:
* Tsitsikamma - at Storms River midway between
Plettenberg Bay
and
Knysna
.
* Karkloof - north of
Howick
in the KawaZulu-Natal Midlands
* Magaliesberg - about 90 minutes from Johannesburg / Pretoria
* Magoebaskloof - at
Haenertsburg
south of Tzaneen in Limpopo
* Drakensberg - opposite Drakensberg Sun Hotel, Central Drakensberg, KwaZulu Natal
Bookings
Bookings are essential and can be made at:
Tsitsikamma Canopy Tours
Darnell Street, Stormsriver Village
Tel: (042) 281 1836 / (042) 281 1609
Karkloof Canopy Tours
Welgevonden, Howick
Tel: (033) 330 3415
Fax: (033) 330 3417
Magaliesberg Canopy Tours
Sparkling Waters Hotel, Rietfontien, North-West Province
Tel: (014) 535 0150
Fax: (014) 535 0007
Magoebaskloof Canopy Tour
Haenertsburg
Tel: +27 (0) 83 866 1546
23° 38' 30" South
29° 59' 00" East
The Drakensberg Canopy Tour
Central Drakensberg
Tel: +27 83 661 5691
S 29 00 12.0
E 29 25 20.0