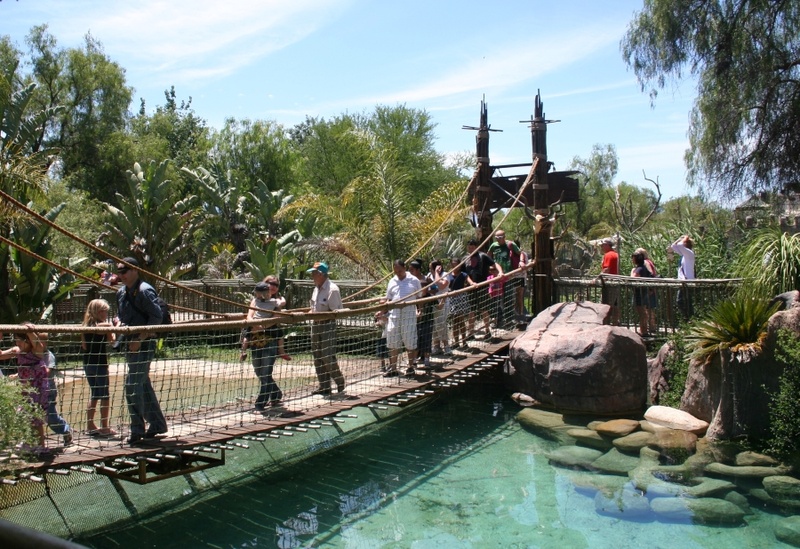 The
Cango Wildlife Ranch
is situated 3 km outside of
Oudtshoorn
on the R62 en route to the
Cango Caves
.
The animals resident at the Cango Wildlife Ranch come from all over the world and are here for a huge variety of reasons. Some of our animals have been rescued from the wild or landed on our doorstep by default. It is heartwarming to see how many concerned animal people you find in everyday living. We get a huge amount of concerned citizens bringing us injured animals picked up next to the road. These little patients are usually nursed back to health and released back into the wild depending on the nature of their injuries.
Some of our snakes and crocodiles are only here for a short period of time. We have breeding exchange programs with a fair amount of breeding facilities and will 'swop' some of our animals for a period of time to make sure that the animals don' t interbreed. Our cheetahs, Pygmy hippos & Radiated Tortoises are part of our breeding and educational program.
These endangered animals are being bred in captivity to ensure the survival of the species. Their residency also provides much needed education to the general public visiting the ranch about the plight of not only these particular species but animals all over the world. Our mission is to save animals such as the cheetah from extinction and to educate people about the vulnerability and importance of wildlife diversity.
UNIQUE ATTRACTIONSCheetahland
Get close! Get very close. As you meander on the catwalk over large natural enclosures, which are home to some of the world's greatest big cats. From the treetop lookout, view the elegant cheetah, mighty lion, breathtaking African leopard and the awesome white Bengal tiger.
Experience the wonder of your own personal encounter with purring hand-reared cheetah and our other large ambassador cats.
Kuranda Forest
Visit our aviary filled with rainbow colored lorikeets! You also get the chance to purchase nectar and feed these beautiful animals while they make themselves comfortable on your shoulders and head.
Lemur Falls
Lemur Falls is the only interactive lemur exhibit on the South African continent!!!
The exhibit themed to replicate a Madagascan forest… is entered by crossing a large river teaming with bird life such as spoonbills and whistling ducks - which are native to the exotic island…while volcanic rock waterfalls provide an impressive backdrop to the indigenous Betselio Village bordering the primeval forest. As you glance across the forest you will see dozens of piercing eyes staring back at you from the high indigenous Madagascan trees. We house 3 species of lemurs, from the ring-tails to the black and white ruffs as well as the inquisitive brown lemurs. We offer you the unique opportunity to be face-to-face with these beautiful and rare primates while our experience department capture this moment on camera for you.
Snake Park
Slimy, slithering snakes; creatures nightmares are made of; the one animal most people love to hate. But exactly how slimy and scaly are these footless wonders...
Take a walk through our snake park and see a different side to these animals. Learn interesting facts about snakes and where they come from. Walk where most people fear to tread and appreciate the bizarre beauty of these creatures that are so important to our ecosystems.
The Wallaby Walkabout
Our guests are welcome to come and feed our wallabies. Our curious little wallabies might be shy at first BUT... Give us some food and we will be great friends!
Valley of Ancients
Our exploration starts in the ruins of The Great Temple... Many years ago an ancient tribe built this temple to protect a hidden valley filled with wondrous animals. Here they performed human sacrifices to the river god Nyami Nyami whose statues still guard the entrance today.
The Valley was developed with only one thing in mind – to entertain you, the visitor, and is a thrilling experience for the whole family.
Valley of Ancients includes all of the following:
• A tropical house inhabited by giant flying foxes, the shy blue duiker and a magnificent tank offering you an underwater view of Malawian cichlids, will be your first encounter as you enter this ancient temple.
• Rare Madagascar Ring-tailed Lemurs in the exotic setting of Lemur Island, depicting the environment of Madagascar.
• Croc Cage diving Encounter - See these mighty beasts leap for their lunch and stand in awe of the bravery of your guides as they encourage huge Nile crocodiles to take meat from their hands while standing on a moving jetty!
• The rare and elusive Pygmy Hippo, once thought to be a baby Nile Hippo, was only classified as a species in 1911.
• Our resident Marabou stork, has moved to this exciting exhibit and now share their new home with endangered Cape Vultures.
*Please take note of our age restrictions
Kidz Zone Highlights:
- Farm Yard
- Jumping Castle
- Water Gun
- Kidz Parties
- Slides
- See-Saw
- Kuranda Forest
Most children dream of having a bunny or guinea pig to cuddle and this is exactly what our farmyard offers. Children are given the opportunity to enter the rabbit enclosure and cuddle to their little hearts' desires. When the rabbits become old news, they can always venture into the goat enclosure where they can meet our always-hungry Cameroon dwarf goats. Due to the high demand for 'bunny cuddling' amongst the young at heart, we also allow adults to enter the enclosures. Make your children and inner-child happy by paying a worthwhile visit to our farmyard.
Jungle-jims, a jumping castle, a waterpark and playground area will keep your children entertained for ages! We also have a small petting zoo with a variety of beloved farm animals. Last but not least, our Tiny Tots area is designed with your little one's safety in mind, with nearby shaded seating for tired parents!
Opening Times
The Cango Wildlife Ranch is open every day of the year including Christmas and New Year's Day.
Hours:
08:30 - 17:00 High Season (Dec – Mar). The last tour departs at 17:00
08:30 - 16:30 Low Season (Apr– Nov). The last tour departs at approximately 16:30
We do not have set times for tours, however, visitors will not wait longer than 30 minutes for their tour to start. *Please note that the closing times are when the last tour of the day departs.
Duration of tour: 60 min, but we recommend setting out 2 hours for your visit to see all we have to offer. Booking is essential for groups larger than 10 people.
General Information
Please note that we are wheelchair friendly!
Kindly Take Note: Although our facility is wheelchair friendly, we do not provide wheelchairs unless in an emergency
Pets: Although we are all avid animal lovers, we can unfortunately not allow any pets/animals onto our facility. This is due to contamination control.
* Turtles Restaurant
* The Wallow
* Grunts Restaurant
Contact
Tel: 044 272 5593
Email:
[email protected]