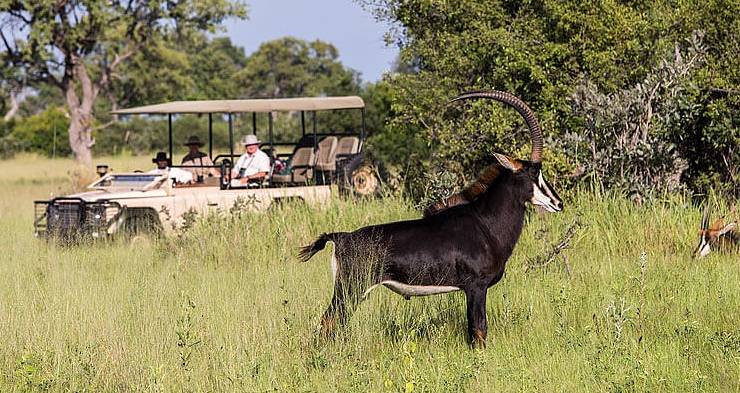 This information is provided as a guideline to visitors when on safari in Botswana.
Travel Documents
Visitors to Africa must have a passport that is valid for at least 6 months beyond your intended departure date, together with onward travel documents, proof of accommodation and sufficient funds for the duration of your stay. Please also ensure that you have sufficient blank visa pages (not endorsement pages) in your passport, with at least 2 consecutive/side by side blank pages. Our recommendation is 3 pages (or even 4 if you are travelling through more than one country on your journey).
NOTE:
All passengers under 18 years of age will need to present an unabridged birth certificate as well as a valid passport when entering, departing or transiting South Africa and Botswana. A sworn translation (certified/authenticated) in English should accompany all documentation that is in a language other than English.
For single parents, or those travelling alone with their child/children, the following must be provided:
- An affidavit (no more than 3 months old on the date of travel) in which the absent parent gives consent for the child to travel, or
- A court order granting full responsibilities or legal guardianship of the child, or
- The death certificate of the absent parent.
Please speak to your Africa specialist to ensure that you have any appropriate travel documentation before departing on safari.
Currency
The currency in Botswana is the Pula (P) which is made up of 100 Thebe. Botswana banks only accept US Dollars, Pound Sterling, Euro and South African Rand in cash.
Cash payments at safari camps for curios, or gratuities to guides or staff, need to be in one of these currencies. Travellers Cheques in any of the above currencies are normally also acceptable, but please check.
Credit Cards
International Visa and MasterCard are usually accepted throughout Botswana. However, American Express and Diners Club are not
accepted by the banks in Botswana.
Customs & Duty Free Allowances
Tobacco - 400 cigarettes or 50 cigars or 250g of tobacco
Liquor - 2 litres of wine and 1 litre of spirits
Perfume - 50ml of perfume and 250ml of eau de toilette
Cameras - Must be declared on arrival
Film - Reasonable for personal use
Agriculture items - Refer to consulate
Currency - Must be declared on arrival
Value Added Tax (VAT)
All goods and services in Botswana are priced to include value added tax (VAT) of 15%. On departing from Botswana, non residents may claim a VAT refund on goods exported as accompanied luggage. In order to claim, the original tax invoice, with passport details reflected thereon, must be presented to the designated Customs Officer together with the VAT 006.1 claim form and the BW500
export declaration form.
The value of the goods must exceed BWP 5 000.00 (Pula), all in one invoice, per export and the goods must be available for inspection. Refunds are made by way of a transfer into your account. Customs also ask for bank account details, and payment may be deposited directly into the account from Botswana.
Guests must have these details on hand, as refund documents have to be submitted on the same day that the items leave the country. Bank details cannot be sent at a later stage.
Duty Free
There is no duty free shopping available at O.R.Tambo International Airport (Johannesburg) on flights to Botswana. Please make sure any duty free purchases of perfume, alcohol, etc are made before arriving in southern Africa.
Luggage
There are strict weight restrictions in place on any itinerary which includes light aircraft transfers. Please see the requirements for
Luggage on Air Transfers in Botswana
.
Laundry
Laundry can be done at most safari camps. This service is complimentary at some camps, but at additional cost at other camps. At certain camps the camp staff will not wash underwear, due to prevailing local traditions in the country (in these cases washing powder is supplied for guests to rinse their own underwear).
Electricity
All the safari camps are situated in remote areas and have to generate their own electricity. Camps have a generator which charge a bank of batteries which provides 220V power in each tented room for lighting and ceiling fans.
At some camps you still need to hand any batteries which need charging to the camp staff who will charge these for you in the bar or office areas while you are out on an activity. Guests who need to charge their battery should bring a spare one for use while the other is being charged, as well as a power converter if applicable as the power is all 220V.
While some camps can supply adaptors (3 prong round, 3 prong square, 2 prong round and 2 prong flat) it is advisable that guests carry their own adaptors with them to ensure the ability to charge their equipment.
It is not possible to use appliances such as hairdryers or electric shavers in the tented rooms at most of the camps in Botswana as they have low wattage fuses which will trip.
Hair dryers are supplied at some of the luxury camps.
Drinks policy
Botswana camps include all local drinks in the standard Fully Inclusive (FI) tariff, but exclude premium imported brands and champagne. Drinks may be excluded dependent on specials or other rate bases booked. Please refer to your itinerary for
specific details.
Language
The official language is English, with Setswana the most widely spoken Southern African language. There are eight major Tswana tribes, each of which occupies its own separate territory with its own traditional chiefs, and each tribe maintains communal ownership over its lands.
Time
Botswana is 2 hours ahead of Greenwich Mean Time (GMT) all year round.
Climate & Clothing
The weather in southern Africa is generally pleasant throughout the year – warm to hot days, and cool to warm nights. Please see
Botswana Weather
conditions and refer to the
Botswana Packing Suggestions
for clothing details.
Health
Consult a doctor at least 2 weeks prior to entering Botswana on what precautions should he taken against malaria. There has been a dramatic increase in the incidence of malaria infection amongst visitors and residents of Botswana's malaria endemic areas.
Botswana like other countries has been threatened by the Aids pandemic. However, the government has put in place measures like the National Aids Control Program to help address the many problems that this scourge has created. The general advice given by Worldwide Aids awareness campaigns should be adhered to while in the country.
Public Holidays
The dates of certain public holidays change from year to year – refer below. If a public holiday falls on a Sunday, then the Monday is also declared a public holiday.
1 January......New Year's Day
Varies.........Good Friday
Varies.........Easter Monday
1 May..........Labour Day
25 May.........Ascension Day
1 July.........Sir Seretse Khama Day
17 July........President's Day (This date is subject to change)
30 September...Botswana Day
25 December....Christmas Day
26 December....Boxing Day