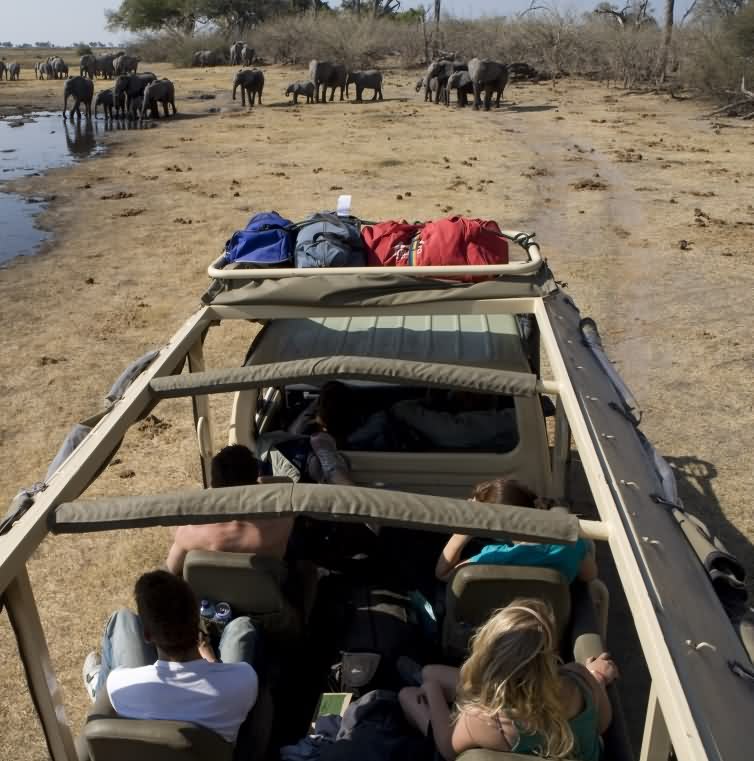 The safaris in Botswana will take you to about two and a half-million acres of Southern Africa's finest wildlife and wilderness reserves. Explore Botswana's contrasts and extremes in prime areas where few people travel.
Please few the full list of Botswana Safari options or read about the types of safaris which are offered:
Fly-In Safaris
The majority of the safari camps in Botswana cannot easily be reached by vehicle and guests need to be flown in by light aircraft. Fly-In Safaris have daily departures all year round and the itineraries are flexible and can be adjusted to suit a guest's particular interests and time frame.
These safaris use the guides resident in each camp and involve flying from one camp's airstrip to the next.
The camps you'll be staying at are small with between three and twelve rooms each providing comfort and luxury. A variety of activities - land, water and mixed based - are offered at the different camps.
Points of departure in Botswana are Maun (at the southern edge of Moremi Game Reserve and the Delta) or Kasane (up north near Victoria Falls).
Flights are sold on a fix schedule that can include other guests and a one or two stops en route to your destination. This, however, offers the most affordable access and in a few instances last longer than 1 hour 30 minutes.
Overland Safaris
Overland Safaris are the more traditional style of safari which involves travelling by safari vehicle with accommodation usually in mobile tented camps.
The more luxurious overland safaris use private, secluded campsites on their itineraries for the exclusive use of the safari group, luxury tents (en-suite) with local camp assistants and cooks to take care of all camp duties.
Camping Safaris
Similar to Overland Safaris, the Camping Safaris also involves travelling by safari vehicle with accommodation in tented camps. Camping safaris usually utilise 2-man dome tents as accommodation and guests are required to participate in certain tasks such as assisting the guide and assistant with the making and breaking up of camp, erecting and dismantling their own tents.
On participation safaris you'll be required to do some camp duties and assist in running the safari. Groups on these safaris usually comprise a wide range of nationalities in the 25+ age group including the older "young at heart" traveller.
Family Safaris
Family friendly camps allow you and your family to enjoy the best of both worlds. Staff will provide more than just "entertainment" for children, but rather "edutainment" which may include fishing, mud baths, mekoro lessons, tracking lessons and catching frogs.
In the evenings camps can cater for an earlier meal if so required.
Most safari camps in Botswana can accommodate children of 6 years and older. However, the minimum age for boating activities is 6 years, while hiking and mekoro activities have a minimum age of 13 years. Should you wish your children to participate, private activities at an extra cost need to be booked.
Camps with Family Rooms
Okavango Area
* Chitabe Lediba
* Seba Camp
* Vumbura Plains
* Jacana Camp
* Jao Camp
* Xigera Camp
* DumaTau Camp
Linyanti Area
* Savuti Camp
* Selinda Camp
Central Kalahari Area
* Kalahari Plains Camp