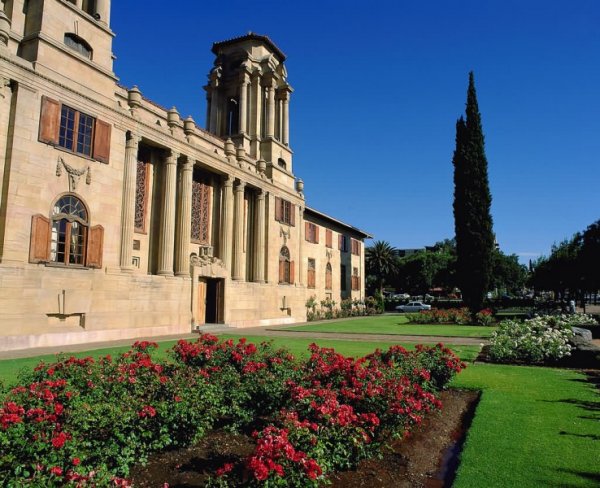 Bloemfontein, the Capital City of the
Free State
Province in South Africa, is centrally situated in the
Transgariep Area
roughly in the middle of the Province, as well as in the country.
The "City of Roses", as it had become known locally, is placed with more pivotal importance than any other city in the country. It is the Judicial Capital, the sixth largest city in South Africa and lies on the main road, rail and air links between north and south, east and west.
Bloemfontein is part of the Mangaung Local Municipality - "place where the Cheetahs dwell". This municipality was formed at the end of 2000 by amalgamating the Transitional Local Councils of Bloemfontein, Botshabelo, Thaba Nchu and two Rural Councils.
Bloemfontein is the economic hub of Mangaung and also the commercial capital of the Free State.
The atmosphere that one feels in Bloemfontein is one based on an appreciation of family values, where quality of life is of prime importance. Business and family interests are combined, in a hand-in-glove way, with no reason for discord; cultures are intermingled, again with peaceable accord.
There is little stress and less haste; the peaceful atmosphere, which is somehow almost tangible, can be felt in every street, on every pavement - all of which are noticeably clean and free of litter.
And with the cost of living among the most competitive in the country, it is a pleasure.
Accommodation
Bloemfontein Accommodation
offers visitors a choice of hotels, guest houses, self catering establishments and bed and breakfasts in and around Bloemfontein.
Activities & RecreationHistorical Buildings of Bloemfontein
Historical buildings include the City Hall, Old Presidency, buildings of judicial implication, the Anglican Cathedral, railway station, the Dutch Reformed twin tower church and many more.
Museums of Bloemfontein
For the culture-vultures there are the Bloemfontein National Museum, the Women's Memorial and
Anglo-Boer War Museum
and
Historical Buildings
.
Parks
Naval Hill
An extremely popular hill providing excellent view of the town and the Franklin Game Reserve forms part of the hill.
State President Swart Park
The facilities at this park form the focal point for sports activities. This includes a rugby stadium (where soccer matches are also played), as well as a cricket stadium, athletics stadium and tennis courts.
King's Park
Bloemfontein is fondly known as the "City of roses" and more than 4 000 rose trees have been planted in the rose garden at King's Park, which was opened in 1925 by the Prince of Wales, Eduard VIII.
Boyden Observatory
This observatory is situated just outside Bloemfontein and is managed by the University of the Free State. This observatory houses several types of telescopes and multi-media presentations on astronomy are also being presented. Contact the Tourist Centre at 051 405 8489 / 8490 for contact details to arrange a visit.
Bloemfontein Zoo
The zoo was founded in 1906, and since then it has developed into a world-class zoo. One can enjoy a day or even a sleep over at the Bloemfontein Zoo.
Modenso Park Model Steam Trains
Every Sunday afternoon rides on model steam trains are available to children and adults alike.
Maselspoort Resort
Extensive grounds have been beautifully laid out at this delightful resort on the banks of the Modder River. It offers every opportunity for swimming, rowing, fishing, tennis and other forms of recreation in the open air, while affordable bungalows and chalets are also available.
Windmill Casino
This hotel and casino complex offers ten pin bowling facilities, restaurants, coffee shops, pubs and night clubs.
Free State National Botanical Garden
Some 5 ha of the 70ha garden have been developed to display and preserve as much of the Free State flora as will grow there.
Lock Logan Waterfront
Is an innovative waterfront-style project offering entertainment, restaurants pubs and shopping for all ages.
King's Park Arts and Craft Market
Artists and crafters from all over the country sell their handmade products at stalls at the Arts and Crafts Market in the gardens of Kings Park on the first Saturday of every month. This market also offers a large variety of traditional African crafts.
Boeremark
(Farmers' Market)
The Farmers Market in Langenhoven Park is open every Saturday morning. It is a market where hawkers, artists and small-scale farmers can sell their wares. This includes fresh produce, meat, traditional snacks, curios, and hand-made merchandise – almost anything imaginable.
Clubs
Several clubs in Bloemfontein are well known for their warm atmosphere and quality music.
Restaurants and Pubs
Bloemfontein's Loch Logan Waterfront and the adjacent Westdene area is a hub for dining out – it is home to a large number of excellent restaurants, coffee shops and pubs, which offer food, live music and hospitality to cater for every taste.
Cinemas
Film lovers can visit cinema complexes at the Loch Logan Waterfront, Mimosa Mall and Northridge Centre (that also houses a ten pin bowling facility).
Township Tours
These tours provide a glimpse of important locations and venues that represent decisive moments in Bloemfintein's and even South Africa's history, for example a visit to Batho where the ANC was founded in 1912 and Mapikela House where Thomas Mapikela, a founder member of the ANC resided.
Some of these tours include the opportunity to experience the vibrant township night life in a variety of jazz clubs and taverns where visitors can taste traditional African home-brewed beer.
Climate
Summer stretches from October to February, and winter from May to August. The average summer temperature is 26 degrees Celsius, though temperatures in excess of 30 degrees Celsius are not uncommon.
The city is situated in a summer rainfall region with an average rainfall of between 600mm and 750mm per annum.
The average winter temperature is 16 degrees Celsius with severe frost at times over the entire region. Snow occasionally falls on the mountain ranges in the eastern Free State and the rest of the province.
Information Office
Tourism Centre, 60 Park Road, Willows, Bloemfontein, 9301
Tel: +27 51 405 8489 / 8490
Fax: +27 51 447 3859