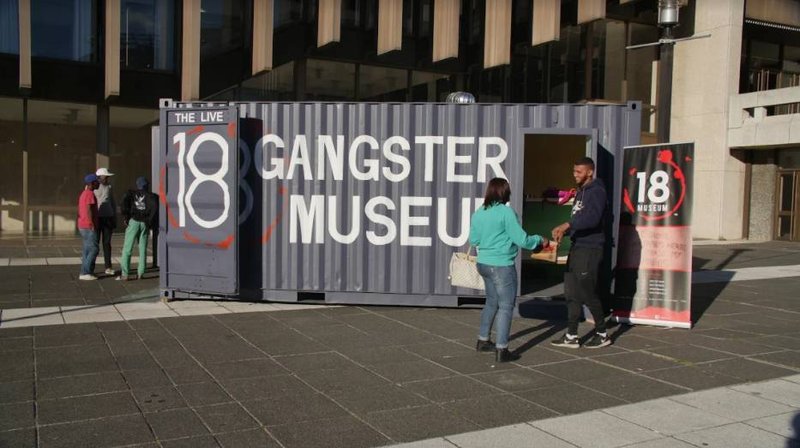 18 Gangster Museum
is the first of its kind in Cape Town. This innovative living museum aims to help South African youth to better understand the treacherous path that too many in their communities take into gangsterism and, ultimately, prison. More importantly, 18 Gangster Museum seeks to offer a positive alternative.
Incorporating immersive text and imagery and a replica prison cell, 18 Gangster Museum's installations are curated by ex-offenders who share their real-life experiences of gangsterism and prison and how they turned their lives around.
Visit 18 Gangster Museum today, and be part of the movement to demystify the scourge of gangsterism in our communities.
Our Tours:
18 Gangster Museum offers various fully guided tours with qualified tour guides and our ex-offender curators. Gain deep insight into the Cape's gang culture, and get beneath the surface of Khayelitsha, Cape Town's biggest township. Your tour fee will enable one local school child to visit our museum for free. Help us shape our communities and future leaders.
18 Gangster Museum has trained, certified and charismatic tour guides who can take either small or large groups on immersive, experiential tours. If you're pushed for time, take our hour-long guided tour of the museum; if you want a fuller experience, book a walking, cycling and taxi tour and you'll also get to know some of the ins and outs of Khayelitsha, the vibrant home of 18 Gangster Museum's founders and the second biggest township in South Africa.
Please note that bookings must be made at least 24 hours in advance.
Museum Tour:
Tour fee: R60 p.p + water included (we accept card payments with Visa or Mastercard)
Tour duration: 45 – 60 minutes
Step inside the life of a gangster at 18 Gangster Museum and understand the terrible consequences of choosing this path with this interactive hour-long guided tour featuring an ex-offender and a replica prison cell.
This tour features:
- Powerful imagery and portraits
- The history of South African Gangs
- Information about gang culture and the consequences of being part of a gang
- Time spent inside the replica prison cell with ex-offenders telling their own story of gangsterism and prison
- Memorabilia and archives
- Local gang songs, chants, slang and handshakes
- Help raise awareness to help fight gangs by having a one-day tattoo.
- Audiovisuals displaying current situation in SA gangs
- Keep R200 aside for 18 Gangster Museum merchandise (optional)
- Q & A session
Need Transport to the museum ? Please let us know.
Walking, Cycling and Taxi Tour:
Tour fee: R750 pp (We accept card payments with Visa or Mastercard)
Tour duration: Half day
Incorporate a guided tour of the innovative 18 Gangster Museum with a walking, cycling and taxi tour taking in some of Khayelitsha's highlights and points of interest for a fuller picture of life in Cape Town's largest and most vibrant township.
This tour features:
- 10- 20 minutes walking tour around the community of Makhaya.
- Bicycle trip through the 2nd biggest township in South Africa
- A visit to a reformed gangsters' house
- Conversation with an ex-gangster
- A visit to Khayelitsha Mall and Espinaca, an innovative local healthy food enterprise
- Insight into the overall history of Khayelitsha
- Beautiful panoramic view of the township from Lookout Hill.
- A taxi ride to Site C informal settlement c
- Lunch at a fashionable local barbecue joint called Rands
- An immersive tour of 18 Gangster Museum
Need Transport to the museum ? Please let us know
18 Gangster Museum stages various events, exhibitions, installations, workshops and focus groups in Khayelitsha and across Cape Town, all with a view to raising awareness about the social ills caused by gangsterism, and engaging our youth to help build a better future
Operating Hours:
Weekdays: 8:30am -18:00
Weekends: 10:00am – 15:00
Public Holidays: We open only on Bookings/Reservations
NB: Bookings are made 24 hours in advance.
Tel: 27218217864
Cell: 27737073639 / 27637580185
Email:
[email protected]