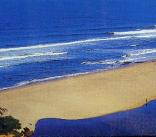 Amanzimtoti, north of Durban, is popular among tourist for its beach, surfing, luxury hotels and tourist attractions.
Amanzimtoti - KwaZulu-Natal
Undertake specialized trips to the reefs and sharkdiving as a speciality. The dive sites are quite far from the shore, all are boat dives and all launches are through the surf. Caves, large colonies of soft corals, tropical fish, eels, sharks, stingrays.
Amanzimtoti - KwaZulu-Natal