Etosha Aoba Lodge
, is a stone`s-throw away from Etosha and located only 10 km east of Lindequist Gate - the eastern entrance gate to Etosha National Park. This tranquil retreat is located in a Tamboti - Terminalia forest next to a dry river bed.
The lodge is a comfortable base for embarking on half - or full-day self drive tours through one of Africa`s premier parks.
Experience true tranquility amid savanna bush veld and tall Tambotie trees, where birds, tree squirrels and bush-babies abound in the leafy canopies - or surrender yourself to the coolness of the sparkling pool.
The ten well-appointed thatched cottages offer such comforts as shower, ceiling fan and generous sized veranda.
Great emphasis is laid on excellent cuisine. Home grown and local produce provide fresh ingredients for a
variety of Euro-Namibian meals.
Anticipate friendly and personal service from the owners in a relaxed natural atmosphere under the large thatched roof of the main building.
The main building is the meeting point where the guests can chat with one another and the hosts, enjoy a drink, exchange tall stories or browse in the library and identify that elusive bird. A small pool with comfortable recliners and sun umbrellas invite you to relax and take a dip.
Facilities at Etosha Aoba Lodge include:
- 10 thatched cottages with en-suite facilities
- Restaurant & Bar
- Souvenir shop
- Swimming Pool
- Nature walks & Drives
Accommodation at Etosha Aoba Lodge:
The 11 well-appointed thatched cottages have large twin beds and offer such comforts as shower, ceiling fan and a tea / coffee machine. Relax on your own veranda and enjoy nature.
Main line power (220V) in the middle of the bush completes the luxury.
Three new secluded thatched Explorer Bungalows include en-suite facilities, air-conditioning with a private patio. The Honeymoon unit shares the same features as the Explorer Bungalows but includes an outdoor shower and bath. The four Heritage Bungalows offer privacy and all the comforts for a pleasant stay. For families we now offer three Bush Suites which include two bed rooms, one with a sleeper couch and the second with two twin beds. An inter-leading bathroom separates the rooms.
All bungalows have a private terrace with seating, en-suite facilities with a shower, document safe, "bush-minibar", air conditioning and tea & coffee facilities plus large mosquito nets. For the winter months there are heating fans available.
There is a swimming pool and a thatched bar, lounge and guest dining area that overlooks a small active waterhole. Free Wi-Fi is available to guests.
Etosha Aoba Lodge Activities:
There are 3 easy walks which can be walked at leisure and give an introduction to the botany of the area.
In the late afternoon join a small group on a "Sun downer" drive in an open Landrover. The drive offers game-viewing opportunities and reaches it's highlight at the edge of Fischer's Pan when drinks are served as the sun sets over the the endless plain.
There are several water holes to choose from:
- A high tower at Palm Springs waterhole with magnificent panorama views towards the Pan and Makalani Palms framing the view
- A small tree house at Leo's Drink with close surrounds of trees and bush
- A thatched hide at Vulture's Rest in a bush environment. One can be driven to each of these hides and dropped off with a cool box for several hours.
- A further hide is just a 10 minute walk from the Lodge.
The bird watching opportunities at the Etosha Aoba Lodge are excellent.
The entrance to the Etosha National Park is only 20km away. Spend the day touring the various waterholes in the Park and discover the animal kingdom of Namibia.
Etosha Aoba Lodge Map: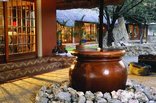 Situated on C38, 8km from the Eastern entrance to the Etosha National Park, Mushara Lodge offers air conditioned en-suite accommodation, excellent cuisine, a comprehensive winelist, dedicated and friendly staff, and excursions to Etosha National Park.